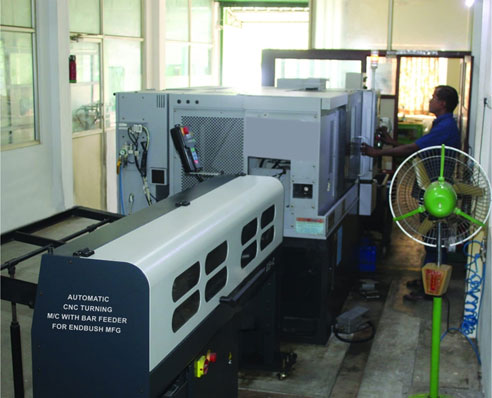 VETRI Engineers uses automatic CNC machine to make end bushes
For the first time in India, VETRI Engineers is using high precision automatic Japanese CNC machine valued Rs 80 lakh to manufacture end bushes for Vetri top rollers. The company will showcase its latest offering at SIMA Texfair 2022 at Stall BA 51
VETRI Engineers, the global spinner's trusted high-quality top rollers from India, is a progressive organisation established in 1992 at Coimbatore (India). It has developed a vast network around the world as a renowned supplier of textile spinning replacement spares.
Indeed, the company could achieve this recognition simply with its commitment towards excellence in its products sourcing, manufacturing, quality control & inspection, real value for money, relationship, strict delivery and after sales service. VETRI Engineers, an ISO 9001 Certified company, is trusted for its commitment and focussed on customer delight and just in time deliverables with competitive price.
Key strength
VETRI's focus on customer centric and ever-growing needs of customers prompt it to add new products to its range, while the existing products are also constantly updated. VETRI specialises in manufacturing, sourcing, and exporting of engineering products & components customised for various industrial applications to many countries with their expertise in reverse engineering process.
VETRI has more than 5000 parts made/sourced with full back up technical specifications and dimensional drawings unique from the textile spares suppliers all fully quality tested and made exports in the last 29 years.
Customer delight
In addition to existing manufacturing supplies of new top rollers and end bushes, VETRI also caters reconditioning activity of top rollers and specified draw frame end bushes to entire satisfaction of its valuable customers provided with quality inspection report.
Infrastructure
VETRI has an exclusive in-house manufacturing with highly precision automated Japanese CNC machines value worth Rs 80 lakh to produce state-of-the-art end bushes with stringent quality and reliability.
VETRI is the only manufacturer to produce nearly 222 types of top rollers for almost all kind of textile preparatory machines in the world with WTO compatible.
Product launch
The company is launching greasing type end bush for Rieter D50 and LMW LDF3 draw frames at the SIMA Texfair show, which will be held in Coimbatore from June 24-27, 2022. Some of the key benefits of the product include, longer life, better performance and minimal maintenance.
Vision 2025
VETRI Engineers will be able to excel 4 times production as against the existence.
Sliver quality determining yarn quality
VETRI produces world class top rollers proven for its performance and long life determining the sliver quality of comber, draw frame & lap former machineries of Rieter, Ingolstadt, LMW, Trutzschler, Zinser, Vouk, Toyoda, Hara Cherry, Howa, Padmatex, Texmaco – Howa, Platts – Sacco Lowell, etc.
In addition, VETRI also provides vital textile top rollers for spinning, roving, under casing for carding, Comber Uni Comb, top combs and lap spools & selected spares for various textile spinning machines.
Business excels
"We believe textile industry got huge employment opportunities and request the Union Textile Ministry to extend valuable support in textile manufacturing process, deployment of manpower and overcome the current crisis of steep hike in raw material and imbalanced pricing ratio between cotton and yarn," said VETRI in a press release.
In such situation, VETRI with its extended state-of-the-art in-house manufacturing facilities, standard and regular top rollers with end bushes can be made available within 24 hours to 72 hours* from VETRI stock. (* Conditions will apply)
VETRI Engineers connecting global customers
"We take this opportunity to wish textile industry to excel in the present textile turbulent business and look forward soon to greet all our customers across the globe to visit our stall BA 51 at Texfair 2022, Coimbatore," said VETRI in a press statement.