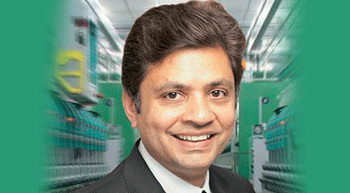 Value addition, strong PAT lift Sutlej´s fortune
Sutlej Textiles and Industries Ltd (STIL), a company promoted by Dr KK Birla, is an integrated textile manufacturer with presence across the value chain, from yarn to fabric to home textiles. STIL is a one-stop-shop for all kinds of spun yarn from natural or manmade fibres
Sutlej Textiles and Industries Ltd (STIL), a company promoted by Dr KK Birla, is an integrated textile manufacturer with presence across the value chain, from yarn to fabric to home textiles.
STIL is a one-stop-shop for all kinds of spun yarn from natural or manmade fibres across any blend in the count range of 6s- 50s. STIL manufactures cotton and cotton-blended dyed and mélange yarn. It is having the capacity to manufacture almost every grade across different yarn varieties (cotton, synthetic and blended) comprising single-ply, double-ply and multiply grindle, roving grindle core spun, slub and other fancy yarns. STIL is also one of the few fibre-dyed yarn manufacturers with the ability to provide virtually any shade.
It is also among the few exclusive spinners of specialty yarns like modal, lycra, tencel, coolmax and other value-added yarns. STIL enhanced its spun-dyed yarn capacity by 110 per cent over the decade leading to an average daily yarn production of over 199 tonne.
The company is headquartered in Mumbai with four manufacturing units located in Jammu and Kashmir, Rajasthan and Gujarat. Its Chenab Textiles Mills at J&K has an installed capacity of 1,71,288 spindles, which is being expanded to 2,01,960 spindles and the Rajasthan unit has an installed capacity of 90,448 spindles. The company has invested around Rs 960 crore in expansion, modernisation and cutting-edge technology in last 10 years. These assets constituted 82 per cent of the company´s gross block as on March 31, 2014. Nearly 69 per cent of its spindleage is less than a decade old.
STIL is one of India´s largest exporters and manufacturers of value-added synthetic, blended spun dyed yarn. STIL has invested in deepening relationships with marquee corporate customers and the development of multiple products across multiple grades. The company selects to market products in the early stage of its life cycle, helping strengthen the business of its downstream customers. It enjoys enduring relationships with an extensive network of agents and dealers in India and abroad. STIL has a market presence in over 60 countries. The company´s exports accounts for around 25 per cent of 2013-14 revenues compared to 20 per cent in 2012-13.
The expansion project of 30,672 spindles to manufacture value-added cotton Mélange yarn will be commissioned by October 2014. After expansion, the total capacity will increase to 2,92,408 spindles. The company has spent Rs 55 crore on modernisation and balancing capital equipment during the 2013-14 and further intends to invest Rs 119 crore during FY 2014-15 for the same.
The company has reported a 12 per cent increase in revenues to reach Rs 1,880.62 crore and 71 per cent increase in profit after tax to Rs.131.38 crore in 2013-14.The company´s yarn volumes grew by 2.63 per cent from 69.71 million kg in 2012-13 to 71.54 million kg in 2013-14. Average spindle utilisation was 95.52 per cent in 2013-14 as compared to 94.41 per cent in the previous year 2012-13. Consequently EBITDA margin improved by 200bps to 16 per cent. Yarn exports increased by 47.25 per cent and stood at 19.53 million kg, valued at Rs 425.43 crore. Domestic volumes stood at 60.14 million kg in 2013-14. The company strengthened its gearing from a peak of 3.5 times, four years ago to 0.6 times in 2013-14, derived from a focused product approach on the one hand and disciplined fiscal strategy on the other.
The company embarked on fabric manufacture in 2000-01 as an initiative directed towards forward integration. Its fabric unit, Damanganga Fabrics, is located in Bhilad (Gujarat) and equipped with cutting-edge equipment and a skilled workforce, translating into the manufacture of quality fabric. The company´s in-house design studio conducts continuous research regarding latest trends, cuts, shapes and colours. The division possesses a diversified product portfolio, de-risking it from an overt dependence on a