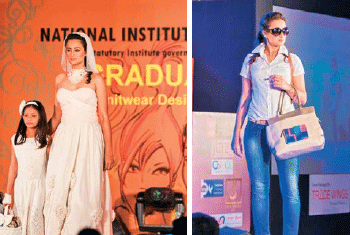 USHA International recognises talent
USHA International, the leader in sewing machine industry, announced the winner of Best Garment Construction Award. Playing a pivotal role in encouraging young and budding fashion designers, USHA International has been conferring the most
USHA International, the leader in sewing machine industry, announced the winner of Best Garment Construction Award. Playing a pivotal role in encouraging young and budding fashion designers, USHA International has been conferring the most prestigious Best Garment Construction Award to the National Institute of Fashion Technology (NIFT) students since the year 2000. Every year one student is recognised from each of the 11 NIFT centres including New Delhi, Mumbai, Kolkata, Gandhi Nagar, Chennai, Bangalore, Hyderabad, Rai Baereli, Kangra, Shillong and Patna. The awardees are shortlisted by the professors of NIFT based on their performance throughout the year.
At convocation event that took place recently across 11 NIFT centres, USHA International felicitated Kumari Shalini in Bangalore; Shilpa Kankana in Chennai; Prince Kumar in Gandhinagar; Chinmaya Kishore in Hyderabad; Subhash Chander Burman in Kangra; Rakesh Devnath in Kolkata; Shivam in Lucknow; Abhishek Kuswaha in Mumbai; Kutubuddin Khan in New Delhi; B Sikander Naik in Patna and Priyadarshini Pradhan in Shillong with its state-of-the-art USHA Janome sewing machine, a trophy, certificate and a cash award of Rs 10,000. The event witnessed dignitaries from the fashion fraternity, industries and parents of NIFT students cheering together for collections showcased by the students.
Talking about the association, Neelima Burra, Head, Marketing (Sewing Machines and Appliances), USHA International said, "We are extremely proud of our association with NIFT as it has enabled us to contribute meaningfully in nurturing the best talents of fashion industry. It also gives us a great pleasure to witness these students experience the joy of sewing with powerful, precise and intuitive USHA sewing machines."
For further information:
Usha International Ltd,
Sector-32, Gurgaon, Haryana
Tel: 91 124 4583100, Email: corporate@ushainternational.com