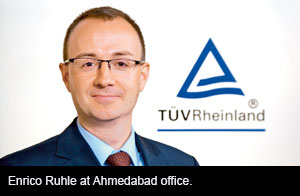 TÃœV Rheinland sets up office in Ahmedabad
TÃœV Rheinland India, the Indian subsidiary of the German based TÃœV Rheinland Group, a worldwide leader in Testing, Training, Inspection, Consulting and Certification, announced that it has set up office in Ahmedabad
TÃœV Rheinland India, the Indian subsidiary of the German based TÃœV Rheinland Group, a worldwide leader in Testing, Training, Inspection, Consulting and Certification, announced that it has set up office in Ahmedabad. This will be the companys second office in Gujarat(the first being Vadodara .Gujarat is a fast growing and industrially developed state in India thus providing ample opportunity for TÃœV Rheinland India to provide its services across industries, especially in the garment and metro rail sector.
Announcing this, Enrico Ruhle, CEO & Managing Director, TÃœV Rheinland South Asia, said "Ahmedabad and the nearby areas have a major concentration of garment manufacturers and exporters. It also has a major Gems and Jewellery cluster. The Softlines business of TÃœV Rheinland India, which primarily helps the manufacturers and exporters of Garments, Home Soft Furnishings and Jewellery to maintain their brand positioning by testing and certifying their product for quality, safety & performance requirements, will cater to this segment."
"Infrastructure sector is also growing rapidly in Ahmedabad. The government has proposed a mass-transit rail system, MEGA. The project aims to build a Metro cum Regional Rail Transit System, which would connect the cities of Gandhinagar and Ahmedabad. The central government has allotted US$ 2 million to MEGA for FY 2013-14. TÃœV Rheinland, with its vast global experience in the railway segment, will tap this market in metro rail, by offering Independent Safety Assessment Inspection, Auditing, Certification, Training, Consultancy, RAMS and Testing services for products like electrical products, signalling & telecom etc." added Ruhle.