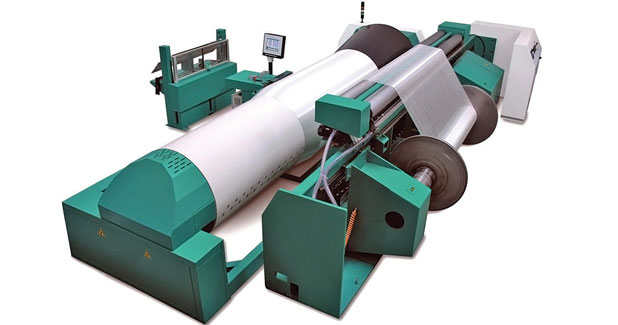 TT on Karl Mayer warpers: Endless possibilities
Karl Mayer sectional warpers offer the latest technology, and achieve the highest quality for optimum results in weaving. Technical textiles are revolutionising the textile world due to the broadening of applications in end-use industries, such as automotive, construction, healthcare, and sports equipment and so on. New innovations off the weaving loom are used everywhere: in the construction of vehicles, in the medical sector, in wind turbines or as geotextiles
Karl Mayer sectional warpers offer the latest technology, and achieve the highest quality for optimum results in weaving.
Technical textiles are revolutionising the textile world due to the broadening of applications in end-use industries, such as automotive, construction, healthcare, and sports equipment and so on. New innovations off the weaving loom are used everywhere: in the construction of vehicles, in the medical sector, in wind turbines or as geotextiles. Technical textiles are changing the world. Every day technical yarns confront weaving preparation with new challenges.
The innovative technologies presented by KARL MAYER offer unparalleled solutions for warp preparation in technical textiles. Machines made by Karl Mayer assist you with keeping abreast of rapid developments and increase your profitability.
Woven innovation from Karl Mayer
Karl Mayer sectional warpers offer the latest technology, and achieve the highest quality for optimum results in weaving. A laser-controlled band build-up system provides identical band circumferences and section-carrier trolley feeds without correction stops.
The Ethernet interface ensures a reliable link between our machines and our customer's network as well as a proper connection for the relevant data collection. KARL MAYER machines enable almost endless applications due to the variety of our creel systems equipped with a wide range of yarn tensioners suitable for all kinds of yarns. KARL MAYER sectional warpers offer additional customer benefit in particular for highly sophisticated applications. These machines guarantee an outstanding warp quality due to the perfectly uniform yarn tension and the high remaining elongation. Highest productivity is achieved by combining minimum yarn load and high speeds. The ergonomic design also ensures increased operator efficiency and comfort.
Karl Mayer Opt-O-Matic (OOM)
The Opt-O-Matic from KARL MAYER is the perfect machine for meeting the high demands of specific processing conditions without compromising on either efficiency or flexibility in the exacting field of technical textiles.
Sectional warping machines made to requirement
What Karl Mayer has presented to the weaving world is a sectional warper with perfect yarn tension control. A system that can guarantee perfect beams every time without having to "iron out" any circumferential differences. Using a laser to measure the band circumference, and using the computer band build-up control to modify the band profile with the appropriate yarn tensioner systems, the OOM sectional warper has brought about a revolution in the technical textile industry.
Further, Karl Mayer was faced with the challenge of producing a warper that could cope in a simple and effective manner with the particularly 'high bulk' yarns that were becoming increasingly fashionable for weaving. Rather than just develop a unit for this specific yarn, KARL MAYER decided to extend its 'Opt-O-Matic' range to include these yarn types and also give an alternative technology possibility to customers. Thus the compaction roller control was born. The laser still plays its critical role of measuring the band build-up, but now an active compaction roller on the section carrier trolley ensures that the yarn build-up remains perfect. Rather than just ironing out any differences, the rollers actively monitor and alter their pressure thus giving a uniform build-up to all warp bands that would later become the perfect weaver's beam.
Endless possibilites for technical textile warping
The Opt-O-Matic with its various possibilities of tension control devices for the band build-up also offers customers complete flexibility in whatever area of textiles they may work in.
The possible specifications are –
•Working width: 2,200 – 5,400 mm
•Beam diameter: 1,000 – 1,250 mm
•Beaming tension: 100 – 30,000 N
•Warping speed,up to: 1,000 m/min
•Beaming speed,up to: 500 m/min
Standard accessories such as feeding aggregate device, leasing device, waxing device, press roller device, and anti-static devices are naturally available as well as other special features not so often heard of in sectional warping, such as reverse winding on the beaming side, as well as direct warping from the creel.
Creels for spun yarns and filament yarns Karl Mayer's portfolio includes the ceels structures i.e. GD-Swievel type, GW-Trolley type, GM-Magazine type, GN-Fixed type standard creel and Unwinding creels with suitable yarn tensioners as per the need of technical yarns and all other kinds of yarns produced. The rigidly mounted standard creel as well as the magazine creel which has several magazines equipped with bobbins. The swivel-frame creel in case of which one part of the frame can be turned around and can be re-loaded while the other side is unwound. Karl Mayer's creels and yarn tensioners ensure a constant yarn tension over the entire length and width of the warp, just from the first to the last meter. Our yarn tensioners offer a gentle yarn treatment and can withstand high loads of fast-running yarns, partly also of aggressive yarns. Textiles intended for special applications require highest efficiency and best quality already when producing the warps. By offering individual solutions, Karl Mayer's machines ensure constant and high tensile forces, even when processing high-strength technical materials. Yarn breakages are eliminated in a most reliable and easy way by the self-activation of the yarn stop motion and by the clear signalling of the place of yarn breakage.
Karl Mayer provides customised yarn tensioners as per the need of the technical yarns and all other kinds of yarns in the market.
Unwinding creels
KARL MAYER's unwinding creels offer the right solution for every warping job requiring a twist-free operation. These creels are intended for the unwinding of wires, monofilament yarns, tapes and technical yarns which are not allowed to get any additional twist by overhead draw-off. The yarn unwinding tension can be adjusted centrally, and the compensation of the yarn tension from full to empty bobbins is ensured.
GAM: Unwinding creels for monofilament yarns
Applications: for technical yarns, monofilament and wires
GAR / GAPP: Air-controlled unwinding creels for tapes made from polypropylene or polyethylene
Applications: for technical yarns, monofil, glass fibres, tapes, carbon fibres, wires
The versatility of the Opt-O-Matic sectional warping machine and the MULTITENS yarn tensioning system are worth a special mention here. The count of technical yarns presents a particular challenge. Yarns having a count of above 1,100 dtex are usually heavy, require high processing forces, and tend to form large yarn balloons during take-off at high speeds. If the yarn ends fall down in an uncontrolled manner, this can also result in unwinding of the entire package. Stiff yarns run the risk of jumping out of the yarn guides, and thick yarns do not adhere securely to the package because of their relatively small contact area in relation to their large circumference. These are just some of the factors that have to be taken into account when processing technical yarns. But Opt-O-Matic in combination with a creel with appropriate tensioners can do a perfect job, time after time,
With these features and possibilities available on this machine, it can be truly said that the KARL MAYER Opt-O-Matic range has a solution for all sectional warping requirements for almost all type of technical applications
Applications include: industrial fabrics, automotive seats, protective outerwear, sportswear, mosquito nets, geogrids/geotextiles, and coating substrates.
The company has a big population of KARL MAYER sectional warpers in India including more than 15 machines supplied for technical textile applications to all well known producers like Kusumgar, SRF, Khosla, Arvind AMD, ATIRA, Madura and many others in this field.