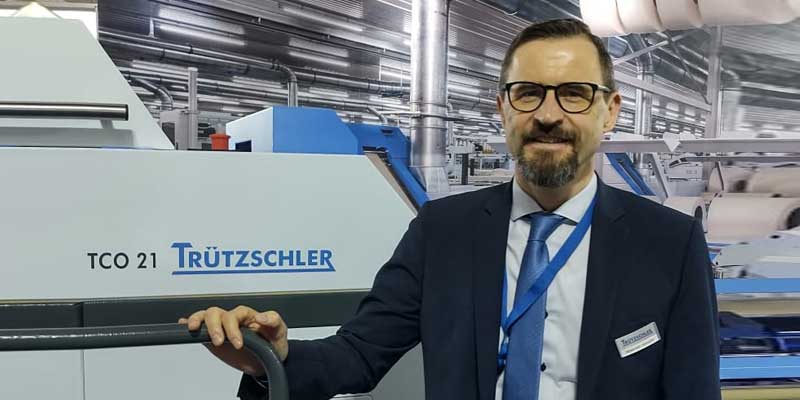 Trützschler Group to develop new technologies in non wovens
Trützschler India is not only the place where machines of international quality are produced, but also project planning, sales and nation-wide service are independently taken care. Trützschler India's (TIPL) plant admeasuring 36000 sq. m. is upgraded with extensive investments in building, machines and processed in order to align itself with Trützschler's "Global Production Strategy".  Alexander Stampfer, CSO, Trützschler Group SE, , shares insights of the company and what did they exhibit at the ITME trade fair with Shami Lalwani.
Kindly elaborate about Trützschler Group…
We are operating in several business units. Trutzschler Group is involved in spinning, carding clothing, nonwovens (an industry that is rapidly expanding), as well as man-made-fiber technologies for carpet- and industrial filament yarns. These are Trutzschler's four business divisions.
We have been in India for more than 40 years. In Ahmedabad, we have a manufacturing facility. We currently employ around 1000 people. We already have deep roots in India and a very solid relationship.
What did Trutzschler Group showcase at ITME 2022?
We are constantly looking for fresh technologies to introduce on the spinning side. The labour shortage is one of the major issues facing the globe today. People are therefore actively avoiding employment in the textile industry, which causes a bizarre situation for our clients. Therefore, we are developing technologies that lessen the need for labour, particularly for complex tasks. For our card TC 19i we have developed an automatic carding gap setting.
The TCO 21 comber is available from us, with easy setting of the detaching curve setup. We have a cutting-edge autoleveller draw frame that is also made in India. So, this is extremely significant to our consumers, who favour purchasing machines made in India.
Tell us how Trützschler Global and India performed in 2022. And what do you anticipate for 2023?
2022 has truly thrown the world off of balance because of all the geopolitical upheavals that have occurred in the last three years, including the war in Europe, COVID, short supply chains, and halted shortages in technology.
So, on the one hand, our sales increased significantly. In 2021–2022, we experienced incredible sales. We are confident that we are acting appropriately since we have the right products for the market. But, for 2023, I can see a slowdown, both globally and in India, but I wouldn't call it a crisis just yet. I anticipate that until ITMA, which happens in the middle of next year, things will gradually recover. Not suddenly rise, but gradually rise again.
Circularity and digitalisation, two aspects of sustainability, appear to be the newest industrial buzzwords. How is Trützschler Global preparing for these two trends?
All of our equipment, particularly the opening and carding machines, can be used in an unique recycling execution. Sustainability will become an increasingly important topic. So, we are really looking closely at the recycling technology development. We are highly successful in our goal of being the best machine supplier for recycled fibres. As I mentioned before, automation for us means lessening the impact of labour. Reducing complex settings through automatic settings and on combing, for instance, requires that transport systems be available; we have this in place;; and we're also considering new ideas. However, we also need to leave some ideas for the ITMA, which will take place in six months.
What expansion plans do you have for capacity, exports, and new textile application products?
If you observe the spinning sector, growth rates range between 2 and 3% annually. Our business areas, specifically non wovens and man-made fibre, are growing at a pace of 5% to 6% annually. The Indian government is deploying supporting programmes for this enormous potential, and Trützschler is growing its clientele. In addition to spunlace technology, we now provide also needle punching. To meet these industrial expectations, we are developing new technologies in the nonwovens sector, which I'm confident, will soon also occur in India. As of right now, it's still not as high as in other markets. However, we can clearly see that demand is rising for a range of products in India, such as geotextiles and filtration, therefore we should be prepared for this in these technical applications.
– With inputs from Divya Shetty