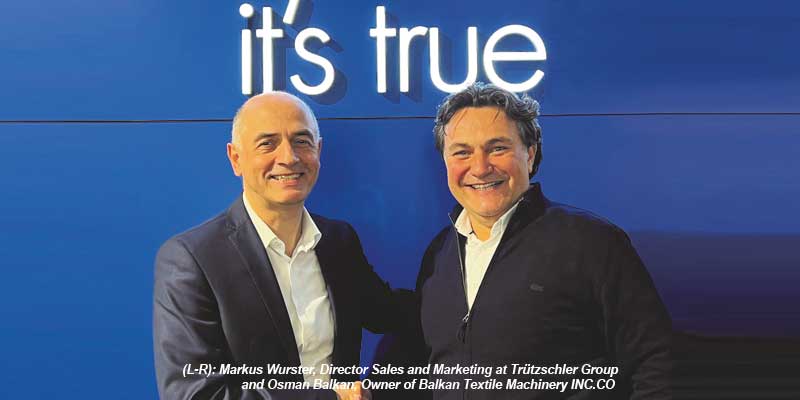 Trützschler and Balkan join forces for textile recycling
Balkan holds a strong presence in Turkey, a critical market for textile recycling.
Trützschler expressed its completion of the product portfolio for recycling through collaboration with Balkan Textile Machinery, encompassing cutting and pulling solutions. This achievement positions Trützschler as the pioneer in comprehensive spinning preparation for recycling. Gratitude was extended to the amalgamated machinery proficiency and technological expertise, which empowers their customers to manufacture yarns of the utmost quality. This capability essentially transforms waste into valuable output.
The introduction of Balkan Textile Machinery, INC.CO, is met with enthusiasm. This partner not only supplements the existing product line but also shares the same principles. Both Balkan and Trützschler are privately-owned businesses with a shared focus on sustainability throughout the textile chain. Balkan holds a strong presence in Turkey, a critical market for textile recycling. Their durable and dependable machines facilitate the fragmentation, blending, and separation of textile waste into individual fibres. Additionally, these fibres are compacted into bundles of secondary fibres. These bundles can then be incorporated into the preparation process utilising Trützschler machinery.

From waste to value: Balkan and Trützschler process for the recycling of hard textile waste
"We are now able to provide a complete line-up of technologically leading machinery which has been specifically developed for rotor and ring yarns from recycled materials", says Markus Wurster, Director Sales and Marketing at Trützschler Group. "Customers benefit from less complexity when planning and executing a mill project. The combined processes from Trützschler and Balkan are perfectly fine-tuned, reliable and reproducible. And of course, customers have access to Trützschler's premium service." Osman Balkan, Owner of Balkan Textile Machinery. INC.CO, adds: "I am very happy that we can join forces with such a strong international player like Trützschler. Together we can make a significant contribution to dealing with textile waste globally."
Processing secondary fibres with appropriate card clothing
Trützschler stated that appropriate card clothing constitutes an integral component of their comprehensive recycling solution. It was noted that Trützschler Card Clothing had consistently evolved their card clothing to address the technological complexities associated with processing secondary fibres and enhancing yarn quality. Emphasis had been placed on the flat top's significance as the central element within the carding procedure. By amalgamating the strengths of MT/PT 40 and the effective cleaning capabilities of MT/PT 45, Trützschler Card Clothing had successfully developed the MT/PT 45R – denoted as the novel flat top tailored for recycled materials. The pivotal factor influencing yarn quality was identified as the optimal pairing of the flat top and cylinder wire. Consequently, Trützschler Card Clothing provided an array of cylinder wires suitable for diverse recycling applications, contingent on production rates, textile waste type, and the nature of raw materials – whether they were pure or blended. This meticulous customisation ensured that customers could capitalise on superior carding outcomes, extended wire durability, and heightened production efficiency in recycling contexts.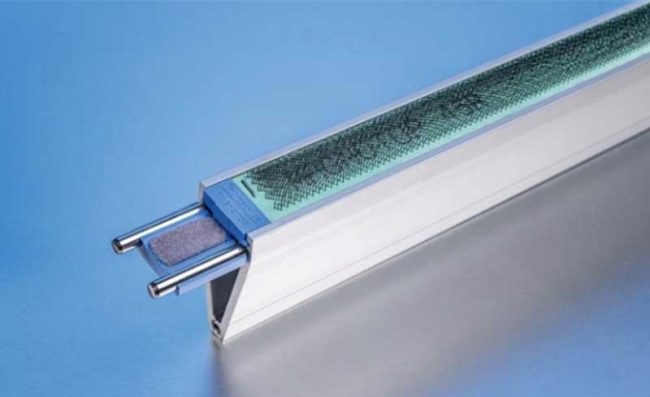 MT/PT 45R flat top for recycling
"We are excited to offer our customers globally a complete package for recycling from June 2023 onwards", says Wurster, "including tearing line, blow room, card, draw frame, card clothing and of course our service and technological know-how."
Truecycled stands for state-of-the art recycling installations from Trützschler. These Trützschler preparation processes enable manufacturers to achieve a high-quality end-product from hard waste. With Truecycled, manufacturers can rest assured they use the best technology and a reliable and reproducible manufacturing process – the pre-requisite for high-quality yarn made from hard textile waste. How does a Truecycled process look like? It is based on Trützschler's technological recommendations and a Trützschler machinery line-up to ensure ideal results from recycled materials. For example, Trützschler recently worked with a fashion company to make use of their own pre-consumer waste. Thanks to a special combination of Trützschler blow room machinery, the usage of TC 19i for Recycling and Trützschler draw frames, it was possible to create a ring yarn containing 60 per cent of pre-consumer waste – a true Truecycled product! Trützschler customers and partners may use the brand Truecycled for both the process itself and the end-product, as long as it contains a significant amount of textile waste.
About Trützschler
The Trützschler Group SE is a German textile machinery manufacturer headquartered in Mönchengladbach, Germany. The company is divided into four business units: Spinning, Nonwovens, Man- Made Fibre, and Card Clothing. Trützschler machines, installations and accessories are produced and developed in ten locations worldwide. This includes four factories in Germany (Dülmen, Egelsbach, Mönchengladbach, Neubulach), as well as sites in China (Jiaxing and Shanghai), India (Ahmedabad), the USA (Charlotte), Brazil (Curitiba) and Switzerland (Winterthur). Service companies in Türkiye, Mexico, Uzbekistan and Vietnam and service centers in Pakistan, Bangladesh and Indonesia provide customer proximity in key regions for the textile processing industry.