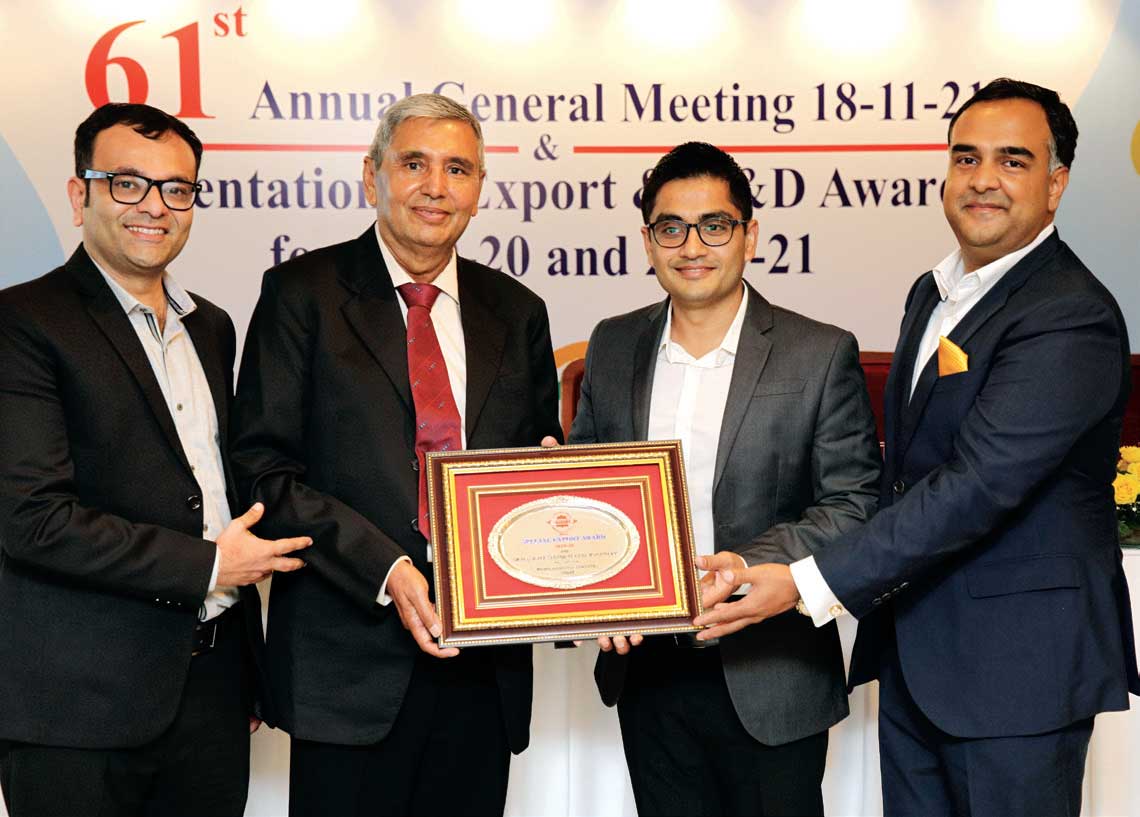 TMMA confers Special Export Award 2019-20 to WEAVETECH
Weavetech is focused on playing its part in making the Indian textile industry globally competitive, says Chintan Thumar, the Director of Alidhra Weavetech Group.

Weavetech received the prestigious Special Export Award 2019-20 for outstanding performance in exports of Textile Machineries within the Small Scale Sector. The award was conferred by Textile Machinery Manufacturers' Association (TMMA- India) at its 61st Annual General Meeting for the year 2019-20 & 2020-21, held at Trident Hotel, Mumbai.

The award was an acknowledgment of Weavetech's quality manufacturing that saw catapulting demands from countries like Mexico, the Czech Republic, Brazil, Indonesia, Argentina, Pakistan, Sri Lanka, Thailand, Uzbekistan, Nigeria to name a few. It is also a testament to the dedication and technical prowess of Weavetech's team, which provided consistent sales & support to its global customers in a raging pandemic while working remotely.

When asked about the award, Chintan Thumar, the Director of Alidhra Weavetech Group said, "To be honored by your peers is incredibly gratifying and we are thankful to our colleagues at TMMA and across the industry for this recognition. TMMA's efforts and support continue to encourage us."
Elaborating further on what makes Weavetech stand out from its competition, Chintan Thumar, explained, "We invest almost 4% of our revenue in Research & Development activities to create new & improved solutions. This is way above the rest of the industry which stands at an average of barely 1%. Moreover, Weavetech's focus on the process chain, rather than specific products, has created an experienced team of professionals who are able to offer solutions considering the Pre & Post processes of the customer. This creates a trusted bond that goes beyond just a sales process & provides a conducive relationship for long-term growth. The founding team of Weavetech has given almost 30 years to this industry. A sharp & dedicated focus on Weaving Preparatory machinery has created a culture that ignores the largely accepted standards, which were created for developed economies, & chooses to create its own solutions suitable for our environment targeted at our own pain points. This has allowed us to create some of the most effective solutions which have made our customers the most competitive players within the industry"

Adding more about their evolution and future plans, Chintan Thumar, said, "Today, Weavetech has customers in more than 12 different countries, including some of the world's largest & most reputed producers in given segments. Weavetech is focused on playing its part in making the Indian textile industry globally competitive. With an excellent team of technocrats coupled with our dedicated R&D center, the industry can expect many more innovative solutions. We have also recently set up a dedicated R&D center where entrepreneurs & technocrats from the industry are encouraged to bring problems for discussion & figure out innovative solutions for the same. Our team & facilities are open to the entire industry to evaluate their innovative ideas & bring them to life."

Alidhra Weavetech is India's market leader in the entire twisting & weaving machinery sector.
Since the 1980s, Weavetech has been at the forefront of indigenous technology development in the field of twisting & weaving machinery leading R&D efforts specific to answer to the growing needs of a developing market like India. It is no surprise that Weavetech commands one of the largest market shares in the country among its products.