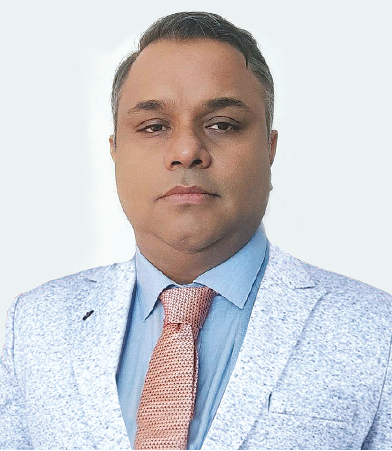 "There is an emerging trend of remote audits"
TUV India is a customer-focused, innovative and independent, technical, quality & safety services organisation, dedicated to providing future- proof solutions through technological excellence for the success of its customers with the highest level of integrity. In this conversation with Divya Shetty, Suvodeep Mukherjee, Senior General Manager, South Asia-TUV, discusses the company's solutions, the state of the market, and the future plan.
What types of solutions does TUV provide for the Indian textile industry?
TÜV SÜD provides, testing, inspection, audits and certifications service to textile and apparel industry.
As a trusted and independent partner to our customers, our dedicated team of experts and worldwide laboratory network assures the safety, compliance, and performance of innovative products. We enable our customers to harness the advantages of technological progress, to anticipate risks, and manage the entire product lifecycle and international supply chains. We add value by reducing time to market of products and by developing new safety standards for a better future.
Our experts support manufacturers, buyers and retailers with their knowledge of existing and new guidelines. As a recognised organisation, we are accredited with all major international certification bodies.
The legal requirements for harmful substances in textiles and leather articles vary from country to country or are constantly changing. In order to avoid warnings, product recalls or inconveniences with authorities, TÜV SÜD provides support in complying with due diligence and bringing clothing onto the market that is harmless to health. In addition, the quality and safety of products made of leather or textile can be proven.
How many segments (for eg: home textiles, technical textiles etc) does TUV caters to?
TÜV SÜD caters to apparel, home textiles, fabrics and accessory segments. TÜV SÜD also offers special projects which is R&D support to these brands for their washing machine ranges and supports brands such as LG, BMW and Panasonic, among others.
What kind of quality and testing challenges do exporters deal with?
In general, at the sourcing side, one of the quality challenges is the sourcing of raw material at cheaper cost, because of the cost pressure for certain segments of their customers. Else at laboratories we don't have any significant testing failure trend for any particular test parameter.
Working as a team, we ensure that: Products comply with legal safety and quality requirements and fulfil sector-specific standards. Products are manufactured or supplied in the defined quality. Products optimally meet the needs of product buyers and users and satisfy their requirements. Our clients gain critical competitive advantages, for example in brand communication, by using our widely recognised, high-profile certification marks.
Has the number of companies coming to TUV for testing increased as a result of increased exports?
Yes, we have seen number of export-oriented units are growing with us as export increases to several parts of the world, i.e. US, EU, Middle East, Australia.
Kindly elaborate on the new developments in technology for testing textile products and for QC/QA of textile products.
On the audit side, there is an emerging trend of remote audits. In testing, the majority of the testing equipment is digitalised and interfaced with the laboratory management system. This ensures the accuracy, integrity and traceability of the tests results.
The anticipation is that export opportunities will rise as a result of China plus one. Will there be more testing as a result of this?
If there are more exports from India, naturally overall testing would increase for TÜV SÜD and the industry. However, there are internal challenges in Indian apparel industryi.e. price of product and relatively less expertise in segments i.e. activewear or sportswear, winter wear etc.
Do you notice a recent increase in clothes or garment testing?
We have seen a recent increase in garment testing, majorly due to increase in exports, organic and inorganic growth with our business in India.
What are your growth plans for textile industry? (In terms of increasing lab numbers, expanding no. of services to textiles, adding new technological capabilities in India, etc)
We have plans to add and promote new value-added services i.e. biodegradability, recycled PET testing, Microplastic testing. We also are promoting sustainability service solutions across the industry and we wish to be automatic choice of our customers in sustainability solutions. Apart from testing, we have eminent speakers and trainers who has subject matter expertise and can conduct training or lecture series with different stake holders in supply chain.