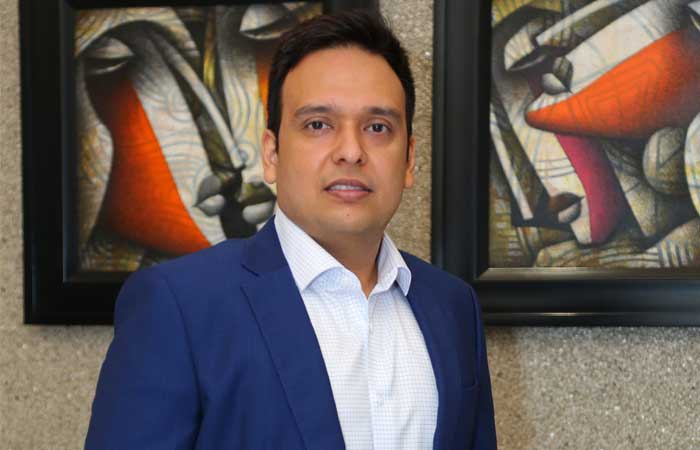 The industry is embracing customisation and personalisation trends
Kennigton Industries is one of India's fastest growing textile manufacturers with an impressive track record of 20 years. We started off our ambitious journey as an importer of yarns and later strategically expanded our product portfolio by adding polyester yarn, viscose yarn and its blends. Rajeev Tulshyan, Chairman, Kennigton Industries, shares his view on the current state of the Indian textile industry and how is his company contributing in this growth with Divya Shetty.
Kindly brief us about your company.
We have been manufacturing and processing fibre to yarn since 2016 and have been running 5 manufacturing units in India with total capacity 1 lac spindles in our owned 2 units and the other 3 units on the basis of Job work and lease agreements. Today Kennigton stands at a total employee strength of above 2000 (across factories, job units and our HO), and we are getting ready to expanded this further with our new venture. We, at Kennigton, are in the final stages of launching our own clothing brand for both men and women.
How did your performance fare in FY23, and what were the primary challenges faced during this period? Despite these challenges, how did you successfully achieve growth, and could you highlight any remarkable accomplishments from FY23?
The sales of the Company have increased from Rs 422.02 crore in FY 2020-21 to Rs 566.05 crore in FY 2021-22. During the last year, with increased demand, the sales of the Company increased, and it achieved total sales of Rs 928.44 crore in FY 2022-23.
This industry has seen ups and downs over the years due to a variety of factors and has struggled as a result of high manufacturing costs, frequent power outages, flawed strategies.
India has to rapidly modernise. Various kinds of modern machines for printing the garment, embroidery machines etc have been innovated and can be used for manufacturing cost-effective garments. The industry must work on economies of scale which directly affects the price-value realisation. We could do this by securing several new customers due to our strong product development capability and flexibility in mitigating adverse effects of recession. By expanding our customer base, we have been able to offset some of the damage caused by the economic conditions and external factors affecting the industry
What is your current assessment of India's textile industry?
As compared to 2022, the Indian textile exports have exhibited excellent recovery in 2023. I personally feel there will be at least a 10-12 per cent improvement in our country's textile exports Y-o-Y for the next three years. The textiles and apparel industry in India has strengths across the entire value chain from fibre, yarn, fabric to apparel.
The Make in India initiative has successfully increased production capacity by 25 per cent.
Yarn production increased from 77.67 lakh tonne in 2014-15 to 97.46 lakh tonne in 2022-23.
Demand for textiles in India is expected to increase at a compound annual growth rate (CAGR) of 14.8 per cent from 2021 to 2025.
Some reports state that the industry will reach a size of $ 350 billion by 2025, making it one of the largest segments in the country and I concur.
What is the global standing of the Indian textile industry? How can India become more competitive globally?
Being one of the oldest textile industries that can be traced back to colonial times, India now ranks fifth in the global textile export trade. The export value of the Indian textile industry is around $ 37.11 billion which puts it close to Vietnam's valuation. There are a few areas which India's textile industry must focus on to become globally more competitive; policies and initiatives to promote the industry include Duty Drawback/Production Linked Incentives Scheme, Technology Upgradation Fund Scheme, Export Promotion Capital Goods Scheme, and Invest India Scheme. These initiatives have helped and continue to help the industry to increase its exports and become more competitive.
Are the government policies to boost the industry's growth working on the ground? What else should the government do to propel growth?
The government has recognised the importance of the textile sector and implemented several initiatives, such as Make in India campaign, National Textile Policy, the Technology Upgradation Fund Scheme, announcement of PM MITRA parks and Production Linked Incentive Schemes among others. These measures have greatly helped the industry in attracting significant investment from both domestic and foreign investors, modernise, promote innovation, increase competitiveness and create jobs. The government has allocated a 38 per cent increase in the allocation of Technology Upgradation Funds (ATUFs), going from Rs 650 crore in 2022-23 to Rs 900 crore in 2023-24. There are numerous strategies governments might use to try and stimulate economic growth, such as tax breaks or tax rebates, deregulation, and investment in infrastructure. The government can look at reduction in customs duties for these imports to make it more competitive.
What kinds of trends are you seeing in the market at present? How is your company gearing up to tap these trends?
In response, the textile industry is embracing customisation and personalisation trends. Innovative technologies like 3D printing, digital textile printing, and computer-aided design (CAD) systems enable manufacturers to produce bespoke textiles on-demand, catering to individual tastes while minimising waste added, advanced tools that revolve around IoT, AI, data analytics, and 3D technologies. and also, latest Textile Trends of 2023 Use of Technical Fabrics for Enhanced Comfort and Health. We are now offering a wider range of options, from performance-focused gear to more generating new ideas, and streamlining the manufacturing process. 
What are your expectations & growth plans for FY24?
Kennigton wants to achieve exponential growth in FY24. For this, we are looking at launching a consumer facing fast fashion brand called Hera N Zeus (HnZ). The objective of HnZ is to dress India in the right fits with the right trends. With this in mind, we will be launching India's "first made for Indian bodies" line of intimate wear which would be available across offline and online market.