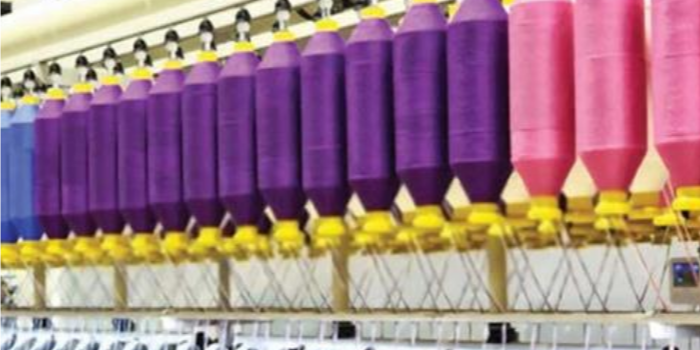 The Indian Textile Journal presents | India's Top 50 Textile Companies
India's Top 50 Textile Companies
In this inaugural Annual Edition of The Indian Textile Journal, we are presenting, probably for the first time in India's textile publication space, the Top 50 Companies in the Indian textile industry. The companies are ranked in 2 categories (Large & Small) – with 25 companies in each category. Systematic, unbiased and process-oriented approach has been adopted to rank these listed companies. Read on to know more about the top performers in the Indian textile industry.
Food, shelter and clothing are termed as basic needs for human beings. No wonder these three industries (agriculture, real estate and textile) in India date back to several centuries. India's textiles sector is one of the oldest industries in the Indian economy. However, the industry is extremely varied, with hand-spun and hand-woven textiles sectors at one end of the spectrum, while the capital-intensive sophisticated mills sector on the other end. As stated earlier the industry dates back to several centuries, however a lot has changed over the period. Now India's textiles industry has a capacity to produce a wide variety of products suitable for different market segments, both within India and across the world. Rather India has been a preferred partner for many leading global brands. With low labour cost and ample availability of quality raw material, India has emerged as one of the leading exporters of textile. While the industry has witnessed growth, there are many peaks and troughs the sector has seen. Let's first understand the Indian textile sector.
India's textiles industry contributed 13 percent of the industry production in FY20. It contributed 2.3 per cent to the GDP of India and employed more than 4.5 crore people in FY20. The sector contributed 12 per cent to India's export earnings in FY20. As far as market size is concerned, cotton production in India is estimated to have reached 35.7 million bales in FY20. The domestic textiles and apparel market stood at an estimated $ 100 billion in FY19. As expected, the textiles sector has witnessed a spurt in investment during the last five years. The industry attracted Foreign Direct Investment (FDI) worth $ 3.45 billion from April 2000 to June 2020. Along with this investment even the Indian government has come up with several export promotion policies for the textiles sector. It has also allowed 100 per cent FDI in the sector under the automatic route.
Initiatives like Production Linked Incentive (PLI) scheme to provide incentives for manufacture and export of specific textile products made of man-made fibre (MMF) have yielded good results. Under Union Budget 2020-21, a National Technical Textiles Mission is proposed for a period from 2020-21 to 2023-24 at an estimated outlay of Rs 1,480 crore. The Directorate General of Foreign Trade (DGFT) has revised rates for incentives under the Merchandise Exports from India Scheme (MEIS) for two subsectors of Textiles Industry – readymade garments and made-ups – from 2 per cent to 4 per cent. The Government of India has taken several measures including Amended Technology Up-gradation Fund Scheme (A-TUFS), estimated to create employment for 35 lakh people and enable investment worth Rs 95,000 crore by 2022.
While in the long term the future for the Indian textiles industry looks promising, buoyed by strong domestic consumption as well as export demand, the industry in the current scenario is going through turbulence. Increasing debt burdens, rapidly changing technology, shrinking margins and most importantly competition arising from few other countries (in exports market) are few of the issues faced by the Indian textile sector as whole. Amid all such challenges a lot of players have managed to showcase good growth. While few of the players were grounded due to such challenges, a few really managed to overcome the challenges shining bright. However, the textile as a sector was not on the radar of the investor's fraternity. We at The Indian Textile Journal (published by ASAPP Info Global Group) are trying to find out such winners. As always, our approach has been very system oriented and process based. Let's first understand the process of selecting the winners. And our selection process is based on the challenges faced by the sector.
Selection Methodology 
We had categorically mentioned the textile sector is facing issues like slow sales growth, margins under pressure and increasing debt burden. No wonder considering all such factors even the investors were supposed to give a cold shoulder to such companies. Considering these challenges, we categorised our parameters in four types. We focused on sales growth, EBITDA growth, reduction in debt and increase in market capitalisation. Each parameter has been given a weightage and then ranking has been done. In simple terms sales growth, profitability and wealth creation are given higher weightages. And being a capital-intensive sector, weightage on debt has been kept lowest. While we have given 30 per cent weightage to sales growth, 30 per cent weightage on EBITDA growth and 30 per cent on the market capitalisation growth, only 10 per cent weight is put on the debt reduction part.
Many would argue that a few of the companies have not shown growth in sales or EBITDA still are making it to the top 25. But as we mentioned it is a weighted ranking and hence if the company has not shown growth in selected parameters, it is ranked lowest in it. Like there are few companies that have not shown EBITDA growth but have shown sales growth and market cap has increased significantly (owing to factors like acquisition or other factors).
Further to make a right comparison, we have bifurcated the companies based on market capitalisation. We opine, the value given by an investor is a right parameter to categorise (rather than just sales or profit growth). We have taken comparison between FY20 and FY19 for sales, EBITDA and Debt. And for change in market capitalisation, we have taken the start as December 31, 2019 and end date as December 31, 2020. We have categorised the first group as market cap above Rs 500 crore (termed as Large Category). And then the other group has a market cap from Rs 100 crore to Rs 500 crore (termed as Small Category). This helps in rationalising the comparison as a small company may witness higher growth, but it is the absolute number growth that is important as well. A few of the companies have been removed with human intervention (as few diversified groups had more income from realty or other non-core segments). Considering all the factors, here we provide a list of Top 50 Textile Companies in India – 25 each in Large and Small Categories. We have also profiled Top 10 Companies in the two categories highlighting their performance.
In some cases, we offered the right to veto (to the selection panel) by adhering to qualitative factors. The final list is an extensive one and the panel has taken into account almost all aspects that needed to be considered.
Top 10 Large Textile Companies
Given below are India's top ten textile companies in large category (in the order of ranking as shown in Table 1) with market capitalisation above Rs 500 crore as of December 31, 2020.
1 Indo Rama Synthetics (India) 
Indo Rama Synthetics (India) Ltd is India's one of the major dedicated polyester manufacturers with an Integrated Manufacturing Complex in Butibori near Nagpur in Maharashtra, with production capacity of 6,10,050 tonnes per annum of polyester staple fibre, filament yarn, draw texturized yarn, fully drawn yarn and textile grade chips. Incorporated in 1986, the company has emerged as one of the largest dedicated polyester manufacturers in India. With nearly three decades of market presence, it is today one of the country's most cost-efficient polyester producers. The company's investments in innovation and capacity expansion allow it to integrate value for its large customer base. The management believes that polyester will be the 'fibre of future', which encouraged the company to foray into this business with confidence. With a well-defined quality and process management system has enabled it to enjoy global presence. Company's strength like its centrally located plant in India to cater demand throughout India is the prime factor keeping it ahead of the competition. Apart from this the other compelling factors are, it being one of India's most cost-efficient polyester manufacturers with well-defined quality and process management system. Further the technological excellence, global presence and enduring relationship with clients are added advantages. Standing strong through challenges, on a consolidated basis during the year 2019-20, the company achieved revenue from operations of Rs 2,122.05 crore. Its net loss for the year stood at Rs 318.00 crore.
2 Indo Count Industries 
Established in 1988, Indo Count Industries Limited (ICIL) is one of the leading home textile manufacturers with an extensive product range. The product portfolio of the company spans across bed sheets, fashion bedding, utility bedding and institutional bedding. The manufacturing skill extends across the entire value chain. Indo Count exports to over 54 countries across six continents. Over the years, it has constantly progressed to maximise its unique value proposition whilst building a widespread network of customers, sound financials excellent reputation and strong corporate governance control. Indo Count has fully operational design studios working from New York, Manchester and Mumbai. It is well known for its sustainability initiatives, which makes it stand out among others.  The company enjoys a resilient business model. Strong R&D and innovation capabilities have enabled Indo count to develop a value-added diversified product bouquet. This results in fulfilling the unique customer requirements and makes it the preferred partner of choice. Company's strategy and business model enable it to deliver growth that is consistent, competitive, profitable and responsible in the long-term. On the financial front, in FY20 it posted a topline of Rs 2134.76 crore and PAT of Rs 73.78 crore as against Rs 1944.70 crore and Rs 60.24 crore posted in FY19.
3 Cantabil Retail India 
Established in 1989, Cantabil Retail India is in the business of designing, manufacturing, branding and retailing of apparels and accessories. The company started its garment manufacturing and retailing business in the year 2000 and opened the first Cantabil store in September 2000. Over the years, the company has established 1,50,000 sq. ft. state of art manufacturing facility in Bahadurgarh, Haryana with a capacity to produce 10.00 lakh garment pieces every year. Along with this, the company also has two dedicated production units and two warehouses to ensure seamless and timely logistics of quality products. The company sells its products under the brands- Cantabil, Kaneston, Crozo and Lil Potatoes. Cantabil currently has 302 stores, 221 stores under Company Owned Company-Operated model and 81 stores under Franchise-Owned Franchise-Operated model spread across 16 states.
The company believes in building strong client relationships by effectively delivering good quality products and acknowledging the changing customer demands. Along with a strong R&D and design team, it is now focusing on building and maintaining a very effective and capable marketing and sales team to showcase company's wonderful products and designs. The company is rigorously penetrating and expanding in tier 2 and tier 3 cities where it gets first mover's advantage. The acceptability of brands and brand loyalty has been increasing in small towns and rural areas as the purchasing power and willingness to pay is higher for a good quality product with an affordable pricing strategy.
4 PDS Multinational Fashions 
PDS Multinational Group headquartered in Hong Kong is one of the largest consumer goods design, product development, sourcing, virtual manufacturing and distribution businesses in Asia. It works with leading global retailers and brands and specialises in delivering world class products at competitive prices. It provides complete sourcing solutions to global customers managing each step in the global supply chain process for major retailers and brands. It has a diverse management team consisting of people from various backgrounds, nationalities, ethnicities and cultures eventually resulting in an entrepreneurial culture thereby attracting the best and the brightest from the global supply chain industry. With strengths like brand Salience, improving contribution from manufacturing arm and strong sourcing as well as distribution business, PDS Multinational Group has always remained ahead of the competition. PDS multinational Fashions, transformed into an integrated player following the setting up of two manufacturing factories in Bangladesh. In-house manufacturing adds incremental value at each step of the product development cycle. High quality control, in-depth knowledge of the end-to-end process and better operational efficiency enables quicker responses to customer feedback and product layout changes. The company is now better positioned to further expand its business in new markets. Going ahead it is looking to enter in under-served emerging markets that provide significant growth opportunities.
5 Alok Industries 
Alok Industries is a Mumbai based integrated textiles company with a product suite comprising cotton and polyester products. The company has a blue chip customer base across the world including major global retail brands, importers, private labels and a large domestic clientele. Alok Industries can be seen as a real turnaround story. Increasing debt burden, consistently mounting losses and investing in areas of which it had less knowledge about – no wonder it faced the insolvency process. Alok Industries was declared insolvent, and the NCLT requested for future plans. Reliance and JM Financial Asset Reconstruction Company placed a bid for the same. As per the plan, Reliance Industries infused about Rs 500 crore in the form of equity into the stressed unit. It acquired about 37.7 per cent stake in the company as well. Following the epic takeover, Alok Industries, which was being dreaded by investors, soon became a good investment idea. After the infusion of equity by new investors and reducing debt, the company is back on the track. If returns on the bourses are anything to go by, the company seems to have gained investor confidence back.
6 Lux Industries 
Lux Industries, founded in 1957 by late Girdhari Lal Todi as Biswanath Hosiery Mills, was incorporated in 1995. It is one of the largest players in the hosiery business having a market share of around 20 per cent of the organised industry. The company is managed by a professional team. Lux is engaged in manufacturing and sales of products which includes men's, women's & kids innerwear, winterwear, socks and slacks for women in varied colours and designs. It offers more than 100 products with a wide range of over 5,000 SKU's under its 15 major brands. The company's products are available in approximately 4,50,000 retail points spread across India with a focus on growing retail outlets thereby providing customers with a seamless buying experience. Lux has also acquired manufacturing and marketing rights of Virat Kohli's brand 'One8′ through its wholly-owned subsidiary, Atrimas Fashions Pvt Ltd. This will empower the company into the men's super-premium products category for innerwear, socks and sleepwear segment which has better margins. It has an innovative marketing strategy where it possesses a competence in transforming product concepts into brands. It has consistently invested 7-8 per cent of annual revenues in marketing and sponsorships. Endorsement by renowned celebrities indicates the same. It has a vast product portfolio and a good geographical presence. With consistent growth on sales and profitability, Lux Industries has managed to make it to the list of top textile companies in India.
7 Welspun India 
Welspun India Ltd (WIL) which is part of Welspun Group, is a global leader in home textiles. With a distribution network in more than 50 countries and world class manufacturing facilities in India, Welspun India is a strategic partner with top global retailers. Welspun India is driven by its differentiation strategy based on branding, innovation and sustainability. In regards to growth, the strategy to continue to invest in its brands across geographies and channels which it believes would be one of the key growth drivers in times to come. Considering the changing industry landscape and digital disruption, its focus on e-commerce and transforming to digital culture continues. The company is upgrading the systems, tools, processes, and up-skilling people while establishing 'Digital as the new norm' in its organisation. As stated, debt reduction as one of the important parameters to rank the companies, Welspun India continued focus on reduction of net debt. The company has already reduced net debt in the core business by over Rs 1,000 crore over the last 2 years and would continue to allocate cash flow towards net debt reduction. It has been the company's endeavour to allocate capital efficiently in order to enhance stakeholder value. Hence over the last few years its net debt has reduced, even though Welspun India has added capacities in various businesses.
8 Kitex Garments 
Established in 1992, Kitex Garments Ltd (KGL) is into exports of cotton and organic cotton garments especially infantwear. The company exports its products to the US and European markets. The vertically integrated manufacturing plant makes infantwear as well as fabrics. Infant apparels manufactured by the company are available globally. The company's unit located near Kochi- India comes with an advantage of direct logistic connectivity with major international destinations by sea and air. Having an integrated and traceable value chain which meets various global standards at various stages of the product supply chain is the key global differentiator at Kitex. The value chain at Kitex primarily consists of an external and internal value chain. The company has been allotting regular capex for improvement of technology and infrastructure and is in the process of upgrading its current facilities so as to expand its capacity. It is one of the most consistent players on financial parameters and hence made it to the list of top textile companies in India.
9 KPR Mill 
KPR Mill is one of the largest vertically integrated, public limited – listed companies with diversified business focus spanning across yarn, fabrics, garments and white crystal sugar. KPR has earned a great deal of experience over the last 40 years to produce an indelible mark in the textile landscape. The company's strategy to focus on active automation, expansion of horizons and entering new ventures has helped the company put a consistent performance on the financial and operational front. The company's strengths are – its strategic location, impressive product range and vertically integrated operations makes the company stand ahead of its competition. The strategic expansion implemented in low capital internship garment and processing segments, self- sufficiency in power, focus on value added products, comfortable cash flow are some of the major factors placing KPR in a lucrative position to reap the benefits from the bright prospects. On the financial front the company has been a consistent performer.
10 Garware Technical Fibres 
Garware Technical Fibres is one of India's leading players in the technical textiles sector. Established in 1976, the company today is a multi-divisional, multi-geographical technical textiles company and is known for providing world class innovative solutions in high performance aquaculture cage nets, fishing nets, sports nets, safety nets, agricultural nets, coated fabrics, polymer ropes and geo-synthetics. Garware Technical Fibres are pioneers of synthetic cordage in India and today have a Global presence with customers spread across 75 countries. As regards with the consistent financial performance, there was continued robust performance of its international business. The company's international aquaculture business continues to grow with heightened market shares through acquisition of new customers as well as enhanced preference of the company's differentiated products and solutions. With its strong focus on innovation, the company filed eight patents during the year and received four patents. Increased demand for company's differentiated products boded well, and there was an expansion of margins in select businesses.
Top 10 Small Textile Companies
Given below are India's top ten textile companies in small category (in the order of ranking as shown in Table 2) with market capitalisation between Rs 100-500 crore as of December 31, 2020.
1 AYM Syntex
In the field of specialty synthetic yarns, AYM Syntex is one of the largest manufacturers of multipolymer textile and bulk continuous filament (BCF) yarns. With the largest yarn dyeing house in Asia, AYM offers world-class quality, wide range of shades, exceptional service and breakthrough innovation. With plants located at Silvassa (Dadra Nagar Haveli) and Palghar (Maharashtra), AYM Syntex is well equipped to meet both domestic and international customer demand for synthetic yarns. The company's state-of-the-art multipolymer textile and BCF yarn manufacturing facility at Silvassa (India) serves the diversified global textile and floor covering industry. These lines are capable of manufacturing speciality yarns, first-of-its-kind across the globe. The company's textiles business has one of the widest ranges of products in the world. This has been further enhanced with the addition of new products developed during the lockdown. The share of value-added products continued to increase and surpass last year's numbers. The company's focus going ahead will be to commercialise some of these new products and simultaneously increase the reach (particularly in exports) to improve the sales of value-added products in its range. It is a consistent performer on the financial front and despite the challenging scenario has managed to post growth on the sales and profitability front.
2 Banswara Syntex 
Started in 1976 as a spinning mill in Banswara, now Banswara Syntex has grown to become a vertically integrated textile company, specialising in the production of yarn, fabric and readymade garments. Today it is one of the largest single-mill set ups of fibre-dyed yarn in India. The company also produces shirting and technical fabrics. Tesca Textiles and Seats Component (India), the joint venture company, is producing automotive fabrics. Over the years, the company has forayed into markets in over 50 countries including the developed nations marking its presence ahead of the competition. Backed by the varied and highly specialised product range, it is now able to service a number of highly reputed fast fashion brands. The company is looking for more avenues for forward integration and, as such, the availability of the material from the preceding stage is a big advantage. The world's largest retailers like Zara and H&M have increased their market presence in India. As Banswara is an existing supplier to these brands for their international supply, the company's business with them for their India operations is expected to grow in a big way. To become energy sufficient Banswara has its own thermal power plant, which generates over 30 MW of captive power for the mill. As a next step the company intends to move to solar energy as well.
3 RSWM 
RSWM is a leader in the domestic and international textile industry, the company's innovative mind-set and visionary approach has blessed it with associations across the globe. With its goal of consistent profitable growth the management has been focusing on reducing operational and fixed cost, enhancing man machine productivity and de-leveraging the financial indebtedness. Just to put it in a simple way, the company liquidated its investments in the group companies, sold non-productive assets and dead investments, and utilised the cash flow to pare the debt by Rs 178 crore. This included prepayment of high-cost loans of Rs 25 crore. As a result the interest burden was down 9.32 per cent over the previous fiscal. In the denim segment changes were path breaking. The management changed the entire operating model. Cost management was under the spotlight in all segments. Even in the fabric segment the company leveraged the job working model. In the yarn segment, the company's raw material procurement and management systems were changed. Quality became the focus point and the company skewed the operating capacities from commodity products to value-added variants. As a result the margins scaled considerably on these moves. Overall FY20 was a year of taking tough calls and making path breaking changes in the way the company looked at business and conducted our operations. The results were visible helping the company make it to the top 10 list of textile companies.
4 JBF Industries 
Established in 1982 as a yarn texturising company JBF Industries has now backward integrated into manufacturing partially oriented yarn, polyester film and also various types of bottle grade, film grade and textile grade polyester chips. The company has attained phenomenal growth since it became a public limited company, which is substantiated by a 250 times increase in its turnover since. Today, JBF is one of the leading polyester value chain companies not only in India and abroad. Despite company`s focus on Indian market, it never lost the opportunity to cater to the growing polyester markets globally. The company is amongst the Top 5 Domestic market leaders in textile grade chips, bottle grade chips and partially oriented yarn. Internationally also, JBF is amongst the Top 10 manufacturers of bottle grade chips and polyester films. JBF's brand value has made its products well accepted with a majority of domestic customers as well as many multinational corporations. The past few years at JBF Industries have been of innovation. The company management looked at the growing textile sector in India and evolved a strategy that was innovative in its approach to business. It was management's expansion into polyester chips manufacturing which has paid rich dividends. The success of this endeavour is not only seen in the robust growth of the company's bottom line, but also from the resulting global expansion opportunities this opened up.
5 Bella Casa Fashion & Retail 
Operating in the fast growing fashion market of India, Bella Casa Fashion is engaged in the business of manufacturing bed sheets, quilts, home furnishing textile items, printed furnishing fabrics and garments. The market size of home furnishings, women's and men's ethnicwear is more than Rs 2 lakh crore and the company wants to capture the best share of this market through its brands in various categories. The company has entered into various licensing arrangements with well-known foreign brands and has invested in design capabilities, manufacturing capabilities and distribution capabilities to grow its reach in online trade, modern trade and general trade. Today the brands like Bella Casa, Disney, Marvel, Hallmark Design Collection, Indigo and Nayak have become extremely popular. With the company operating in segments like home furnishings (both own manufacturing and other original retailers) and readymade garments. This offers the company a varied product base to cater to the requirements of its customers. Over the period it is focusing on reduction of operational cost and achieving efficiency. Apart from this focus has also been on the cordial relationship with suppliers and customers.
6 Vishal Fabrics 
A flagship company of the Chiripal Group, Vishal Fabrics is a leading denim manufacturer. With over 35 years of experience, the company leverages its state-of-the-art manufacturing facility, with a capacity of over 100 MMPA, to deliver premium fabrics. When we speak about Vishal Fabrics, it mainly is all about quality, and customer delight. It is a reliable entity that meets expectations and builds trust. Since 3 decades, Vishal Fabric's clear goal has been to deliver quality fabrics that effortlessly match global standards. The company believes in innovation and technology, and it is confident that it will help the company grow as one of India's leading dyeing, printing, and processing units. The history of achievements at VFL have been rich, the company focuses just on today, for the needs of customers tomorrow. Following this philosophy, Vishal Fabrics has also ventured into the denim industry on a large scale. Vishal Fabrics has the capacity of producing over 100 million meters of processed fabric every year, and to meet the increasing power demand, a 6MW captive power plant has also been installed.
7 Sangam (India) 
Initiated with humble beginnings in the year 1984, the Sangam group today is making its presence felt in different segments. Just to put the numbers in perspective, the company has more than 200,000 spindles and 3000 rotors for producing PV dyed yarn, cotton and OE yarn with an enviable reputation for quality. Sangam India is the largest producer of PV dyed yarn in Asia at a single location. It is also a forerunner in manufacturing ready to stitch fabric with the annual capacity to produce 30 million meters of fabric and 40 million meters of denim. Charting a steady growth path as textile player, Sangam Group has diversified into infrastructure, power, steel and recently the seamless garment industry. The group has introduced a seamless garment manufacturing facility with 36 seamless knitting machines that have the capacity to produce 3.6 million pieces per annum. Sangam's textile industries at Bhilwara, Rajasthan are one of the largest and most modernised industries in the country. The Group's Spinning division is ranked amongst world's largest PV dyed yarn installations.
Through its manufacturing excellence and innovation, the company has enhanced its industry position and strengthened its brand equity. The company's global network, advanced manufacturing facilities and wide-spread distribution channels have helped increase footprints across the globe. The company is always at the forefront of developing and sustaining quality offerings and in turn, greater value for all the stakeholders.
8 Ashima 
Ashima offers cotton fabrics instilling the latest fashion trends and aesthetics. With its segments like denim division, spinfab division, dyecot division and garment division has managed to create its own mark in the Industry. Ashima reported improvement in its operational financial performance during FY20. Despite the fact that economic slowdown has hit the company hard in terms of its business volumes and as a result its divisions have witnessed considerable reduction in production and sales volumes.
However at the same time, the company has continued its efforts on enhancing its product profile and customer segments which have helped it improve upon the margins. Over the last few years, the company has invested into its operational capabilities targeted towards value-added products and has taken various initiatives to strengthen its manufacturing facilities and marketing setup. These steps have helped the company off-set the adverse impact of lower volumes to some extent. Moreover, the company's focus continues to remain on better controls over the operational costs as a continuing mission and its results are visible in terms of reduced costs across most expense heads. The company has also tightened its controls over the working capital cycle and reduced the level of current assets considerably, thereby having a positive impact on the finance costs. The financ