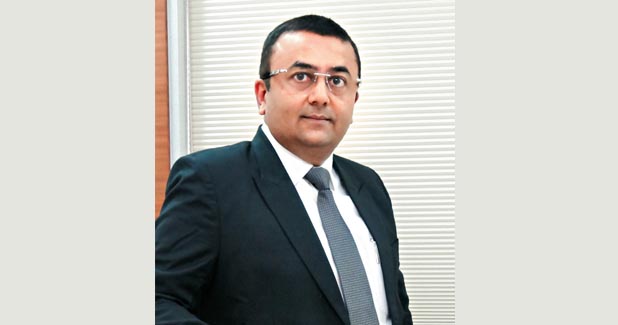 The demand for automation is need for the hour
Since 1996, Gandhi Automations has held a lead position in manufacturing as well as exporting, distributing and installing entrance automation systems and loading bay equipment that are problem free and easy to operate.
Since 1996, Gandhi Automations has held a lead position in manufacturing as well as exporting, distributing and installing entrance automation systems and loading bay equipment that are problem free and easy to operate. The company specialises in designing, manufacturing and installing customised products conforming to the highest safety standards complemented with reliability and energy efficiency.
Samir Gandhi, Managing Director, Gandhi Automations, shares the promising trend that is spurring new innovation and improved processes at every step of the supply chain.
Material handling and logistics as a whole has seen dramatic changes over the past few years. It's a promising trend that is spurring new innovation and improved processes at every step of the supply chain. How do you think this is very relevant in the modern times and your comments?
The demand for material handling automation and equipment has increased exponentially over the past few years. It is because of the increasing production capacity, reducing man hours and meeting deadlines. Now with more and more companies streamlining their processes the use of material handling equipment for any industry is a must. The demand for such automation is the need for the hour; to deliver faster, hassle free loading/unloading and reducing supply chain operating costs.
How efficiently materials move through a manufacturing or warehouse facility will affect the cost of production as much as any other part of the supply chain. Given its importance, companies have found ways to leverage technology to improve this process. Because most manufacturing companies' internal processes are only visible to employees, a lot of people are unaware of how common and advanced the technology involved with the many parts of the production process really is.
In future, we feel technology advancement combined with material handling equipment will change how logistics and supply chain management companies' function. Looking at the current situation at hand, the future of material handling sector looks very promising as it is not just helping companies perform better but also save money whilst increasing their production capacity. Thus, we at Gandhi Automations are always innovating and learning new technological advancements to help improve processes for all kinds of industries.
Material handling, logistics and warehousing have undergone sea-change in India. What are your company's offering to the textile industry?
We manufacture a wide range of materials handling equipment. The equipment have been designed after studying the various designs available and in use worldwide and adapting them to suit Indian operating conditions. Focus is on manufacturing robust, reliable, safe, simple to operate and maintain, durable quality equipment. This has earned us customer appreciation and repeat orders from all over India.
Dock levelers are the crucial part of your loading bay area. Usage of dock leveler aids in fast loading and unloading of goods at warehouse, moreover is also important from safety and security view. Dock leveler acts as bridge between loading bay area and truck, height difference between truck and bay area is bridged and material movement can be carried out smoothly between warehouse and truck. We manufacture dock levelers conforming to EN 1398 standards and our product is CE marked. Operation of dock leveler is very easy, unskilled labour can use perform operation with ease.
Maintaining a low humidity space in the midst of a high humidity environment requires two basic components: No. 1 an insulated barrier to surround the space; and No. 2 a mechanical chiller to de-humidify, cool, and circulate the air within the space. An insulated barrier is desired so that the exterior surface of the barrier does not become cool enough to drop below the exterior (higher humidity) dew point, causing condensation (moisture) on the exterior of the barrier.
Achieving proper temperature and humidity control is an essential part of textile manufacturing and storage. High speed curtain walls provide an excellent insulated barrier for temperature and humidity control within partitioned spaces.
Rapid roll up doors/high speed doors manufactured by Gandhi Automations (Prime internal door) are fast, durable, energy saver and are engineered for all kind of industrial application. Rapid doors (internal) are used where a section of the facilities has to be isolated from other section. This simple curtain design of door aids in quick opening and closure of rapid doors and ensure effective protection of the against heat, dust, humidity and temperature.
Gandhi rapid door aids you in meeting your operation's targets. Save energy, decrease total operational costs, restructure traffic flow and improve logistics. We've designed our rapid doors to be safe, dependable and maintenance-free, conferring to all international standards.
Prime high-performance doors/high speed doors are designed and factory-made with German collaboration using state-of-the-art and resourceful engineering technology for frequent use in high traffic areas with opening speeds up to 2.5 m/s. The high opening speed reduces time taken in movement of material, thus hastening the logistics process. Our team of skilled engineers visits the site and recommends the most suitable rapid door to client. Rapid doors/ high speed doors are manufactured and installed keeping in mind international standards.
Our manufacturing is backed by solid, professional after sales service support. Where necessary we depute our personnel for repairs. In most cases engineers in user industries are able to carry out repairs and we provide all spares promptly.
Please give some details about the company's beginning and also the network it has built around the country.
In the relentless journey of 22 years, we have learned and gained the knowhow into entrance automation and loading bay equipment sector. Gandhi Automations is an ISO 9001: 2015, ISO 14001: 2015 and BS OHSAS 18001: 2007 organisation certified by TUV NORD for offering world-class quality products supplementing with after sales support. We lay great emphasis on exceptional customer service and provide regular programmed inspections and maintenance safeguards, which increases product lifetime and reduces operational cost. We have a huge team of committed and diligent engineers and technicians; many of them are trained at advance training centres in Europe for this purpose.
Over the years, Gandhi Automations has encountered various challenges and opportunities and we have turned each adversity into achievement given our unshaken determination and commitment to success.
Gandhi Automations is known for its research and development, quality and commitment towards customers. We have catered to industries like chemical and pharmaceuticals, food, automotive, logistics, warehousing, shopping malls, marine, aviation and many more. Our customers helped us grow along by trusting and demanding challenging requirements. We hence invested into research and development, factory trained sales and service team pan India, 24×7 customer care, factory and warehouse to achieve those challenges. Our constant efforts towards innovation with focus on latest technology have acknowledged our products and solutions for reliability and sustainability.
We have maintained a positive trend YoY since inception. Our solutions and technology proved pioneer in our business and have extended not just in India but also globally. The company has grown from a small office in Mumbai to a headquarters in Mumbai with 300,000 sq. ft. factory and warehouse. Its sales and service offices are present at 23 locations across India; additionally, we also have a strong dealer network for international business and commitments across the globe.
Global supply chain has undergone massive changes in the recent times. How is Gandhi Automatons equipped to meet the challenges of tomorrow?
Ensuring efficiency in your procurement process has a positive chain reaction within your entire organisation. The objectives of a world-class procurement organisation are far beyond the traditional belief that procurement's primary role is to obtain goods and services in response to internal needs. In fact, a successful procurement process aims to optimise the whole process to create significant business value.
Gandhi Automations is an effective service provider being able to tailor services so as to minimise the impact of market dynamics on a client's supply value chain. We also are able to proactively ensure compliance at all junctions of business operations. Emerging technology and the proliferation of digital technologies have opened up avenues for new business models and service delivery frameworks. We leverage such technologies in providing value added services to the clients. Our products are in conformance with highest standards, and can be installed either on new fixed /retractable warehouses, or integrated into already existing ones.
The emerging trends which are becoming very popular are remote operated high-speed doors and rolling shutters; the challenges here are sustainability and access. The opportunities to the Indian Industry with automation is to maintain an efficient production cycle, safe inventory, Cutting-edge technology, speed of movement, functionality and safety- are the must-haves for this line of Gandhi Automations' products. If we add the high quality of personalisation and design, they become unique elements necessary for daily logistics operations and for the visibility of customer identity.
Many manufacturing industries nowadays need a controlled environment in which you limit the amount of dirt and dust in the manufacturing premises. Medical instrument manufacturer, electronics and computer manufacturer, food industry, the pharmaceutical industry and some military applications are but a few of the examples that have strict requirements for maintaining the dust free environment.
Our high-speed doors and dock levelers are relatively more popular in the logistics industry as their main focus is to maintain seamless operations and minimal downtime while meeting their manufacturing, storing and supplying needs. Our high-speed doors are self-repairing which provide effortless passage for material and manpower movement.
What are the developments and achievements of Gandhi Automations in the last few years?
We are very optimistic about local and international markets. We expect India to rank fifth as the global manufacturers by 2020. We are aiming CAGR of 50 per cent being the market leader in India. It is further boosted with potential market growth in the manufacturing sector with central government initiatives like Make in India. Our safety and intelligent systems are at par with international manufacturing standards which helped us deliver customised products as per complying with the European Standards (EN).
Gandhi Automations, India's No.1 entrance automation and loading bay equipment company, has set the international ball rolling. The company's participation in international exhibitions like R + T at Stuttgart, Germany and Big 5 at Dubai has amply cleared its intentions to go international in a big way.
We work closely with contractors, architects, and owners and manufacture a system that meets the customer brief or can retrofit to meet the requirements of an existing structure. The synergy between the different processes allows us to offer our customers high quality products. All thanks to our highly trained and experienced technicians and the use of special materials, we are able to satisfy any customer requirement. We look forward to providing most reliable solutions for any environment. We have successfully completed 1,00,000 installations in 17 countries worldwide and are now looking at further expansion.
Are there any ambitious plans for expansion and diversification? If so, please give us details and tell us how this will benefit the textile industry.
We are No. 1 in the domestic market. There's huge untapped international market for our products. Our products meet international safety standards and with right kind of product portfolio, we are ready to meet the demands of this huge international market.
With increased globalisation and countries opening up for business we see a great opportunity in neighbouring countries also. For instance, in Myanmar, last few years foreign investments has increased from few million to several billion dollars (300 million-dollar 2009 to 5 billion 2014). The Myanmar Government has relaxed import restrictions and abolished export taxes. Such policies boost our confidence and we will venture in such countries. Our current target for export is Gulf Countries and European Countries. In coming years, we will be aiming neighboring countries like Bangladesh, Indonesia, Bhutan, SriLanka and few African countries. I have visited few of these countries and we have better products to offer them, than the ones they are currently using. By 2020 years we are targeting 50 per cent revenue from export.
How do you think India is placed globally in the logistics and warehousing infrastructure? Do we need to do more? If so, what steps do you think the Government and the industry should take to reach the next level of excellence?
There is a clear need to add manufacturing capacities in the manufacturing automation and logistic warehousing sector. The industry is moving towards increasingly sophisticated entrance automation solutions like high speed doors, automated rolling shutters, loading bay solutions, hangar and garage doors, sectional overhead doors etc. driven by demand from key user segments such as automobiles, consumer durables, aerospace, pharmaceutical, food, construction, industrialisation, etc. To derive long term benefits, entrance automation manufacturers should develop capabilities to cater to this demand and promote greater investments in this sector.
There are several growth trends that create strong underlying demand. Besides urbanization, digitisation and sustainability, the need for safe, secure and convenient solutions, drives demand for the company's customer offerings. Sustainable access solutions add customer value as they enable customers to improve cost-efficiency, reduce energy consumption and lower the environmental impact of their operations significantly. The number of new sustainable building projects continues to increase, driving higher end solutions. Gandhi Automations is leading in offering efficient, sustainable solutions enabling us to win high profile and important projects.