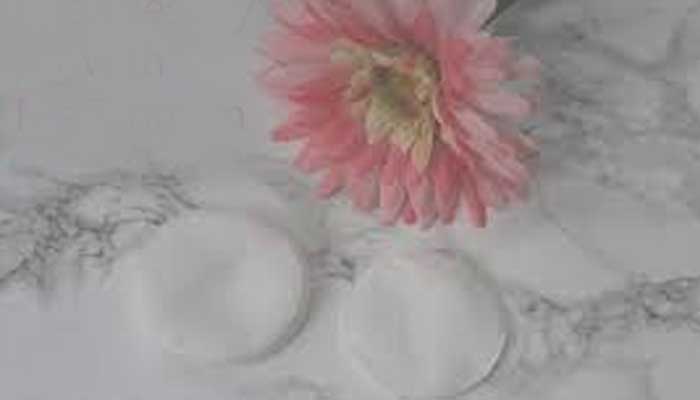 The cotton tantrum
After reaching a record high in the first half of 2022, cotton prices have started dropping due to a slack in demand for yarn and other downstream textile products. Divya Shetty will examine the predictability in the cotton prices and supply which will be the key for India to emerge strong in the global textile & apparel market.
Cotton is one of the most prominent cash crops of India. The cotton supply chain starts from the cotton farms, grown in only about 11 states. Approximately 60% of the cotton comes from Central India, 30% from southern India and 10% from northern India. The farm sizes are predominantly small and fragmented, limited the benefits of mechanisation and large-scale farming practices (Refer to Fig 1).
India is one of the largest producers of cotton in the world and a lot of people's employment is dependent on this crop. But unfortunately, in the last two years, the textile industry has witnessed high volatility in cotton prices. Cotton was priced at Rs 220 per kg in March 2020, but within two years, the price soared to Rs 460–480 per kg. According to Raja Shanmugham, President, Tirupur Exporters' Association,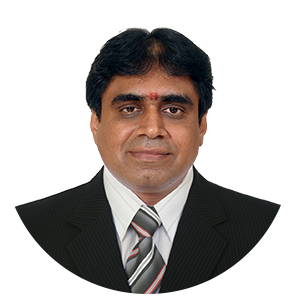 "Until 2020, the flow of textile value chain was consistent. Naturally, after a sudden spike, everything would return to normal within a month or two. Following the covid, all raw material inputs, and the cost of those inputs has skyrocketed. As an example, if we look at cotton, the spike continued for 18 months without any respite."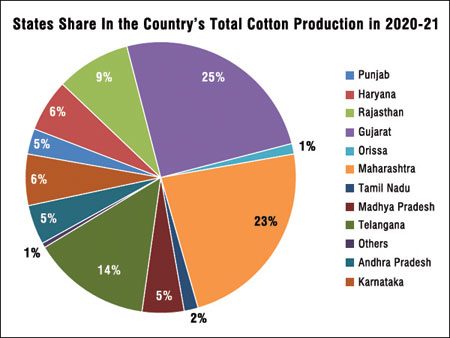 Courtesy: Textile Excellence
Due to the textile industry's fierce opposition, the government decided to repeal the 10 percent import duty it had imposed on it in the previous budget until September 2022. The repeal was anticipated to provide some relief to the value chain, but additional issues, such as late rain, pest attacks, and low harvests, continue to leave the industry vulnerable. Exports of cotton yarn and cotton cloth are currently very low or nonexistent. Furthermore, cotton fibre is not exported. Even cotton clothing producers are finding it extremely challenging to be profitable and competitive. These ups and downs have put a lot of pressure on the entire supply chain. However, it is first necessary to comprehend how the chain in India functions before examining how it is affecting the supply chain.
Recognising supply chain
The common Kharif crop of cotton is sown from the end of April to September and harvested in the fall and winter. 6.14 percent of India's total gross harvest, according to the Ministry of Agriculture & Farmers' Welfare (MOAFW), is produced from cotton. Pradeep Kumar Agarwal, Chairman-Cum-Managing Director, The Cotton Corporation of India, simplifies the complex chain,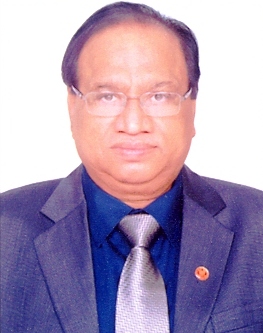 Farmers start the process harvesting the cotton seed (at the farm level). Farmers brings seed cotton (kapas) for selling the same in nearby APMCs.
After bidding in open auction in APMCs, kapas is sold to highest bidder (Mills/G&P factories/Traders) or at MSP to CCI.
Kapas so procured is send to ginning and processing (G&P) factories for processing to make it saleable by separating cotton seeds and making fully pressed lint cotton bale of about 170 kgs each.
Cotton seeds are the byproduct and sold to the seed crushing units and cotton bales are shifted to warehouses till its sale to the spinning mills for value addition of cotton into yarn, fabrics & other textile products, apparel and Readymade garments.
Thus, cotton farmers, CCI/Traders, G&P Factories and Textile Mills are the important component of cotton supply chain in India.
Underlying causes of price rise
Prices are affected by market forces of demand and supply. In addition, cotton being an internationally traded commodity, its prices is also affected by the price in the international market. Thus, cotton price rises mainly due to increase in demand from domestic mills and international buyers; scarcity of good quality cotton in the market; the possibility of speculation by few traders to earn more profit cannot be ruled out. In addition to this fundamental economic law of supply and demand, a few additional factors were added by the industry experts as to why prices have risen over time.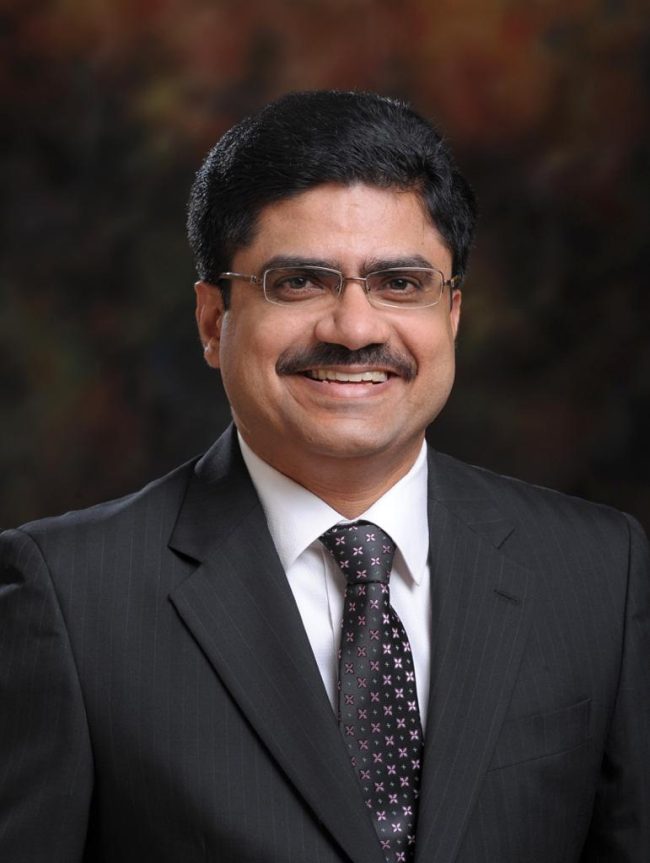 T Rajkumar, Chairman, Confederation of Indian Textile Industry (CITI), condemns the pandemic as one of the major reason behind the price rise. "Indian Textile Industry is witnessing an unprecedented volatility in the prices of cotton especially post Covid-19 pandemic. As the lockdown eased after the pandemic, the demand of textile products shot up substantially. Though, there was enough stock/ supply of cotton due to low or minimal operations carried out during back to back lockdown restrictions, however, due to increased demand of textile products world over,the prices of cotton also increased in the domestic as well as international markets. The reasons behind price rise are enumerated below:
"Lack of data for accurate forecasting of production, demand and supply , leading to prices being largely based on speculations. With cotton production estimates falling far short of the initial estimates at the start of the cotton season, prices have steadily risen, in response to good demand. Continuous increase of MSP of cotton by the Government of India. All these factors have resulted in increased prices of cotton during the last few months," adds Rajkumar.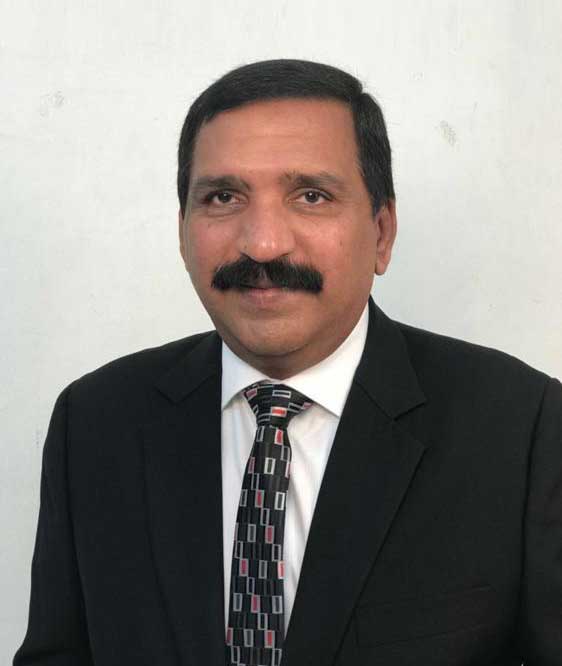 On the other hand, Atul Shivdas Ganatra, President, Cotton Association of India, cites few more reason for the price shotup.The cotton prices always doesn't go up it is an up down chain. In 2020 cotton rate had come down to Rs 35,000/- per candy and now in 2022 April month cotton rate gone up to very high Rs 1,10,000/- per candy. This year the reason for cotton price going up
As international ICE futures gone up to 75 cents to 150 cents.
Cotton production gone down 350 lakh bales to 315 lakh bales.
Cotton consumption has gone up.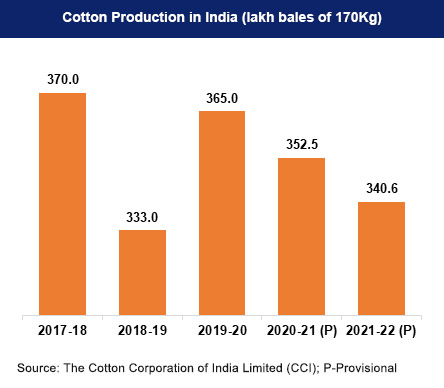 Courtesy: The Cotton Corporation of India; P-Provisional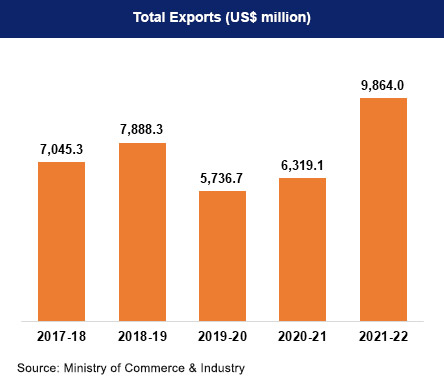 Courtesy: Ministry of Commerce & Industry
Over time, our raw cotton exports have increased significantly (Refer to Fig 2 and Fig 3). Since our competitive edge has been shared with other nations due to the inexpensive trade fares from India, it has gradually been lost. Exporting cotton to nations where the factory is nearer the shore is relatively easy. "The beginning of the season is when exports take place, and if for some reason the crop is not satisfactory by the end of the season, we have to import cotton. Unfortunately, the government's call for a 10% import duty has disrupted this year. Thus, we were essentially affected by this supply chain disruption, and cotton imports were made duty-free rather late in the season. And as a result, Indian cotton prices increased far more than those elsewhere. In the past year, our costs have virtually doubled while those of other countries have increased by 60 to 70%. And even now, Indian cotton costs far more than the rest of the world, explains Sanjay Jain, Managing Director, TT Limited.
People have switched to alternate options since cotton has become comparatively expensive. Customers are unwilling to pay these high cotton prices in the domestic market as well. Due to our relative lack of competitiveness internationally and the extremely high costs we charge domestically, customers are shipping to products that are more affordable. Cotton, polyester, cotton viscose, etc. are the main components of synthetic mixes. Therefore, it is quite difficult to get individuals to switch back even when prices drop.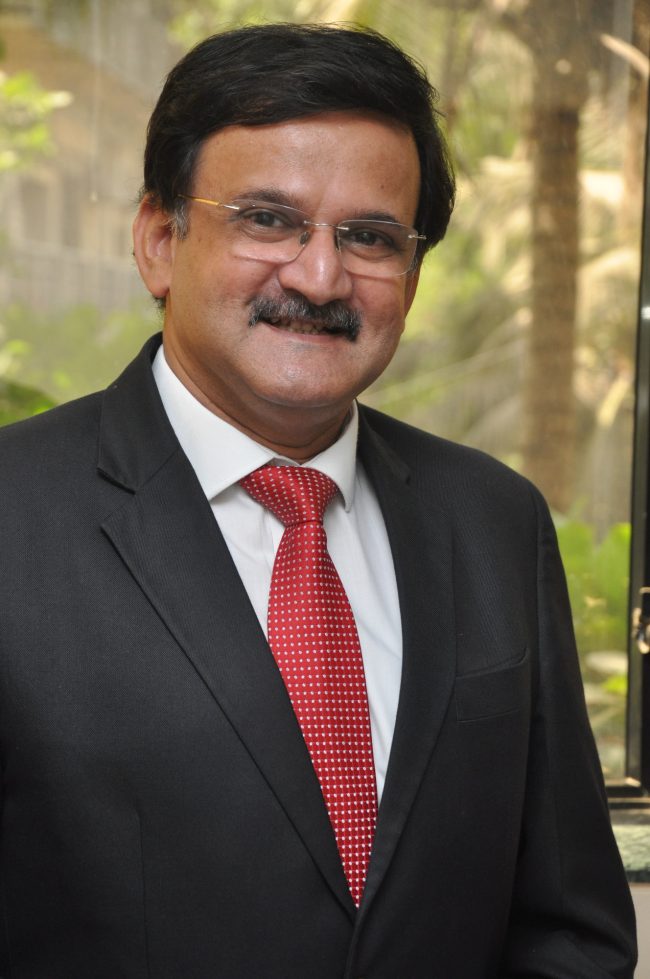 GV Aras, Ex Director of Textile Engineering Group, ATE, shows concern on how the surge is happening due to logsistical inefficiency in our country. He says, "The value chain is highly fragmented in India; often, it is grown in one place, spun in another, woven in another, and garments in a completely different location. As a result, this complicates the logistics process and renders the entire value chain unprofitable."
Since the industry has consistently brought up the issue of stockpiling cotton, it cannot be untrue. Even Arun Sekhsaria, Director, Dwarkadas & Sons reiterates, "Government should not allow the big players/ mills to stockpile the cotton and instruct them to buy it when its necessary. Since the cotton is stored by the big players, the production and income of the mid-sized businesses gets affected."
The product's price cannot be modified in garments regularly. As a result, there is a difficulty at the time of final garment sale. "The industry began to suffer since the buyers also stepped up and raised the price to a certain extent, but not to the full extent of what was consumed on the input side. Hence, the manufacturers were unable to keep up with the demand, and the entire sector began to suffer. Therefore, the entire industry has been left in a bind," states Shanmugham.
Impact of volatility on the supply chain
Indian Textile Industry is mainly cotton based. Any rise in the prices of cotton affects the entire value chain especially the spinners and the apparel manufacturers.
"In case, domestic cotton prices are higher in comparison to international prices of cotton, there will also be simultaneous increase in yarn and fabric prices which will ultimately affect the demand and the competitiveness of the textile industry in the global market. On the other hand, if the rising trend is universal i.e. domestic prices of cotton are ruling in tandem with international prices of cotton, it will not affect the demand as well as the textile value chain," adds Agarwal.

Courtesy: Committee on Cotton Production and Consumption (COCPC) in its meeting held on 22.03.2022, P-Provisional
Farmers being the primary member of the value chain, may get affected by the volatility as Jain informs, "In the medium term, farmers will also be impacted by this price rise. Yes, farmers do receive good money in the short term, but when the medium term and content consumption come around and we have good cotton production (Refer to Fig 4), this will surely have an impact on the farmers as well, who have clearly not been hit this year. And as a result, the market has become so much more volatile that prices have soared by 100%. They have now reversed by between 30 and 35% in just three weeks, you know. The textile industry has low profit margins. Because they are unable to control the volatility and high costs of the sector, many people have lowered their production and many others have left the industry."
The volatility is present not only in the raw cotton but also in rubber, plastic, dyes, and chemicals. So, in addition to the major raw material, cotton, other items have also had an impact on the entire value chain.
Additionally, Ganatra expressed worries about how it is affecting other sub-sectors, "If cotton rates are going up it is affecting spinning, weaving and garment industries and we cannot compete in international markets since our prices are higher."
Is cotton's volatility causing synthetic to gain ground?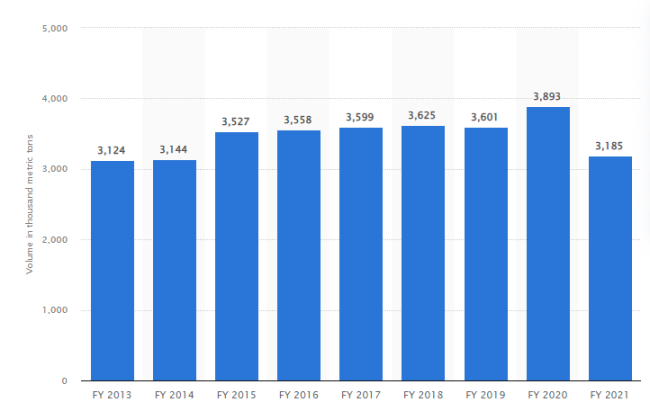 Courtesy: Statista
Manufacturers have been exploring for alternatives since cotton prices have skyrocketed, and it appears they have discovered one!
With the changing fashion trend across the world, demand of synthetic fibre is increasing worldwide including India. One of the major reasons behind this shift is the limited availability of cotton owing to limitations of acreage area and also cost factor plays an important role as price of synthetic fibre is relatively cheaper than cotton.
"Due to the various properties of synthetic fibre, they have usage in various industrial textiles also apart from the conventional textile products. Owing to this increased application, demand of synthetic fibre is increasing at a faster rate as compared to cotton fibre and this gap in demand is expected to increase further in India with Indian Government promoting MMF sector through its policies such as Production Linked Incentive (PLI) Scheme," analyses Rajkumar.
Even Ganatra explains why MMF is a better alternative than cotton by stating," Synthetic fibre like polyester and viscose price 30 to 40% lower than cotton, so if cotton rate goes up spinning mills shift to polyester and viscose. Also the life of polyester and viscose fibre cloth is more than cotton cloth, in short they are cheap and best."
Looking at the trends, synthetic fibre accounts for the majority of worldwide textile trade. The government is also helping the MMF industry to grow and the latest announcement of the PLI scheme is its testimonial. "India is lagging behind the rest of the world in the use of synthetic fibres. But the government's most recent PLI plan implementation is giving the industry a significant boost. Additionally, this is the main focus of the MITRA scheme." indicates Aras.
On contrary, few experts present a different opinion in the growth of MMF.
Jain adds, "The price of polyester has increased globally since the price of crude oil has increased due to the conflict between the Ukraine and Russia. The fundamental component of polyester, crude oil, is affected. Thus we will observe a slow growth in synthetic fibres."
Methods to control fluctuation
The government and business leaders are considering streamlining the procedure to reduce pricing volatility and enhance system transparency. And in order to succeed in this endeavour, experts have recommended a few solutions.
Agarwal suggests textile mills can cover their cotton requirement on regular basis as per their yarn sale pattern instead of waiting for downfall to come. Textile mills can also cover their cotton requirement under lock-in period facility of CCI or may utilise other hedging mechanism for mitigation of risks of wide fluctuation and for price stabilisation in their raw material prices. He further comments, "Textile industry can achieve economies of scale through modernisation and policy of "Make in India" with "Zero Effect; Zero Defect". This will increase the competitiveness and will help in creating brand image and thereby fetching premium at each level of the value chain due to better quality of products."
On the other hand, association like Confederation of Indian Textile Industry has been consistently pitching with the Government of India for policy framework to reduce the volatility in cotton prices. Policies like Cotton Price Stabilisation Fund Scheme, Direct Subsidy to Cotton Farmers and global cotton contract to safeguard the interests of the stakeholders have been presented by the body.
Jain also shares about the council that has been established by Piyush Goyal, the Union Textile Minister, to make recommendations on the steps to increase yield. He says, "during the past 15 years, our productivity and yield have remained constant. In fact, new generation seeds must be introduced right away."
He also adds that there is no reliable method for predicting the crop in our nation. When the Cotton Advisory Board quotes a number and then reduces it three months later. Therefore, we must develop an appropriate scientific method to gather all data.
China has been the market leader in textiles because they have been keeping supplies on hand to deal with any catastrophes. Shanmugham explains, "the CCI is required to safeguard farmers' interests when the price falls below the MSP minimum support price. Since we produce over three crore thirty lakh bales of cotton each year, I am pleading with the government to keep a buffer supply on hand. Let one crore of the three crore thirty lakh bales serve as a government buffer. Therefore, when these types of short-term gain games are being played by the so-called MNCs or other traders for that matter, CCI can readily intervene in the market. Additionally, a global ban on cotton in the commodities market must be implemented."
"Also, in order for the sector to be developed rapidly, rather than using the export promotion councils (EPC), which have so far been in operation and have shown to be less than effective at keeping India competitive. Therefore, I have proposed that the government dissolve the boards and replace them with EPC, hot spots. For instance, knitwear should be exported from Tirupur, Carpet can be exported from either Kanpur or Kashmir. Home textiles can be shipped from Karur, while general textile development can be done in Mumbai," recommends Shanmugham.
How is the government addressing the volatility?
Agarwal notifies certain scheme that has been launched by the government to support the textile industry.
Special economic package, relief and credit support measures etc, to improve the conditions in textile sector. During the last two pandemic years i.e. in 2019-20 and 2020-21 when market was nosedived and there were no takers of farmers' cotton, CCI intervened in a massive way as a Nodal agency of Government of India, Ministry of Textiles and procured more than 2 crore bales under MSP operations valuing Rs 62,500 crore and safeguarded around 45 lakh cotton farmers from distress sales. This step not only helped the cotton farmers in the difficult phase of COVID-19 pandemic but also helped the Textile Mills including MSME Mills in India to have an assured supply of good quality cotton at competitive price through e-Auction conducted by CCI on daily basis.
During current cotton season also, Ministry of Textiles, Government of India has been constantly engaged with various stake holders across the entire cotton/ Textile value chain in respect of the prices of cotton and cotton yarn to harmonize their interest. Looking at the problems faced by the textile industry due to high rise in cotton and yarmn prices, Import of cotton have been exempted from import duty of 11% (including 5% Custom Duty, 5% AIDC and 1% Cess) w.e.f. 14thApril 2022 till 31stOctober 2022 as a result of which prices of cotton and yarn have reduced significantly.
The government is currently taking action to stop speculation. In order to prevent single or lobby events, constraints recently placed on MCX should ensure that such things remain permanent.
Shanmugham suggests government to address the FTAs of European Union, United Kingdom and Canada as they are all looming over the industry. The RoSCTL contract has been approved for this industry. There is now a need to implement these welcome steps and long anticipated FTAs. We will then be on an even playing field with our competitors once that has been accomplished. Thus, that would contribute to the rapid growth of this industry.
Will the volatility continue?
Given the current unfavourable circumstances, it is difficult to anticipate the status of cotton in the future. Consumers are not prepared to accept the downturn in the US and Europe, and China's economy has been considerably slowed down by COVID, and this international tension reflects in the Indian markets. So, all of a sudden, we are in a stagflationary situation where both inflation and growth are high.
This ultimately results in lowering prices, which will affect a lot of people because they will put off buying. Delaying purchases therefore results in a further decrease in demand because people only purchase when they need something. This kind of recession is now becoming a threat for this industry and the freefall of cotton yarn is going to create a lot of chaos in the near future.