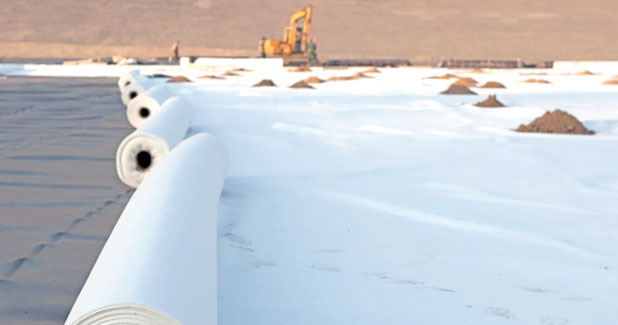 Technology, the driving force in technical textiles
Technical textiles sector is one of the most innovative industries around the world, being used in almost all modern industries including automotive, healthcare, aeronautics, sports, etc.
Technical textiles sector is one of the most innovative industries around the world, being used in almost all modern industries including automotive, healthcare, aeronautics, sports, etc. The success of technical textiles is primarily due to the creativity, innovation and versatility in fibres, yarns and woven/knitted/nonwoven fabrics with applications spanning an enormous range of uses. The ability of technical textiles to combine with each other and with others to create a new functional products offer unlimited opportunity to growth. Depending on product characteristics, functional requirements and end-user applications, the technical textile products are classified into 12 segments.
Global market size for technical textiles is estimated at $145 billion in 2015 and is expected to grow at a CAGR of 4 per cent and reach $170 billion. by 2020. The demand for technical textiles will be driven by the rapid industrialization, robust growth in construction & infrastructure projects, increasing automobile production, and rising demand from the health care sector.
Global technical textile imports is dominated by USA with a share of 17 per cent. This is followed by China, Germany and UK with a share of 10 per cent, 8 per cent and 4 per cent, respectively. The rest of the world accounts for 40 per cent share in the imports of technical textiles. Emerging regions such as Asia Pacific and Latin America are presumed to witness rapid growth in multiple segments of technical textiles. China is the largest exporter of technical textile products with a share of 24 per cent. This is followed by USA, Germany and Republic of Korea with a share of 10 per cent, 9 per cent and 4 per cent respectively.
Growth drivers
Increasing role of technology: Technology plays a major role in development of technical textile products. Several products have been impacted by use of new technology. Some examples of technology include thermoforming, 3D weaving, and 3D knitting, which are being highly used in manufacturing technical textiles. Thermoforming in textiles is a heat treatment process that is used to shape composites containing fabric layers into various shapes. This technology is widely adopted in the indutech, mobiltech, packtech, and hometech.
3D weaving is a weaving process used for manufacturing products such as spacer fabrics, geotextiles, surgical implants, webbings, conveyor belts and more. 3D technology is used to manufacture complete garments with minimal or no cutting. This innovative technology eliminates post labor work, thus saving production time and cost. In addition, this technology offers knitwear consumers more comfort and better fit by eliminating seams. The heatset method is a thermal process carried out either in a moist or dry heat environment. Finishing treatments are used in the final production stages. Newer technologies such as nanotechnology is expected to witness wide acceptance over the coming years and offers ample scope for growth.
Regulatory support: Several countries in the world have made usage of technical textile products mandatory for personal and property safety like usage of fire retardant fabric at public places, usage of protective work wear in hazardous industries, installation of airbags in automobiles, use of geosynthetics in infrastructure development projects, etc. This will continue to provide regulatory driven stability to demand patterns in the market. Buyer/application trends: Technical textiles has brought about that change where unconventional textile products are being used to enhance the efficiency and sustainability of conventional products. Growth of end user industry in some specific segments are also driving the usage of technical textiles globally.
Indian market
The Indian technical textiles market, estimated at Rs 92,499 crore in 2015-16, has grown from Rs 65,920 crore in 2012-13 at a CAGR of 12 per cent. Packtech is the largest segment with 43 per cent share of the market, followed by mobiltech, indutech and hometech with a share of 11 per cent, 10 per cent and 10 per cent, respectively.
India exported technical textiles products worth $2,078 million in 2015-16, growing at a CAGR of 16 per cent since 2007-08. Majority of exports from India are commodity products which are not very research and development intensive. Indutech, packtech, and hometech are the largest exported segments which have a combined share of around 85 per cent in the total exports of technical textiles. Higher focus on these commodity products is due to the fact that these products require low investments and there is an absence of the required technology and specialty fibres which are required in the manufacturing of advanced technical textile products.
Key growth segments
While overall technical textiles market is growing, there are some specific segments which are showing high growth potential.
Agrotech: Agrotech includes textile products used in agriculture, horticulture (including floriculture), fisheries and forestry. In agrotech, there are 10 products, most of which are netting products. While a majority of them have a very small market in India, Shade nets is one product that has shown considerable growth during the last five years. Shade nets have widespread applications in floriculture (roses, orchids, etc.), horticulture (Cabbage, pepper, Grapes etc.), vanilla cultivation, tea plantations, drying of agri-products, swimming pools, etc. The shade nets provide protection to the plants from wind, extreme weather conditions and reduce water evaporation.
Meditech: Medical textiles embraces all those textile materials used in health and hygiene applications in both consumer and medical markets. Meditech products are available in woven, knitted and non-woven forms based on the area of application. It includes products like diapers, sanitary napkins, disposables, contact lens, etc.
Mobiltech: Mobiltech are technical textiles used in automotive or transport sector. It includes applications in automotive and automotive components (including aircrafts and railways). Mobiltech covers not only isolation and safety aspect but also focuses on comfort and style. Mobiltech can be broadly classified into two categories: visible components and concealed components. The demand for majority of Mobiltech products is dependent on the growth of both passenger cars and commercial vehicles segments. Over the years, the Indian automobile industry has emerged as one of the world's largest, with annual sales of 20.5 million vehicles in FY16. It is also one of the fastest growing auto markets, with production of 24.0 million vehicles in FY16 and a leading position in several sub-segments.
Protech: Protective textile includes textiles used as protective clothing. These are specialty textiles that provide safety to the wearer during high-risk engagements like protection from bullets and explosions, and also from extreme atmospheric conditions. The protective textiles are made using specialty fibres such as aramid fibre used in making of bulletproof jackets, glass fibres used in fire proof jackets.
Sportech: Sportech are used mainly for making sportswear including sports shoes and other sports accessories. Increasing interest in active sports and outdoor leisure activities has led to growth in the consumption of textile materials in manufacturing sporting and related goods and equipment. Synthetic fibres and coatings have largely replaced traditional cotton fabrics and other natural fibres in the making of sportech.
Composites: Industries are constantly looking for modern innovative solutions and products. In this context, over the years composites have emerged as a product application for various industries. Composites are produced by reinforcing a resin matrix (thermoplastic/thermoset) with fibres like glass fibre, aramid, carbon fibre and/or natural fibres. Composites find application in various industries including transportation, building and construction, chemical, electrical and electronics, telecom, defense, automobiles, shipping, etc. and hence straddle across various technical textile segments.
Their high strength along with lightweight features make them an attractive product for usage for various applications. The market for composites is expected to grow at 15 per cent.
India: A global manufacturing hub
Indian technical textile industry is in its nascent phase and accounts for around 5 per cent of the world technical textile production. However, over the last decade, this industry has shown high growth with its domestic market growing in double digits, i.e., 12 per cent and exports growing at an even higher rate of 16 per cent.
The growth of the industry indicates a growing acceptance of technical textiles in India. This growth when coupled with India's inherent strengths as a manufacturing destination gives the advantage to Indian technical textile industry in becoming a global hub for manufacturing. Given below are some of the key elements of India's advantage in technical textile manufacturing:
Raw material: India enjoys a competitive position in terms of abundant availability of textile raw material, natural as well as manmade. India is the largest producer of cotton, second largest producer of polyester and silk, third largest viscose producer, fourth largest acrylic and nylon producer. Technical textile products primarily require synthetic and specialised fibres for manufacturing. Currently, India has developed good capabilities in manufacturing basic synthetic fibres and yarn, although supply of specialized fibres is not at the requisite level. However, with growing consumption and manufacturing of technical textiles, India will further develop large capacity for manufacturing these fibres in the coming time.
Manpower availability and cost: India benefits from a large pool of skilled workers at comparatively low wage rates compared with Asian countries, USA and EU. The fact that many segments of technical textiles require labour at competitive require a lot of manual labour in form of stitching and weaving, relatively cheap labour acts as a substantial benefit over other countries.
Power cost and lending rates: Cost of power in India is better than countries like China and Germany (second and third largest manufacturer of technical textiles in the world) and is also comparable to countries like Bangladesh and Vietnam. Currently, various state governments in India are also giving power subsidy as an investment incentive which will further reduce the cost of power.
Government initiatives
Technical textiles is a focus sector for the Indian government. The government has taken several steps to promote the usage of technical textile in the country such as use of non-woven bags for packaging purposes, mandatory use of seatbelts in automobiles, announcement of mandatory use of airbags also in cars from 2018 etc. Government has also put in place several policies to help develop a comprehensive manufacturing base for high value technical textiles in India. For e.g.:
Amended Technological Upgradation Fund Scheme (ATUFS)
Export Promotion of Capital Goods (EPCG)
Benefits under Special Economic Zone (SEZ) and Scheme for Integrated Textile Parks (SITP)
Scheme for promoting usage of agro-textiles in North East Region
Scheme for promoting usage of geotechnical textiles in North East Region
Way forward
Indian technical textiles markets is poised for high growth with increase in investment in industry sectors like automotive, healthcare, infrastructure, etc.; growing awareness about the superior functionality of technical textiles and increasing affordability of the consumer. Also, the proactive approach of Government towards boosting this sector through various schemes will have a great positive impact on this sector in the future. An increasing focus on research and development in this sector by Textile Research Associations (TRAs) will help the industry in competing with the global market where the demand of innovative products is increasing. Though Government has taken various initiatives to boost the technical textiles sector in India, it has not exploited its full potential.
Some of the challenges faced by the industry are:
Absence of regulatory measures in sectors of infrastructure, construction, etc. for usage of technical textiles.
Dependence on import of technology and machinery for most of the high-end technical textiles products.
Lack of awareness amongst the entrepreneurs as well as consumers about the usage, benefits and high growth potential
Non-availability of skilled man power specifically trained for technical textiles.
Production capacity is primarily focused on commodity products and is not very R&D intensive.
Non-availability of indigenous high performance specialty fibres such as nylon 66, nylon 11, high tenacity PFY, Kevlar, Aramid for manufacture of technical textiles.
Inverted duty structure i.e. manufacturers have to pay a higher price for raw material in terms of duty, while the finished product lands at lower duty and costs lesser.
Antidumping duty on raw material like carbon fibre from China (40 per cent) and western world (30 per cent) makes it unfeasible for investment in TT
Cheap imports or under the border material is coming from Bangladesh and Nepal, which creates the uneven competitive environment and product demand from the Northeast states down by almost 50 per cent.
In view of the immense untapped potential in the technical textile sector, it is important for both industry and Government to work towards the growth of the industry. The growth of India as a manufacturing hub for technical textiles will depend on attractiveness of India's domestic market and attracting investments in high end technical textile products to cater to global demand.
To facilitate this growth several initiatives to be taken up and carried forward.
Source: Wazir Advisors' Knowledge Paper on Advantage India: Emerging Global Manufacturing Hub for Technical Textiles