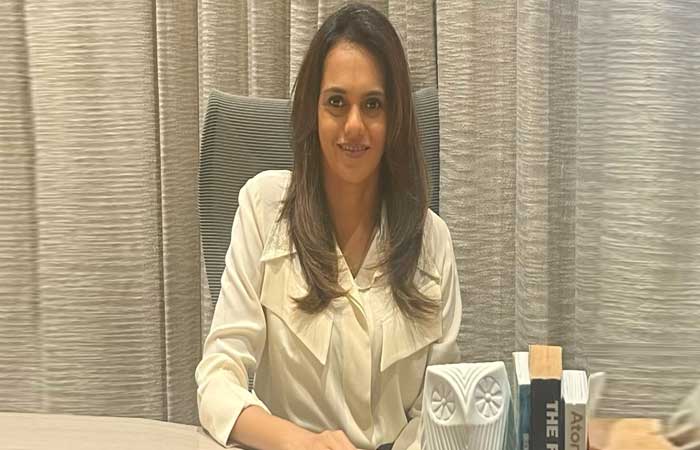 Technical textiles is not a cup of tea for each textile unit
Kusumgar Corporates is today an acknowledged leader in the highly niche technical and specialised textiles sphere. The company is known to meet the challenging needs of an ever-changing textile industry. The agility to offer customised solutions coupled with world-class quality and highly competitive prices propelled the company to a leadership position in a short span of time. Sapna Kusumgar, Director, People and Systems, Kusumgar Limited, discusses new growth opportunities and the company's future plans in this conversation with Divya Shetty.
Kusumgar Corporates has been in the industry for over 50 years. How has the company's manufacturing footprint grown over these years?
The growth story for any organisation is embedded in changes in its organisation structure, expansion in manufacturing capacities, upgrading capabilities etc. Kusumgar is no exception. Started with mere 24 shuttle weaving machines in the 1970s, today we can boast that we are the only Woven Composite Unit dedicated to Technical Textiles. We commence our activity from yarn preparation to weaving, processing, dyeing, coating, lamination to fabricating technical textile products vital to growth of not only our textile industry but for the country as a whole.
While we are a commercial organisation, our philosophy has always been to contribute to our nation and community. The first project for production of Geo-grid was undertaken under the advice of Kusumgar. We have also launched "Innotex", an annual innovation competition in collaboration of VJTI to identify the best minds in technical textiles in the country. Our chairman served SASMIRA as President for almost a decade.
Our constant endeavour is to develop innovative technical textiles of National importance.At the same time, we possess the wherewithal to produce products at globally competitive rates while maintaining consistent quality and delivery. In this manner, through import substitution and exports, we are committed to nation-building.
Kusumgar's DNA is that of a "Knowledge Based Organisation". We are confident that in times to come, our company with its proven agility and versatility will be able to adopt and use emerging technologies to produce newer technical textiles, so far not produced for our and national interest. We are equally confident that we will have exponential growth in the export of value added technical textiles.
How has the technical textiles industry changed in the last few years?
The last few years have been an interesting combination of short-term challenges with long-term benefits. COVID-induced volatility and supply chain crisis have led companies globally to re-evaluate their existing vendor base. Largely, this has been positive for the Indian technical textiles industry which today sees a once-in-a-lifetime opportunity to grow and become a part of global supply chains. Furthermore, there has been a renewed recognition and emphasis on the importance of technical textiles that can also be seen in the new PLI (Production Linked Incentive) scheme.
Applications where technical textiles can be used are ever increasing and the list can be unexhaustive. In fact, it is the ability to translate available technologies to what users need is key to success in technical textiles. Emerging technologies like Plasma-tech, Nano-tech, Conductive Polymers, PCM(Phase Change materials), 3-D weaving, Spacer fabrics, etc are knocking the door for revolution. In fact, at certain levels, technical textiles are now considered as material science as they deliver products light in weight with better performance. Technical textiles are growing at 6.2% CAGR and its present consumption is estimated at $ 170 billion.
Which of the specialised fabrics offered by Kusumgar Corporates (military, outdoor, aeronautical, and others) is in the high demand today?
Kusumgar has a product mix of across various segments and the demand varies depending on multiple factors. . It would be unfair to specify a particular segment with highest demand. For example, in the military segment, major purchases are done by Government organisations and it is unpredictable to estimate time from tendering to the placement of order. In private sector and exports, technical textiles are a base for many products demanded for specific end-applications. Overall health and growth of that industry decides the requirement of technical textiles. Airbag fabric is used for production of airbag for safety in automotive industry but shortage of chips has materially affected deliveries even in a developed country like the US. This is to say that, it is our product mix and our ability to cater to market demands with excellence, which fuels the growth of our company.
Kusumgar Corporates collaborates with some of the leading global companies (like Saati, Toray, etc). How has these collaborations helped Kusumgar to serve its customers?
Certainly, joint ventures with globally accredited companies add to our exposure, shortens our learning curve and enhances our capabilities and hence our reputation, which in turn helps us attract buyers of high-end technical textiles. The joint ventures have certainly accelerated the growth process for us and has been a catalyst in enabling us to serve more and more discerning customers.
What kinds of challenges technical textile manufacturers are currently facing in India? Is rising raw material cost (cotton as well as MMF) a cause of concern?
Like any industry, in technical textiles, we have commodity and specialty products. Those involved in commodity products have a different experience. Those connected with products which can be used in healthcare sector in Covid times, have done well beyond expectations. Some have uncertainty as overall demand and production plans havebeen fluctuating due to raw materials availability and price escalations.Certainly, increased raw material prices and non-availability of certain materials have been responsible for fluctuating performance of technical textiles companies. However, at Kusumgar, we do believe that rather than the cost of raw material, lack of initiative to develop newer or value-added products is a greater challenge to the industry. For success, the industry will have to struggle to find areas where textiles can be used with better performance at competitive cost. This would demand huge interaction with users' segments. May be bullet trains, aerospace, construction in water bodies and many more concepts. It is, therefore, said that technical textiles is not a cup of tea for each textile unit. It is those who respect technology and pursue it, will only succeed.
How can PLI scheme and other govt initiatives help in giving a boost to technical textile industry?
Government initiatives, financial or otherwise have been critical for growth of technical textiles in India. It was around 1993 that then Secretary formed an Expert Committee on Technical Textiles. The office of The Textile Commissioner has left no stone unturned to create awareness on technical textiles all over the country. It is now time to conduct work-shops on emerging technologies and value added products where serious and sincere industrialists can deliver high end so far imported from developed nation. This would help the dream of the Honourable PM for "Atmanirbhar Bharat".
Which are new areas of opportunities you are focusing on at present?
Currently our focus is on the outdoor/sportswear performance fabrics, which have a huge potential and customers want capacity and capabilities. With our commitment to environment, we continue to focus and invest in sustainability.

Innovation and product development are key for success in technical textiles sector. How does Kusumgar Corporates take care of these two aspects?
We believe in a strong business foundation where knowledge and human resources play a vital role for continuous business success. Accordingly, we enable a strong performing team and we keep our standards high with a continual learning culture.
What are your long- and short-term growth plans?
In terms our short term plan, we plan to exponentially increase our capacity, as our existing customers are asking for more capacity, apart from new customers who want alternate sources. In the long-term, we are planning to invest in forward integration related to speciality products like ready Parachutes. We are also exploring entry into the arena of speciality chemicals. Our strategic aim is to be recognised as a leader across all the segments in which we operate.