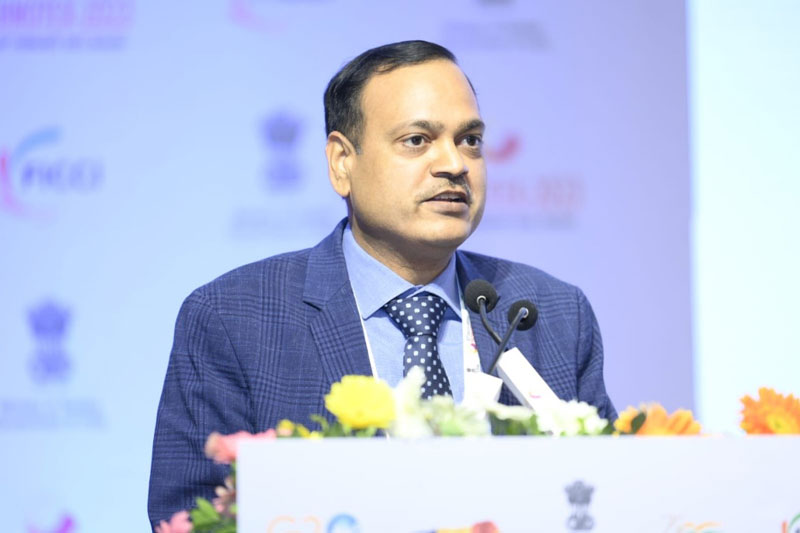 Technical textiles industry has the potential to achieve a growth rate of 15-20%
Textile materials that are manufactured for their technical performances and functional properties rather than aesthetic and decorative features falls under the technical textiles category. To position India as a global leader in Technical Textiles, the Ministry of Textiles launched the National Technical Textiles Mission (NTTM) and appointed Rajeev Saxena, Joint Secretary as Mission Co-ordinator of this mission. In this interview with Divya Shetty, Saxena emphasises the significance of technical textiles within the industry and highlights the crucial role played by the Ministry in promoting specialized fabrics not only in India but also on a global scale.
Since your appointment in 2022, what have been your key roles and responsibilities as the Joint Secretary of Ministry of Textiles?
Since my appointment in March 2022, my responsibilities include overseeing Technical Textiles industry and leading the NTTM. Additionally, I hold positions in both the PSU division and the HRD division of the Ministry.
What effects has the PLI scheme had, notably on the technical textile sector in the Indian textile industry?
Due to the relatively weaker performance of Indian man-made fibre and technical textiles on the global scale when compared to traditional fibres, there is a pressing need for greater support and encouragement. Therefore, the focus of the PLI scheme is on man-made fibre and technical textiles. In 2022, applications were invited for this scheme, and out of those, 64 companies were selected, including 17 companies exclusively dealing with technical textiles. The scheme aims to attract an expected investment of approximately Rs 20,000 crore, of which Rs 2,100 crore has been received so far. It is important to note that the results of this scheme will take time as the period from 2022-24 is considered a gestation period. During this time, companies will be established, and the outcomes will be observed later. It is expected that this scheme will enhance exports and promote domestic industry production.
Are Indian technical textiles companies well equipped to take the advantages offered by the PLI scheme?
Within the realm of technical textiles, there are 12 distinct segments. While we have achieved success in certain categories, such as Protech, there are other segments that require improvement. Nonetheless, I believe the Indian industry possesses the necessary capabilities to tackle these challenges. However, there are inherent obstacles, such as the unavailability of basic raw materials in India, which must be addressed through concerted efforts.
The government allocated Rs 450 crore exclusively for the NTTM in the recent Union budget announcement. Can you provide more details on how the government plans to utilise this fund and what progress has been made so far with regard to the NTTM?
Let me provide you with a concise overview of the National Technical Textiles Mission (NTTM) and its progress. The NTTM was introduced in 2020, encompassing four key components.
The primary focus lies on Research and Development, with the objective of conducting extensive research activities and advancing the development of various applications and novel fibres. To date, out of the allocated Rs 1,000 crore budget, 89 proposals totalling Rs 264 crore have already received approval and funding. Moreover, over 100 proposals are presently under evaluation at different stages, awaiting final approval. An additional initiative entails the indigenous development of technical textile machinery. Previously, all machinery was imported, but we have now extended the opportunity for private sector involvement. Funding for this initiative is based on a two-tiered structure, with the government providing 80 per cent of the funding and the industry contributing the remaining 20 per cent. Furthermore, we aim to support technical textile start-ups, acknowledging that while they already receive support through the Start-up India scheme and the Department for Promotion of Industry and Internal Trade (DPIIT), we intend to offer them additional advantages due to the niche nature of the technical textile sector.
In the next component, most important part is, in India we don't have the market for technical textiles. There is lack of awareness. India's penetration in technical textiles has now come upto 10-12 per cent, but in the developed nations it is around 30-70 per cent. If we take medical segment, the usage of technical textiles is just 10 per cent and the remaining 90 per cent is still conventional. Look at the bedsheets, these are just normal cotton bedsheets. If we add antimicrobial properties in it, it becomes technical textiles. Similarly, look at the protective wear segment. Our soldiers and policeman still wear a normal khaki, whereas in developed nations, it has got much functionality. So, the penetration and awareness level has to increase for demand generation. Demand generation is the major priority under this mission. So we are developing the market. We are conducting conferences, to disseminate the importance of technical textiles. To date, we have successfully organised seven major conferences. Furthermore, we are actively engaging with various ministries to propose the mandatory adoption of technical textiles, similar to the utilisation of geotextiles in infrastructure projects involving roads, railways, shipping, airports, and other related domains. This concerted effort holds paramount importance as it constitutes a vital aspect of market development and serves as a primary focus within our mission. Additionally, we are in the process of establishing demonstration centres dedicated to agrotextiles. These centres will serve as platforms where we can effectively showcase the immense potential of agrotextiles in augmenting crop productivity. Through comparative assessments, we will showcase how the utilisation of agrotextiles can positively impact production when contrasted with conventional methods. This approach aims to stimulate demand and foster an increasing adoption of agrotextiles among farmers.
The third significant element pertains to export promotion. To facilitate this objective, the Synthetic & Rayon Textiles Export Promotion Council (SRTEPC) has been entrusted with the additional responsibility of serving as the export promotion council for technical textiles.
The fourth component of utmost significance revolves around education, training, and skill development. To address this, we have introduced two major schemes. The first scheme focuses on undergraduate (UG) and postgraduate (PG) levels. Recognising the limited awareness regarding technical textiles in educational curricula, we have devised a plan to introduce specialised courses in relevant fields. For instance, civil engineering colleges can incorporate a geotextiles course, agricultural universities can offer subjects on agrotextiles, and medical institutions can provide awareness on medical textiles. To accomplish this, we launched a scheme and invited applications from various universities and colleges. After receiving 37 applications, we will provide funding to selected institutions to establish laboratories and provide training to teachers for implementing these courses at UG and PG levels. Another crucial initiative undertaken is the provision of internships. We will invite undergraduate students to participate in summer internships. If they choose to intern in the technical textile industry, they will receive a monthly stipend of Rs 20,000 for two months, which will be reimbursed by the ministry under this mission. We invited applications from the industry and subsequently identified 12 industries, including 4 Technical Textile Resource Agencies (TRAs), to provide internships. Each industry can train up to 50 students per year. We have circulated this list to all engineering colleges, enabling students to opt for technical textiles internships as per their interests and career goals.
How the government is aiding in the modernisation of industry through SAMARTH?
Under the SAMARTH program, we have provided training to approximately 1.70 lakh individuals so far, with 1.10 lakh of them successfully placed in various sectors. This initiative primarily focuses on both conventional/organised sectors like garmenting and unorganised sectors such as handloom, handicraft, silk, and more. It encompasses all sectors, including certain aspects of technical textiles. Unfortunately, progress was hindered by the COVID pandemic over the past two years. However, the situation has significantly improved, with an increase in the number of institutes involved. In response to industry demand, we have launched a portal and have received 81 additional applications from various industries. These applications are currently being reviewed, and once approved, these institutions will also be included in the program. They will provide training across all textile sectors, not limited to technical textiles.
The ministry has issued two Quality Control Orders (QCO) for 31 items in the geo and protective textile categories. When can we expect the announcement of phase 2 and what all segments will be added in it?
Phase 2 will be launched in the near future, featuring 22 agrotextile items and 6 medical textile items. A total of 28 items will be introduced in this second phase. I anticipate that the official announcement will be made within the next 2-3 months.
Currently, the government's primary objective is to manufacture high-quality products that meet the standards expected by both domestic and international consumers. To achieve this, we are committed to preventing the import and utilisation of any substandard products in the industry.
What are the challenges and opportunities in the Indian technical textile sector?
When discussing the challenges in India, the availability of high-performance fibres is limited. Although India possesses abundant natural fibres such as cotton, jute, and silk, we are gradually catching up with the production of manmade fibres like polyester. However, when it comes to technical textiles, we require highly engineered fibres with exceptional performance capabilities. Unfortunately, India does not currently manufacture any specialised application fibres; instead, we rely on imports and utilise them in various manufacturing processes. While we have made progress in the application aspect, our fibre production falls short. Therefore, as part of the National Technical Textiles Mission (NTTM), we are actively engaged in research and development to create such fibres.
Another significant challenge we face is the lack of domestic demand and awareness regarding the benefits of technical textiles in improving product quality. It is crucial to educate and spread awareness about how technical textiles can enhance the performance and functionality of various products. Additionally, our skilling ecosystem requires improvement, and there is a dearth of subjects related to technical textiles in the educational curriculum.
Nevertheless, the opportunities in this field are vast. Unlike the conventional sector with a growth rate of only 5 per cent, the technical textiles industry experiences a growth rate of approximately 10 per cent. So it has a potential to reach 15-20 per cent also.