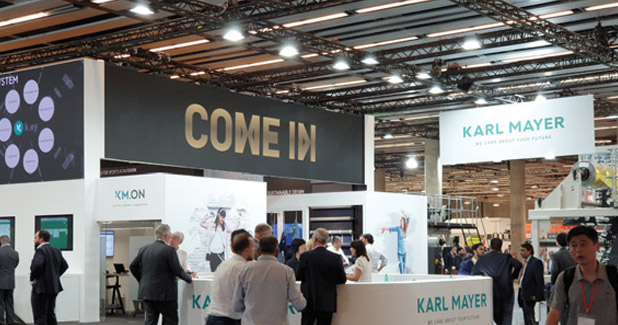 Take a leap into the future – with KARL MAYER
There was a great deal of visitor interest in the innovations show put on by KARL MAYER at ITMA. As an innovative market leader, KARL MAYER was presenting its products once again at ITMA, which was held from 20 to 26 June 2019, and its stand soon became the meeting point for the sector.
There was a great deal of visitor interest in the innovations show put on by KARL MAYER at ITMA. As an innovative market leader, KARL MAYER was presenting its products once again at ITMA, which was held from 20 to 26 June 2019, and its stand soon became the meeting point for the sector. Just under 1,500 visitors with specific issues to talk about were greeted on this modern, inviting stand. On top of these were specialists in search of orientation and people with a general interest. The visitor statistics had a pronounced international flavour. The list of the main countries from which the visitors came was headed by India, followed by Italy, Turkey, the USA, Germany and China.
With its presentation, KARL MAYER had the entire textile value added chain clearly in its sights – from production, through the fabric, to its applications. It was showing innovative machines for warp knitting, warp preparation and technical textiles, solutions for networking machines and the digital world, as well as exciting fabrics and – in an impressive world of experiences – examples of applications with a high market potential. In addition, working responsibly with the environment was an important theme that received a great deal of attention on KARL MAYER's stand. "We are illustrating the implementation of our key strategic topics of 'sustainability and the environment' on various islands at the fair, from energy-efficient machines, through processing yarns with the emphasis on conserving resources, to sustainable warp-knitted textiles and end-use concepts. One of the highlights is undoubtedly our new machine innovation for processing sustainable denim," the CEO of KARL MAYER, Arno Gärtner, went on to say when speaking at the fair.
Using digitisation systems for warp knitting machines
KARL MAYER is combining machine technology with digitisation and this is exactly the right thing to do. "Once again, it became clear from the ITMA fair in Barcelona that the sector is focusing on digital solutions when it comes to process optimisation and customer orientation. That is why we are delighted to receive such excellent feedback on the new systems within our software start-up, KM.ON," said Arno Gärtner at ITMA.
Two machines with digital features were being premiered in Barcelona. The HKS 3-M-ON can be linked directly to the KM.ON cloud via the k.ey system, which enables the lapping data required to be loaded directly onto the machine.
The RSJ 4/1 ON uses the potential of the KM.ON product group, k.innovation, to optimally support virtual textile development, which is quite usual these days. Therefore, k.innovation delivers much more than just patterning software. "Many of our visitors were particularly impressed by our networked machines and the new possibilities offered by collaborative product development with k.innovation, in conjunction with the RSJ 4/1 ON," said Oliver Mathews, the Sales Manager of KARL MAYER's Warp Knitting Business Unit. The display of applications was also showcasing some exceptional product developments, which are both stylish and functional and can be made-up with little outlay. These include well-thought-out systems for comfortable bras with few seams, a sporty body providing shape and support and made from a new type of power lace, and a swimsuit with a lace look.
An innovative new machine for the composites sector
The new machine, SIM.PLY, proved to be a real magnet for the public in the field of technical textiles. This innovation produces thermoplastic, unidirectional tapes (UD tapes) using fibre spreading technology. Its products – premium tapes with precisely aligned, continuous fibres – are suitable for use in highly stressed, fibre-reinforced, lightweight structures, which are a rapid growth area. The thermoplastic matrix is also easy to process, which makes mass production feasible. The SIM.PLY products feature an impressive, high quality and excellent mechanical properties. The grammages of the spread tape, as well as the impregnated tape, are also uniform, and the fibre volume content is high. The production efficiency is also excellent, thanks to the continuous spreading and impregnating sequences. This line has far exceeded the expectations of KARL MAYER in relation to visitor feedback. "Both our existing customers involved in the lightweight construction, automotive and transport fields, as well as new, interested people from the sports sector, for example, were very interested in this new technology. We had many specific enquiries from our customers at the fair, who were interested in carrying out trials in our Applications Centre in Chemnitz," says Hagen Lotzmann, the Sales Manager of the Technical Textiles Business Unit.
Innovative warp preparation technology
KARL MAYER's Warp Preparation Business Unit was presenting new, innovative systems for a wide range of market segments, which appealed to many visitors. Dieter Gager, the Sales Manager of this business unit, and his team recorded just under 430 high-calibre conversations on this subject. After the third day of the fair his conclusion was: "So far, there has been a marked interest in the PROSIZE® and MULTI-MATIC® ranges. Most of our customers came from Turkey and Portugal. The first specific enquiries relating to orders have already been received. The MULTI-MATIC® 32 also attracted many interested people from Italy in particular."
Italian manufacturers are involved in the high-end fashion market in particular, and know how to appreciate a highly efficient warping machine for producing sample and short production warps. The versatile MULTI-MATIC® 32 requires less time and effort for yarn management and has an impressive cost:benefit ratio.
Other highlights were the new PRODIRECT direct warper, which also has an excellent cost:benefit ratio, and the new LINK-MATIC® system. This innovative system allows for the automatic knotting of the beams within a batch on the PRODYE-S indigo dyeing machine and the PROSIZE® sizing machine when changing the beams within a batch. This enables changeover times to be reduced, productivity to be increased and operator time to be minimised. Also, less yarn waste is produced.
The performance show of the PROWARP® sectional warping machine was being transmitted via a live link from KARL MAYER's site in Hausen to Barcelona, and was viewed with great interest. This machine operates with the new PROACTIVE Warping system and was demonstrating how this self-learning system can optimise the warp beam quality and consequently weaving efficiency.
KARL MAYER was showing its new GREENDYE technology under the slogan of SUSTAINABLE DENIM. This innovative technical system uses the advantages of indigo dyeing in a nitrogen atmosphere to achieve greater efficiency and sustainability in denim production.