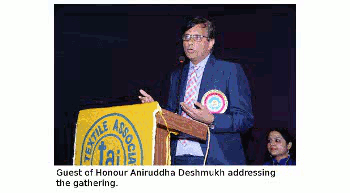 TAI meet unfolds ITMA innovations
The Textile Association (India), Mumbai Unit organised a conference on "Innovations @ ITMA 2015, Milan" on February 12, 2016 at Hotel The Lalit, Mumbai. The conference received overwhelming response.
The Textile Association (India), Mumbai Unit organised a conference on "Innovations @ ITMA 2015, Milan" on February 12, 2016 at Hotel The Lalit, Mumbai. The conference received overwhelming response.
C Bose, President, TAI, Mumbai Unit welcomed the Chief Guest, Dr Kavita Gupta, IAS, Textile Commissioner, Ministry of Textiles, Govt of India, and Guest of Honour Aniruddha Deshmukh, MD & CEO, Mafatlal Industries Ltd. He also welcomed all the speakers, invitees and delegates to the conference.
VC Gupte, Chairman, TAI, Mumbai Unit and Convener of the Conference, gave the highlights of the event. Gupte said that ITMA is the biggest global market place and one-stop sourcing platform for emerging trends and innovation solutions. It covers the whole production chain from spinning, weaving, non-wovens, knitting right through to finishing. In addition, ITMA 2015 covered dyes/pigment manufacturers as well. ITMA 2015 coincided with the dates of the Diwali Festival and hence many people were not able to visit this mega event. TAI, Mumbai Unit immediately thought of this and invited dignitaries those who attended ITMA 2015 to give the first-hand information about the latest developments in international market. TAI Mumbai has made all attempts to give the glimpse of ITMA exhibition to the delegates. As a convener of the conference, he thanked all the speakers, sponsors, advertisers and delegates for their kind support to make this conference a great success.
While addressing the gathering, Deshmukh said that ITMA was certainly a big extravaganza and the technicians were befitted from the innovations displayed at the show. Deshmukh said that a customer is a priority and we have to see that how we can reach this customer in the best possible way.
Dr Gupta was the Chief Guest of the conference. In her inaugural address, she said that the textile machinery is a base of textile industry and they produce variety of products for the use of customers. She further added that as a woman she is also a consumer of this fancy world. The technology, the machines are changing in a very fast way and hence to tackle this situation all of us should take necessary urgent measures. The product share was 45-50 per cent nearly 200 years back and presently it is about 5.8 per cent. She appealed to all delegates to come together and take the product share to at least 20-30 per cent of the global share. To achieve such share, the technology and machines would be extremely critical and crucial. She then made a short presentation on "Overview of Textile Industry" which was very informative.
In all, there were six technical papers presented during the conference.
Jorg Machholz, Product Application Technologist, Fongs Europe GmbH spoke on "Goller – Cold Pad Batch".
Matthias Wulbeck, Area sales manager, Mahlo, Germany.
Updeep Singh, Managing Director, Itema Weaving (India) Pvt. Ltd.
Elliyas Mohammad, Business Development Manager, (Disperse Dyes), Colourtex Industries Pvt, presented the paper on "Sustainable Innovation".
Manash Kumar Dey, Voltas Limited expressed his views on "Thies Dyeing Machines".
Vinod Kumar V, Sales Manager, Voltas Limited made the presentation on "Reggiani Digital Printing".
The last session began with panel discussion, which was moderated by Dr Sanjiv Kamat, VP, Kothari Info-Tech Limited. The discussion drew much more attraction and enthusiasm during the conference. There was substantial presence of the participants for this session. The panel comprised Dr AN Desai, Director, BTRA; Tapas Nandi, Country Head (India), Groz-Beckert Asia Pvt Ltd; Dilip Gianchandani, COO, Fibre2Fashion.com; Nitin Bavkar, Director, Smitin Marketing Pvt Ltd; Anand Jaiswal, Director, Euro Texmach Pvt Ltd; and VR Sai Ganesh, GM – Marketing (National), Atul Ltd. There was good interaction between participants, who posed many questions to panel members and same were answered very promptly by the panel members. It was a very interesting and memorable session.
AV Mantri, Secretary, TAI, Mumbai Unit proposed a vote of the thanks. The conference was a grand success and was attended by 275 participants.