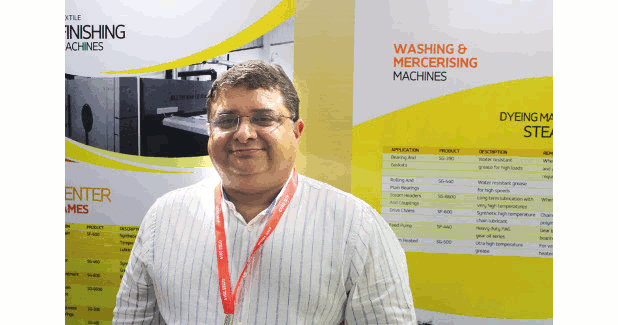 Synthetic lubricants for all textile segments: Rallan of Yale
For more than 40 years, Yale Synthlube has been one of the pioneers and leaders of synthetic lubricants in India and abroad. Rajneesh Rallan, Director, Yale Synthlube Industries, talking about the journey of the company over the years, said, "The company was founded by my father, GB Rallan.
For more than 40 years, Yale Synthlube has been one of the pioneers and leaders of synthetic lubricants in India and abroad. Rajneesh Rallan, Director, Yale Synthlube Industries, talking about the journey of the company over the years, said, "The company was founded by my father, GB Rallan. He had been working with ESSO (Exxon Mobil), for more than 15 years. Those days, lubricants and the petroleum market was very different in India. They had to even make efforts to sell petrol because there were not enough automobiles back then. You had to find ways to sell petrol and kerosene. A lot of marketing efforts was involved in selling these products. Then, Esso, which was nationalised became Hindustan Petroleum. Soon after that my father decided to leave the company. He started his own business and finally stabilised on lubricants business, which was also his background."
Added Rallan, "We started by importing and selling these products from Germany and the US for a couple of years. Finally we had a technical collaboration with Ciba-Geigy (now part of BASF ), who guided us and put all our formulations online. We still use and continue to improve the techniques and methods since the last 40 plus years. That's why our products are very good. We don't compromise on raw materials used. We can maintain quality and price that nobody else can offer in India," said Rallan.
Some of Yale's leading customers include Reliance, Hindustan Unilever, Vadilal, Raymond, Bombay Dyeing, Larsen & Toubro, Glaxo Smithkline, Bayer India, Saint Gobain, to name a few.
Wide product portfolio
"We offer the widest range of synthetic lubricants in India. We have over 400 products, catering to almost all the industries, including wind, textile, pulp and paper, heavy, food and pharmaceutical and cement industries. All of them are synthetic. We don't make any mineral oil-based products, except spinning and knitting oils. Traditionally those are mineral oils; rest everything is 100 per cent synthetic."
Synthetic lubricants are based on selected organic compounds, engineered to achieve desired results. These compounds are basically wide temperature range stable (very low to very high) and do not lose their viscosity characteristic over this range; impart optimum lubrication at very high load and pressure. Being non-petroleum based, the oil does not dissociate and generate carbon particles in the system. Since there is no carbon, no wear on metal surface, thus increasing life many-fold. Also there is minimal or no evaporation of lubricant at high temperature, thus reducing the requirement of lubricant.
A few of Yale Synthlube's range for the textile industry includes:
High Temperature Stenter Chain Oil SF-600 Synthetic High Temperature Chain Lubricant-This is 100 per cent Synthetic lubricant which can operate up to >290°C with minimum evaporation losses, and it does not form carbonaceous deposits.
E P Moly Grease for Blower Fan Bearings SG-460 Synthetic EP Moly Grease – This is 100 per cent synthetic grease for exhaust fan bearings operating in high temperatures.
Dry Film Lubricant for width adjustment screws. SG-600 Dry Film Lubricant – It is fast drying and can withstand very high temperatures.
Long Term Grease for Grease Lubricated Stenter Machine SG-6600 is a specially-developed long-term lubricant for stenter chain bearings in critically high temperature condition.. This grease is also recommended for hot air blower fan motors with closed circuit circulation system.
Water Resistant Grease SG-390 is a premium quality synthetic-based lithium soap grease for plain and rolling bearings operating at low speeds as in Padder/Squeeze roller bearings
Autoconer Spray AC-400 is used for cleaning and lubrication of splicers, knotters and cutters. They ensure that fluff does not accumulate. We have formulated the product keeping in view the critical application. This product is widely accepted in the market and considered as the best product in the range. This formulation effectively cleans the surface and at the same time provides lubrication.
SF-1100 Synthetic Spindle Oil is 100 per cent synthetic spindle oil, which does not leave any carbonaceous residue and can be used on very high speed spindles with RPM > 10,000. The main advantage is power savings, which is confirmed by many spinning units.
Knittol SPL is a specially-developed knitting oil in a specific base product with complete wash-off properties. The carefully selected base carrier with synthetic like properties gives economy and performance. It possesses improved properties of lubrication, dispersion, emulsion and washing off on advanced technology fibres.
Knittol ZX is a special lubricating oil for needles and sinkers on great diameter circular knitting machines. It contains extreme pressure and antiwear additives which guarantee low wear even at highest speed of machine. Knittol ZX, has an excellent oxidation stability. It does not thicken or form viscous deposits load forming machines.
These Yale's products are exclusively recommended by all the original stenter machine manufacturers in India namely, Harish Textile Engineers, Yamuna Machine, Swastik, SLM Maneklal, Primatex Machinery Manufacturer, S. M. Energy Technik & Electronics, and S. M. Industries.
Export market
The company has been an exporter since 1978. There are more than 5,500 customers in India and abroad. Yale exports to Saudi Arabia, Vietnam, Thailand, China, South Korea, Oman, Kuwait, Uganda, Egypt, Sri Lanka, among others.
"Indian market for our products has been steadily growing in the last 40 years. There has not been even a single year we have not seen growth. The company is steadily growing; new customers are been added. We are adding new products too," said Rallan.
Added Rallan, "The growth in the last few years has been coming from exports. We used to export to about 20 countries around 10 years back, but now we export to more than 40 countries. We have dealerships/stock points in three countries Thailand, Saudi Arabia and Turkey. In the last five years, we have set up a manufacturing facility in Turkey which is also a very big market for us like India."
Challenges
Added Rallan, "One of the biggest challenges is to find the right dealer and building up the sales team. We are adding dealers slowly and steadily. We have over 30 dealers in India itself. We are only limited by our own capacities. We have plenty of capacity right now, but we are unable to grow our sales network."
"In the next few years, you can witness a definite push to increase our sales network. Traditionally, we are not a sales organisation, but a manufacturing organisation. So, we need to add this to our profile, and we need to be little more aggressive," said Rallan.
2018 and beyond
"In 2018-19, revenue has definitely gone up because GST has been added to the price of our products. Earlier we were on excise-free zone with 1 per cent. The volume of sales has also gone up as compared to the last year," concluded Rallan.