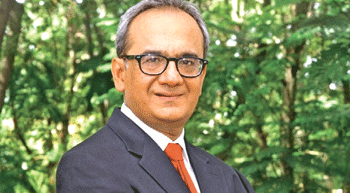 Symphony´s cool quotient
Symphony Ltd is world´s largest air cooler company in residential segment. Established in 1988, Symphony leverages a unique and successful asset-light business model for its residential coolers in India and in-house lean manufacturing
Symphony Ltd is world´s largest air cooler company in residential segment. Established in 1988, Symphony leverages a unique and successful asset-light business model for its residential coolers in India and in-house lean manufacturing for its industrial coolers in Mexico to achieve sustainable and profitable growth. Design, innovation and brand are the three main pillars of Symphony Ltd. Going forward the Ahmedabad based company is focusing big on domestic industrial and commercial cooling solutions.
Symphony has continuously evolved its product portfolio to infuse freshness among channel partners and customers. The company has created a basket of over a dozen air coolers in the residential segment with wide variety, created niche segments (diet cooler, desert coolers, personal coolers and room coolers) and enhanced product features (power saver technology, space saver range, four-side cooling, humidity control and fully functional remote operability).
After healthy beginning in 1988, company got listed on Bombay Stock Exchange (BSE) in 1994. With continuous innovation in product designs and expanding new markets company became the largest air cooler company in the world in the residential cooler segment. Further to expand its global footprint and product offering company acquired Maxico based Impco Air Coolers in 2008 to focus on high growth industrial and cooling (I&C) industry.
Symphony has a combined manufacturing capacity of 8 lakh units per annum at units in Thol, Surat SEZ in India and Monterrey in Mexico. The company´s products are available in more than 4,000 cities in India through widespread retail network of over 750 distributors and 15,000 plus dealers. Symphony has footprint in over 60 countries globally.
At Symphony, design-driven innovation and green engineering is a sustainable competitive advantage. Symphony is an ISO 9001 certified company has earned various prestigious certifications such as European Conformity, Norma Official Mexicana, German Safety of Equipment, etc.
In 2010, Symphony launched industrial and commercial cooling solution in India. Expanding its presence in Indian industrial and commercial cooling market, company has completed over 148 installations of industrial and ducted air coolers in last 12 months. Company expects huge market potential in industrial and commercial coolers which is ideal for factories, offices, schools, malls, assembly halls, warehouses, metro stations, among others. These coolers improve working conditions, leading to increased worker morale, productivity, attendance and performance. Although there are several local players in this category, Symphony Ltd´s products are considered superior on account of their engineering, performance, energy efficiency and lower operating cost.
Some of the prestigious orders, which Symphony Ltd has executed in this segment are of Pepsi, HPCL, Havells, Ultratech Cement, BE Aerospace, Punjab University, Marico, Nestle, Asahi Glass, group company of Hero Honda, Tractors India. Company also has done air cooling projects for religious institutions like Baba Ramdev, ISCKON and the Swaminarayan. Infact one of the world´s largest air cooling project was done for the Mecca Madina project, which was executed by Impco.
Globally, company´s products have been endorsed by a number of corporate giants, namely General Electric (Illinois, USA), Wal-Mart Stores (Nevada, USA), Lear Corporation (USA), Jamarat Complex (Saudi Arabia) and more than 100 supermarkets in Mexico.
In 2014, Symphony won the most prestigious Quality Mark Award. The company bagged the award in home appliances category leaving behind many well know companies in the segment. The award was presented by Honorable Minister of Finance of Gujarat at a gala event organised by Quality Mark Trust.
For the year ending, June 2014 Symphony Ltd earned a net profit of Rs105.72 crore on turnover of Rs. 532.42 crore. In the<