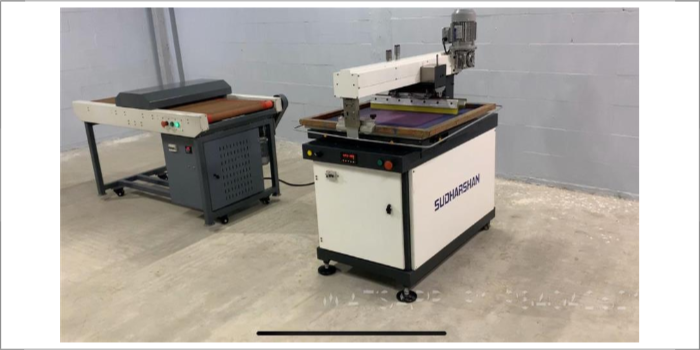 Sudharshan unveils semi-automatic printing machine
Chennai-based Sudharshan Machinery announces the launch of their newly designed screen printing machines, UV curing and screen making equipment.
Despite
the ongoing COVID-19 pandemic and resultant slowdown in the garment printing
industry, Sudharshan Machinery, Chennai, India, has announced the launch of
their newly designed screen printing machines, UV curing and screen making
equipment. These semi- automatic, single phase/no compressor screen printing
machines are widely used in garment accessories
sector for printing heat transfer stickers, garment hang tags and Spot
UV/value addition on garment packaging. During the whole pandemic period (after
lockdown), the company had also undertaken a major expansion of its production
facilities (1500 sq.m) in Chennai to meet the future production demands
Commenting
on the launch of their new range of screen printing machinery, K Sundar Raman, Managing Director of
Sudharshan Machinery said: "As an innovative company in the screen printing
industry, during the COVID-19 pandemic, instead of worrying about the future, I
rather spent a lot of time in redesigning their range of screen printing
machines and allied equipment with added features and benefits to end-users and
get ready to offer the best screen printing solutions."
The company has launched a new semi-automatic
screen printing machine (18 x 22-inch print area). Branded as "Max Print," the
screen printing machine does not require a compressor and runs with a
single-phase power supply. This model also comes in the size of 15 inches x20
inch. The Max Print 18×22 (weighing 180 kg) can accommodate the frame size of
30x 32 inch with a Bed size 23.5 x 27.5 inch. The machine runs at a speed of
900 cycle/hour.
Sudharshan
Machinery has also launched a new UV curing machine series, with new design and
elegant look. It is offered in 12 inch / 18 inch / 20 inch / 24 inch and 30
inch configuration. Just now the company has released the 20-inch configuration
UV curing machine which are require for
use along with screen printing machine for effecting Spot UV on garment hang
tags and garment packaging. The printing machine is also being used in various
types of shopping bag printing – cloth bags, jute bags, nonwoven bags.
Raman, said in conclusion, "Over the years based on our customers' feedback we have been
upgrading all our machines. We redesigned all our models and in the coming
months, we are going to release this new range of machines, one by one. In the
next coming days, we are also planning to launch their newly designed screen
exposing equipment and a new large-format exposing equipment (55 x 60 inch).
Also, plans are ready to launch a 15 ft long IR dryer."