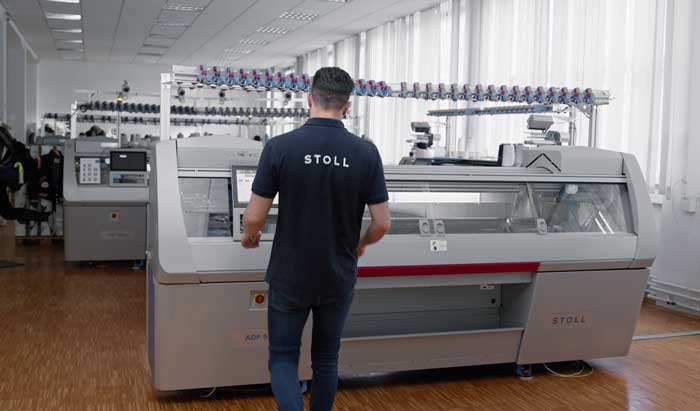 Stoll's package with digital innovations
STOLL launches another innovation package with a focus on the machine's software.
Optimisations, further developments and innovations are an integral part of STOLL's activities. For a fast, flexible transfer of detailed demand-oriented innovations into the production workflow of its customers, STOLL develops targeted solutions for more benefits of its machines (Figure 1) and combines them into bundles.
The first innovation packages were launched in spring 2022 and were very well received on the market. Now there is another upgrade package that focuses on the software of the machines.
Operator interface with more functions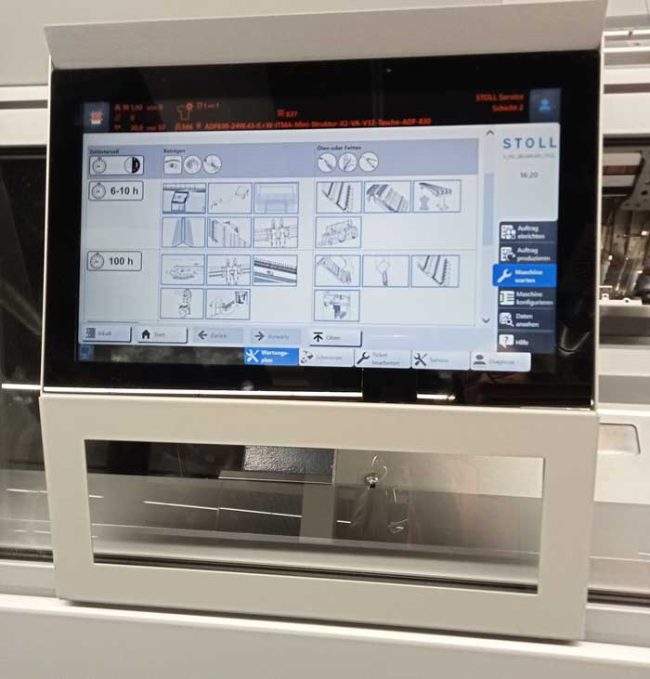 With a special feature of the new, now third STOLL innovation package, the functionality of the user interface can be expanded. The goal of the expansion is more digitization and less paper in processes around the machine. For example, documents for viewing, such as customer documents, images and videos, can be loaded onto the machine display via access to external information systems. In addition, digital maintenance plans (Figure 2) and comprehensive activity descriptions are displayed on the operator interface to help with maintenance work. Downloading to the screen instead of printing on paper saves time and resources, increases clarity and ensures secure access to important information.
Machine management with more efficiency
Another solution from the new innovation package optimises communication between networked machines in production. Specifically, more content can be exchanged during data import and export, e.g. in the course of a pattern change, thus, reducing the set-up times of the machines. New articles can be introduced to the market faster and with less effort. Another upgrade concerns the screen saver, which can now be designed individually on each machine.
Production of technical textiles with more patterning and automation possibilities
Customers from the technical textiles sector benefit from a convenient full-text sintral editor that allows them to make changes in the machine language extremely effectively. Modifications to patterns for special applications can also be implemented more easily than before. The basis for this is a separate instead of bundled loading, saving and visualisation of the three program parts Sintral, Jacquard and Setup, which are required for converting pattern data into machine data. This unbundling makes significantly more flexibility possible.
High-end storage feeders with machine-integrated operation
Another solution in the new innovation package makes it possible to connect standard high-end storage feeders with STOLL machines via a CANopen interface.
This fusion enables the feeders to be controlled dynamically and centrally from the knitting pattern. Parameters such as yarn tensions can thus be changed row by row in the knitted fabric without manual intervention. The advantage for the customer is a fast and reliable process, as sources of error and operating effort are avoided without manual intervention.
Patterning with more possibilities
During comb transfer, the settings required for this can be integrated into the pattern program by means of a corresponding machine upgrade.
For delicate yarns, the customer benefits from yarn-friendly processing, as the acceleration and deceleration of the yarn guides can be programmed so that only minimal stresses occur on the yarn material.
In addition, QT yarn carriers are supported during patterning – a useful feature especially for weft knitting.