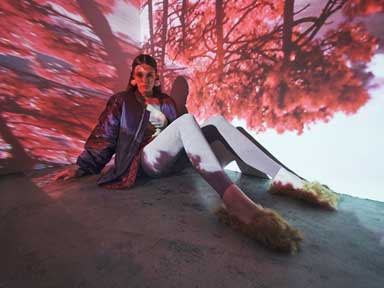 STOLL launches its new 'wonderful' trend collection
The news range serves different areas of collection
Germany
STOLL has launched 'wonderful' which' is based on flat knitting, one of the most versatile textile forming technologies..
Wonderful showcases knitted articles. The new trend collection serves different areas of application: Extraordinary STOLL-knit and wear products in the new gauge of E 10.2 and in established gauges, such as E 7.2, inspire the market for seamless articles. Extravagant combinations of intarsia, STOLL-weave-in and STOLL-ikat plating techniques create novel pattern possibilities, material usages and color impressions. The possibility of individualization is supported by selected products via STOLL-autocreate.
The trend collection stands for responsibility and environmental awareness. One chapter presents a sustainable footwear fabric solution that was created in collaboration with renowned players in textile value creation.
"Our new range were very well received. Some customers have adopted the new pattern options contained there directly into their current collection, and ordered the necessary technical kids to convert their machines," explains Jörg Hartmann, Head of Fashion & Technology at STOLL with satisfaction.