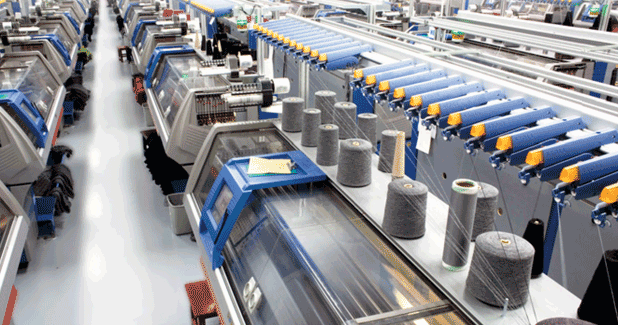 Steps towards Industrie 4.0
Industrie 4.0 is the interconnection of state-of-the-art information technology and manufacturing processes. The Internet has already profoundly changed private life; in the meantime, the Internet of Things and Services is entering the production process and is creating new business models.
Industrie 4.0 is the interconnection of state-of-the-art information technology and manufacturing processes.
The Internet has already profoundly changed private life; in the meantime, the Internet of Things and Services is entering the production process and is creating new business models. The interconnection of state-of-the-art information technology and manufacturing processes, summarised under the term Industrie 4.0, is on track. The planned speed factory of the manufacturer of sports articles with the three stripes shows where the road leads: Fast and flexible production up to batch size 1.
However, some aspects, such as automation and function integration, which are summarised under the term Industrie 4.0 as well, are not completely new for the textile industry and the textile machinery engineering.
Prior to ITMA ASIA 2016, Nicolai Strauch, Press Officer VDMA Textile Machinery, spoke to VDMA member companies exhibiting in Shanghai about their efforts and achievements around the topic Industrie 4.0, automation and function integration. His dialogue partners were: Andreas Hannes, Marketing Manager, Sedo Treepoint; Jan Siebert, Head of Rieter Business Group Machines & Systems; Andreas Schellhammer, CEO of H. Stoll; Andreas Lukas, Managing Director, Andritz Küsters; Arno Gärtner, Managing Director, Karl Mayer; Jürgen Brockmann, Director, Thies; and Wilhelm Langius, Division Head, Neuenhauser Maschinenbau.
Strauch: Even if batch size 1 is not in focus, the textile machinery manufacturers keep Industrie 4.0, the fusion of information technology and machine building, in sight. Sedo Treepoint specialises in digitising and automating manufacturing processes for textile finishing. What is Sedo Treepoint's understanding of Industrie 4.0?
Hannes: Our company has been taking steps towards Industrie 4.0 for a long time. The systems we offer for textile dyeing and finishing includes already today many Industrie 4.0 features like RFID readers that register in the dye house or in the finishing section the contents of radio tags or robotic dispensing systems that supply the precisely constituted dye mix just in time.
Strauch: How can the system respond to any unexpected event?
Hannes: For example, if sensors report excessive shrinkage of the textile goods, the smart machine controller corrects the process parameters automatically. Or if delivery deadlines are not met, downstream production processes are adjusted immediately.
Strauch: What are the advantages of Industrie 4.0?
Hannes: Optimised production processes and improved plant efficiency, more economical production processes, energy savings, more flexible production, just to name a few.
Strauch: I suppose the Industrie 4.0 concept is becoming increasingly important in the spinning sector, too. Rieter is a key player in the world of spinning. How is Rieter dealing with this?
Siebert: The mill management system SPIDERweb is a pioneering step for Rieter towards Industrie 4.0 for optimising the spinning mill. With the mobile app, the Mill Manager has firm control of the data of his operating facility at all times. Old, current and future machine generations can be connected to the system. Rieter has had the drift towards Industrie 4.0 on the agenda for a long time and will continue to pursue market trends consistently in the future.
Strauch: Mr Schellhammer, company Stoll is a long-established manufacturer of flat knitting machines. How is Stoll addressing the trend to Industrie 4.0?
Schellhammer: For us, at Stoll the focus of Industrie 4.0 is all about automation of knitting factories in order to achieve superior efficiency, speed and flexibility. A key pre-requisite for that is the networking of all flat knitting machines in a bi-directional way. With our new "Production Planning System" (PPS) our customers are able to comprehensively control, plan and optimise their production. As a result, for example, they will become more responsive to the increasingly shortening collection cycles of fashion companies…
Strauch: …which means knitting mills can efficiently adapt their production to new collections very quickly. Most knitting mills have hundreds of flat knitting machines in their production halls. It sounds time consuming to adapt all these machines to new job orders.
Schellhammer: Exactly, that's the case but even more importantly it is a very difficult task to constantly optimise productivity in such a complex environment. Therefore, the primary purpose of our PPS solution is to support and enhance flexibility and efficiency in production. Our web-based software solution is a central platform for production data and production processes in knitting machine parks. It connects to existing ERP systems and can be operated from any browser and mobile device – it is available anywhere and anytime.
PPS enables quick disposition, efficient machine utilisation and overall production optimisation.
Strauch: What is to be understood by this overall production optimisation?
Schellhammer: More and more our customers are faced with the requirement to produce orders with increasing variety, smaller volumes and reduced lead times. You can imagine that proper scheduling which minimises set-up, maintenance and waiting times under those restrictions is a significant economic factor. Based on our research, we assume that PPS can help to increase overall productivity by up to 10 percent. In addition, the auto-production mode enables efficient production of individualised products and opens the door to new business models for our customers.
Strauch: The focus of Andritz Nonwoven is on machinery and processes in nonwovens production. I suppose, fully automatic factories, according to the Industrie 4.0 concept, are also becoming a reality in the nonwovens sector, right?
Lukas: Correct! And one of our solutions in this context is a monitoring system that helps production managers to improve textile performance of their line by generating production reports that show all the parameters.
Strauch: How does the system work?
Lukas: Recipes can be reproduced quickly and operators receive the relevant production information in real time. The system sends you preventive maintenance alerts that help to anticipate problems and reduce unplanned downtime.
Strauch: What are the benefits for your customers?
Lukas: It controls the line parameters constantly and creates the best configuration to enhance production. It guarantees smooth operation, optimises the process, maximises the yield contribution and improves plant profitability.
Strauch: Karl Mayer offers solutions for warp knitting, technical textiles and warp preparation for weaving. What is the company's latest contribution to functional integration?
Gärtner: For Karl Mayer, technical innovation also means integration of functions. In this respect, the control-technology-related basis, called KAMCOS® 2, is a new automation platform, offering a man-machine interface with the same sort of operating functions that are used in smartphones and tablets all over the world nowadays.
The operation of this new automation platform is based on a modern real-time data bus.
Strauch: What does function integration mean with regard to this automation platform?
Gärtner: The platform ensures the full integration of functions of high-tech textile machines. In case of Karl Mayer's latest tricot machines, these functions include a standard camera monitoring system inspecting 100 per cent of the fabric area including early fault detection, Laserstop for yarn inspection with short reaction times and a lighting with status display. Besides, KAMCOS® 2 forms an interface to the new App KARL MAYER CONNECT. The dedicated app provides access to machine data via mobile devices and is the basis for our 360° support – an all-round support covering a complete technical service focusing on the needs of our customers.
Strauch: Thies is a supplier of machines for yarn and piece dyeing and bleaching and drying equipment. Automation is very often mentioned in connection with function integration. For instance, integrated robotics that helps to manage hard manual labour. How do you help your customers to dramatically minimise human error rate in dyeing plants and to diminish harmful work as well?
Brockmann: In many factories, dye is still brought to the preparation vessel in buckets by the operators – to ensure that the correct mixture is supplied for dyeing the next batch.
We systematically continue to compress tasks in all production workflows as well as in the finished products.
Strauch: With the new machinery line, it is not only the actual dyeing that is controlled by robots?
Brockmann: That is correct. They also take care of all upstream and downstream process steps. A robot system picks up the bobbins with the yarn, individually or in batches, and loads them onto a self-propelled bobbin carrier for transporting to the dyeing machine or the dryer. This means that the lids on the dyeing machine and dryer must open and close automatically at the right time as well. Unloading of the bobbin carrier after drying is also automated.
Strauch: What does this mean for your customers?
Brockmann: With automation, the result of the dyeing process is unmistakably better, of very high quality. Subsequent additions of dyes and chemicals to correct the result are significantly reduced. Making repairs after the run is very expensive for dyeing companies, and it seriously impacts the very tight profit margins.
Strauch: Let's go back to the start of the textile chain. Neuenhauser Maschinenbau is developing automated handling and transport systems for fibres. Which advantages does automation offer for spinning?
Langius: As automation became increasingly widespread in natural and chemical fibre spinning mills, it gave rise to an enormous leap in productivity. It was then a logical progression to build apparatuses and systems that use technology to enable them to handle the heavy, delicate bobbins for natural, chemical and carbon fibres. In our vision, automation has a far more complex role than is generally thought.
Strauch: What does this exactly mean?
Langius: The purpose is not just to lower payroll costs. In fact, our chief consideration in this undertaking is to reduce the need for manual handling of bobbins and the problems arising therefrom to the barest minimum. In this way, we help our users to improve the quality of their products. But automated handling systems also provide other advantages, such as a safe, high-performance product flow through the entire plant configuration, or a better use of factory space through compact machines and systems. They also help to maintain a clean, tidy and efficient manufacturing environment and a safe, ergonomically less burdensome workflow. Neuenhauser is already considering Industrie 4.0 for its future developments. But we have only just started.
I believe that the economy will only become fully digitised in a series of many, many small steps.