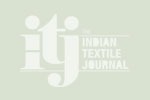 Staublis SX-Jacquard Makes Big Impact in India
When you see a beautiful jacquard design in a bedsheet, curtain or a terry towel or for that matter any fabric, nine out of ten people think of Staubli, if they are familiar with weaving technologies. Frame weaving, Jacquard machines, carpet systems, weaving
When you see a beautiful jacquard design in a bedsheet, curtain or a terry towel or for that matter any fabric, nine out of ten people think of Staubli, if they are familiar with weaving technologies. Frame weaving, Jacquard machines, carpet systems, weaving preparation, automation solutions and accessories for the weaving industry, you name it, this Swiss company strides the scene like a colossus. Staubli has been relentlessly launching precise machines and products for the weaving industry since 1892. It has also built an impregnable reputation for customer support, training, technical services, and timely delivery of spare parts.
Stäubli is a mechatronics solutions provider with three dedicated divisions: Textile, Connectors and Robotics. With a global workforce of over 4,000, the company generates annual turnover surpassing 1 billion Swiss francs.
Originally founded in 1892 as a small workshop in Horgen/ Zurich, today Stäubli is an international group headquartered in Pfäffikon , Switzerland, delivering innovative solutions to all industrial sectors around the world.
In India, Staubli´s presence has been established since ages ago, well before Stäubli India, based in Mumbai was set up to serve the Indian market with a dedicated team of sales and service engineers supporting textile, connectors and robotics customers. No one in India denies the fact that 100 per cent Swiss precision is infused into all the Staubli products.
Fritz Legler, Head of Marketing, Sales & Service at Staubli, knows throughly his global markets. He was at the recently-held Techtextil India in Mumbai. His globe-trotting is not limited to East alone.
Fritz Legler squeezed in some time from his busy schedule to talk to the Editor of The Indian Textile Journal, in an exclusive email interview.
Excerpts:
ITJ Editor: Tell us a brief history of Stäubli´s entry into India and its performance till today in this country.
Fritz Legler: Stäubli as a Swiss-based international group has been actively providing the Indian and global market with innovative mechatronics solutions for more than 120 years now.
The Indian market has always played a major role for our company. Due to its importance, our company has been operating with our own local set-up in India since 1993. We have moved to our new offices ¨The Stäubli house¨ last year which has enabled us to further grow our Textile, Connector and Robotics businesses. We have high aspirations in India and have, therefore, been strengthening our local teams. It is our clear intention to further grow along with the Indian market in our field of businesses.
Our textile products cover:
Active warp control systems – Stäubli brand
Innovative shed forming technologies with Jacquard machines, positive electronic dobbies and cam motions for standard and heavy-duty weaving machines including our brand Schönherr.
Automatic drawing-in, leasing or beam knotting machines actively fostering the warp preparation process.
Active weft and warp control systems РSch̦nherr brand
Multi-weft selector or magic weft effect control for heavy-duty carpet weaving machines.
Carpet weaving solutions or weaving solutions for technical and industrial textiles.
Active electronics control system – Deimo brand
Electronic controllers & drives for textile machinery.
Active service
Through reliable, local service personnel, availability of original spare parts and maintenance solutions in our customers´ markets.
ITJ Editor: In dobbies & Jacquards, which are the mo