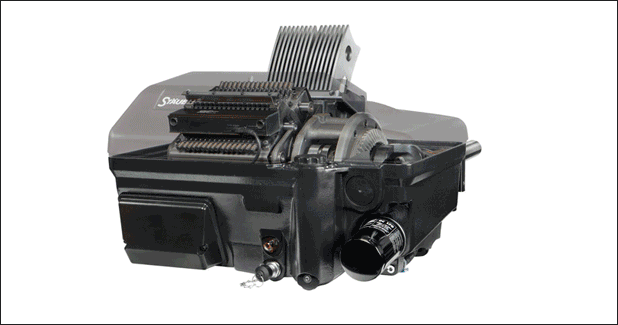 Staubli: Weaving magic in India since 1947
Introduced initially in 2010, and later refined in 2015, the new SX Jacquard machine has gained wide and enthusiastic approval by customers.
Introduced initially in 2010, and later refined in 2015, the new SX Jacquard machine has gained wide and enthusiastic approval by customers.
The import of Stäubli textile machinery into India began in 1947. In 1993, Stäubli established its own Indian subsidiary, which became a private limited company in 2009. This strong national presence with a team of sales and after-sales personnel allows weaving mills to fully benefit from its products today and for the long-term. Staubli not only delivers machines but ensures their optimal availability by providing maintenance services, consultation, technical support, and supply of original spare parts for an extended period of time.
At India ITME 2016, which concluded in December last year, many had the opportunity to see many products from the Stäubli textile machinery range and also to talk with the experts about their benefits. A jacquard weaving installation was demonstrated in operation whilst other products could be seen on demonstration stands. Exhibits included cam motions and dobby machines, electronic Jacquard machines, and weaving preparation systems products.
The Stäubli brand Schönherr carpet systems displayed a collection of exclusive carpet samples produced on ALPHA 500 series carpet-weaving machines at the booth, where complete information about the ALPHA 400 and 500 series was offered to visitors. Furthermore, state-of-the-art electronic control solutions for textile machines by DEIMO were also exhibited.
Jacquard weaving
SX Jacquard machine provides excellent productivity. Introduced initially in 2010, and later refined in 2015, the new SX Jacquard machine has gained wide and enthusiastic approval by customers. This extremely versatile machine for broad use in modern Jacquard weaving mills meets the highest demands. The compact machine offers higher performance—meaning high loads and high speed—supported by optimised kinematics and a nearly vibration-free drive mechanism. It offers extreme reliability and requires a minimum of maintenance.
The SX is available in two sizes, with 1408 or 2688 hooks, and is adaptable to rapier, air jet, and projectile weft-insertion systems. The larger format is on exhibit performing on an installation in combination with a perfectly fitted Stäubli harness with 16,176 harness cords. An astoundingly fine upholstery fabric is being woven over a reed width of 190 cm.
LX jacquard machine perfects the art of patterning. LX and LXL Jacquard machines (particularly suitable for large-format applications) are extremely versatile, for broad use in modern Jacquard weaving. The completely re-engineered LX series features a new lifting mechanism that allows high-speed weaving even of extremely heavy fabrics. With the new coaxial drive shaft and re-sized chassis supporting beams and bearings, the new models can handle up to 26 per cent greater loads than the previous models. In addition, the positioning of the fans in the housing of the LX optimizes internal airflow, thereby ensuring that the machine interior remains clean and at a controlled temperature. The LX models are available in sizes up to 6,144 hooks, and with the LXL formats up to 36,864 hooks can be achieved by combining two machines.
In addition to the aforementioned Jacquard machine models, Stäubli's LX, LXL, and SX series include special models for the production of all types of velvet fabrics: the LX V, LXL V, and SX V. Offering the possibility of flexible combination of the three-position modules with the height-adjustable two-position modules, the pile and ground warp can be activated with the same machine.
The CX 172 is a highly modern Jacquard machine with computerized control for patterning name selvages. The machine heads are available with either 64 or 80 hooks and are adaptable to any type of weaving machine. The CX 172 is equipped with independent servo-drive transmission, a feature that not only dramatically simplifies its installation but allows easy adjustment of the heads to match the exact weaving width. The electronic controller type DC1 for the CX 172 heads ensures comfortable pattern programming.
S3000/S3200: New generation of dobbies
Based on the success of the rotary dobby invented by Stäubli many decades ago, the newly developed S3000/S3200 rotary dobby family comes with a new locking system, which is the heart of every dobby. The evolutionary principle features enhanced security for the selection of heald frames, allowing higher running speeds as well as superior reliability. Thanks to its state-of-the-art technology, the new machine is even more compact and it operates with less noise and vibration despite its higher speed. It also has a built-in cooling system connection and requires less maintenance. The S3260 rotary dobby is being displayed in operation on a demonstration unit at the Stäubli booth. This dobby is ideal for weaving patterned fabrics and is adaptable to air-jet weaving machines.
Long years of experience and intensive research in the field of shedding technology are the basis of Stäubli's high-performance cam motions. Having been continually further developed, they feature extremely robust construction with a mono-block housing and are made of the highest-quality materials to ensure a very long service life and exceptional reliability.
Automation in weaving preparation
When it comes to efficient warp and style changes in the weaving mill, one thinks of Stäubli and its large range of systems and machines. Standing for the highest quality and innovative features, Stäubli offers advanced system solutions and machinery for automatic drawing in and warp tying.
SAFIR S40: Drawing in cotton, and denim warps in particular, is the speciality of the SAFIR S40 automatic drawing-in machine: It draws in directly from one warp beam into the drop wires, healds, and reed in a single cycle. Featuring cutting-edge technologies such as an optical sensor to detect the correct repeat of yarn type and colour, it enables continued workflows and ensures reliability in terms of quality and quantity, resulting in economical production of fabrics like denim, bed and table linen, or blouse and shirt fabrics produced with a maximum of 12 heald frames.
Warp tying: The proven TOPMATIC warp-tying machine is being displayed at the booth. This machine stands for the very highest-quality warp tying over the full yarn range, even down to the finest threads. Featuring unique electronic double-end detection, this machine prevents the tying of double ends even when tying flat sheets.
Schönherr carpet systems
With its Schönherr brand, Stäubli is showing top-quality area rug samples with new design options and ultra-high reed densities produced on its latest carpet weaving machines: ALPHA 500 UNIVERSAL, ALPHA 500 XDHC & ALPHA 500 INNOVATION. These machines allow weaving widths up to 5.3 m and the possibility to create densities with up to 30,00,000 points/m2. The ALPHA 500 serie provides all proven features of the ALPHA 400 series, increases the productivity, and ensures the utmost flexibility with different carpet sizes.
With ALPHA weaving machines, weaving mills can quickly respond to any market requirement and can produce a large product range, including area rugs and wall-to-wall carpeting for the residential, contract, and transportation sectors in excellent qualities and impressive patterns and at outstanding production rates. Design effects that boost the creativity of carpet designers.
To excel in the demanding modern high-end carpet market, mills and designers must collaborate hand in hand and highlight their knowhow with outstanding designs. ALPHA carpet weaving machines, in combination with exclusive design options (patents pending), support carpet weavers in creating extraordinary carpets:
Magic Weft Effect 3: up to three colours visible in the same pick line
Magic Shadow Effect: Surprising patterns in a one-colour carpet; different surfaces are seen depending on the viewing angle
Traditional Carpet Effect: providing carpet backs that seem to be hand knotted
DEIMO knitting solutions
With its DEIMO knitting solutions, Stäubli is a leading manufacturer of drive and control systems for a wide range of applications. These technically refined products are being used very successfully for customised solutions in the knitting industry. Thanks to their high performance and flexibility, these products serve to automate increasingly complex production processes in modern circular knitting machines. It serves as an electronic controller for circular knitting machines used to produce hosiery goods, socks, woollen stockings, pantyhose, and medium-to-large diameter knitting goods for various sectors. The 2900 SL features CAD graphic software for pattern programming, interfaces, remote control, and machine monitoring. It is driven by a Linux-based operating system.