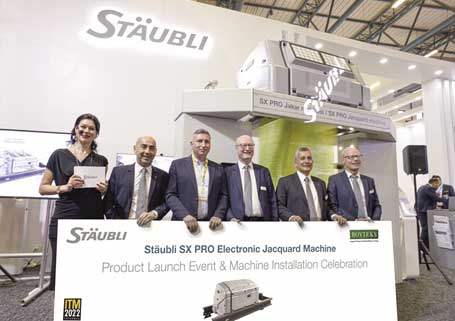 Stäubli launched its new SX PRO at ITM 2022
Stäubli successfully launched its new SX PRO Jacquard machine on the first show day in Istanbul. Muzaffer Sinangil, Managing director of Stäubli Turkey, and Bertrand Leroy, Executive President, Stäubli Textile, unveiled this new electronic Jacquard machine loaded with state-of-the-art technology at the Stäubli booth in the weaving hall.
Stäubli, leading provider of shed forming solutions to the weaving industry, unveiled a world premier right after the trade fair started: The new Stäubli SX PRO Jacquard machine. On this occasion, Stäubli invited one of its long-term customers BoyteksTekstil, a company among the biggest Turkish Groups operating in the textile business and having already successfully installed the SX PRO Jacquard machine. Bekir ÖzgünAldat, Technical Deputy General Manager – BoyteksTekstil San. Ve Tic. A.S. assisted the event, presented its weaving mills and the importance of reliable solutions, and the benefits of the new Jacquard machines.
SX PRO Jacquard machine – a solution for higher power efficiency and lower energy consumption in every Jacquard weaving mill. This new model among the broad range of Stäubli Jacquard weaving solutions will Reduce many mills with its incorporated proven technology of the predecessor Stäubli Jacquard machines as well as several innovations to reduce energy consumption: low-friction design of the MX PRO module, power supply fully integrated into the machine itself, and a new ventilation system with optimised temperature monitoring. Equipped with up to 2,688 hooks, the SX PRO Jacquard machine is perfectly adapted to the needs of the Turkish market, where matress ticking, terry cloth, apparel fabrics and upholstery fabrics are produced.
Visitors to the Stäublibooth at ITM observed the new SX PRO Jacquard machine in combination with a Stäubli harness at a demonstration stand and discovered many other ingenious solutions to face challenging market and environmental demands, such as the SAFIR S60 automatic drawing-in machine operating a 5 colour warp or the TIEPRO tying machine, the new must have tying solution, as well as the S3000/S3200 high-speed dobby seriesfor frame weaving. These shed forming machines are renowed worldwide for reliable shed formation at highest weaving speeds, on air-jet, water-jet and rapier weaving machines.