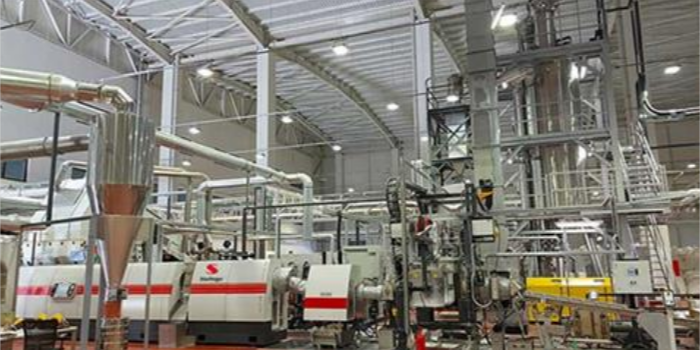 Starlinger to set new ground in Turkey's textile industry
Korteks is one of the biggest yarn producers in Turkey that produces recycled polyester filament yarn using the Starlinger recycling line.
Vienna
The Starlinger recoSTAR universal 165 H-VAC
iV+ forms part of Korteks' $ 10 million investment and it has a production
capacity of 7,200 tons per year. The line takes clean in-house polyester fibres
from production scrap along with washed post-consumer PET flakes at a 50/50
ratio. It is believed that with this investment the company is going to
establish a circular economy in the Turkish textile industry.
According to Baris Mert, General Manager,
Korteks, the company has been associated with Starlinger for a long time. He
also said that the unique and innovative recycling technology allows the
company to offer new products in line with the circular economy model.
The Starlinger recycling line is unique and
one of a kind. It is equipped with components for filament yarn recycling. Starlinger
has developed a Rapid Sleeve Changer candle filter which ensures the finest
melt filtration down to 15 µm. This filter is designed in such a way that it
helps in polyester recycling and brings an output of 1000 kg/h.
According to Paul Niedl, Commercial Head,
Starlinger recycling technology, the team is proud to be connected with Korteks
to bring sustainability to the textile business. He feels that if more Turkish
textile manufacturers start using recycled materials this will act as an
important move for the sector and act as a big step towards a circular economy.

Korteks is expecting the market to grow
because there is increased acceptance for recycled products. It is also
predicted that there is a need for recycling solutions for synthetic and natural
fibres. As per Baris Mert, the aim of Korteks is sustainable growth which helps
in reducing environmental impact and also creates value in the process. So, for
this, the company is trying to expand its product range in sustainable and smart textiles every day, he added.
Source
– Press release of "Starlinger"
Also
Read:
https://indiantextilejournal.com/latest-textile-industry-news/trutzschler-creates-a-charitable-foundation
https://indiantextilejournal.com/weave-knit/br%C3%BCckner-helps-arikan-produce-high-quality-knitwear-