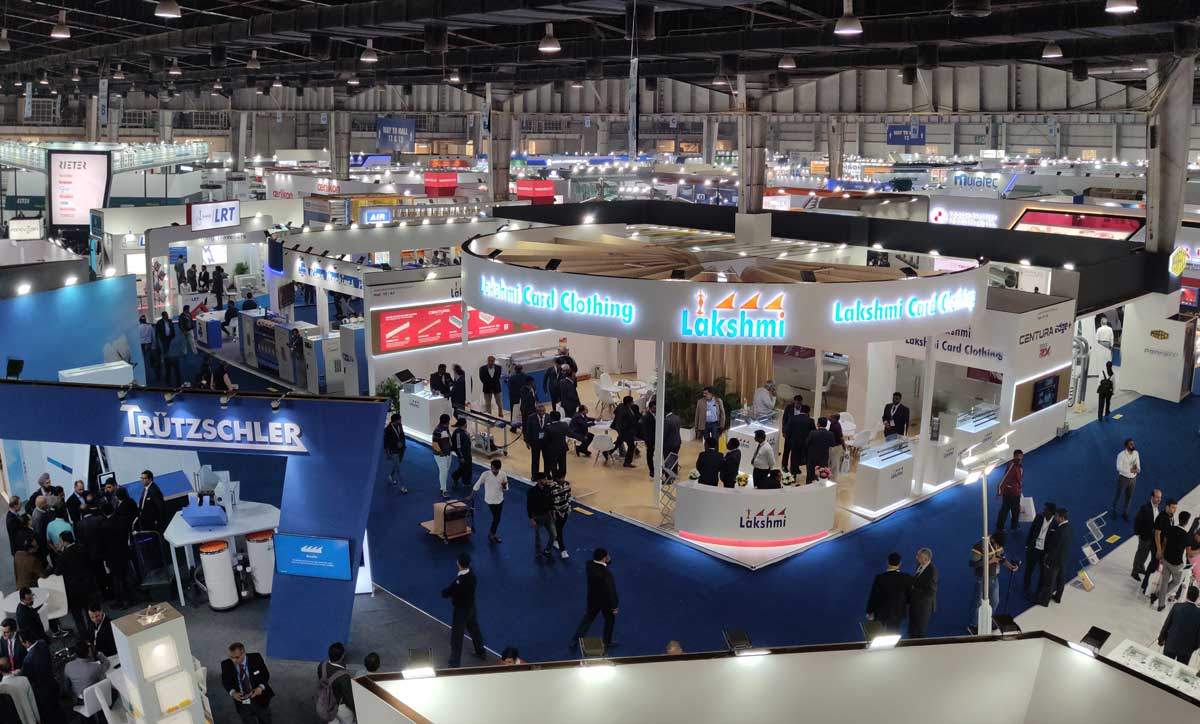 Some impressions of India ITME 2022
This exhibition had a "Make in India" theme in prominence. Lots of import substitute products and technologies were on display, informs Gurudas Aras.
India ITME 2022, the 11th edition of the exhibition, was held after a gap of 6 years from December 8-13, 2022 at India Mart Exhibition (IEML) venue at Greater Noida.
Some key highlights of the exhibition:
Excellent infrastructure at the venue spread over 235,000 sq m with largely spread area, 6 entry/exit gates, ample parking space , 3 conference halls, well designated service areas
Well organised show by India ITME Society, so far, the best one
Parallel to the show many events and activities were planned like new machinery launches, symposiums, CEO meet, technology awards, B2B meetings, wildlife photography exhibition and alumni meets
1,10,000 visitors from 73 countries, 1000+ exhibitors with 3130 machines on display on the show and 76 new product launches
Some noteworthy innovations/new technologies:
SPINNING:
Truetzschler
TC19i intelligent Card: This is a self-optimising card. Gap Optimiser T-Go results in very precise settings even in changing production conditions. With the help of this technology, the company experience 40 per cent reduction in yarn imperfections and up to 2 per cent raw material savings.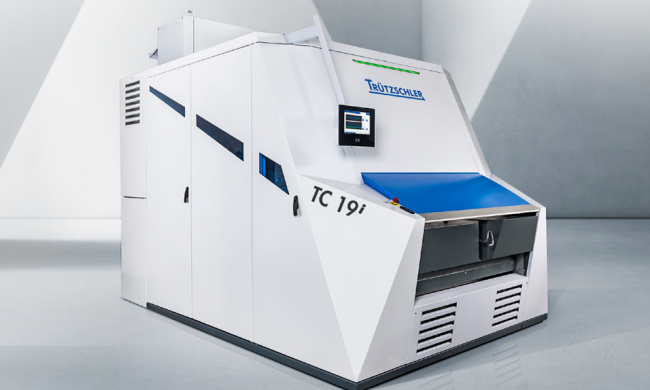 TC021 – New Generation Comber: This comber offers automatic piecing optimisation technology with Intelligent cooling system and automatic greasing. It can speed up to 600 nips/minute.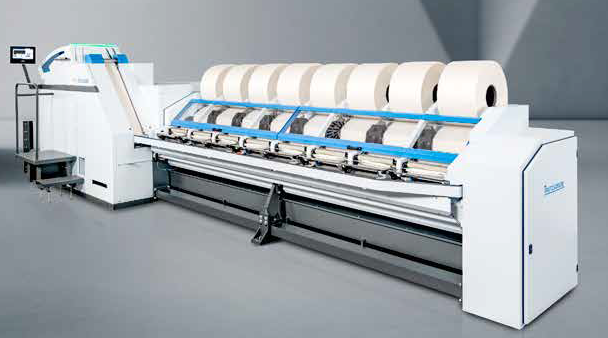 2) Rieter
Autoconer X6: This latest splicer offers optimum quality. It has multi-link system and multi- lot (handling different yarn counts).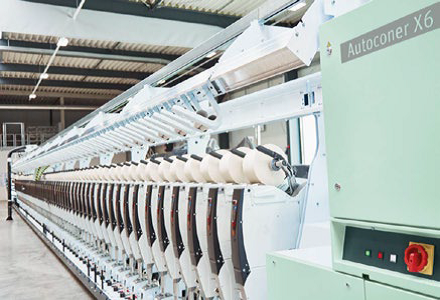 Spin-it-again: This is a perfect solution for integration of recycled raw material into yarn production.
ROBOspin: Piecing robot for ring spinning
3) Saurer
AutoSpeed Roving frame: This is a fully integrated automation. The turbo doffing has less than 2 minutes doffing time. RoWeClean converts residual roving into fibres- used as soft waste in blow room.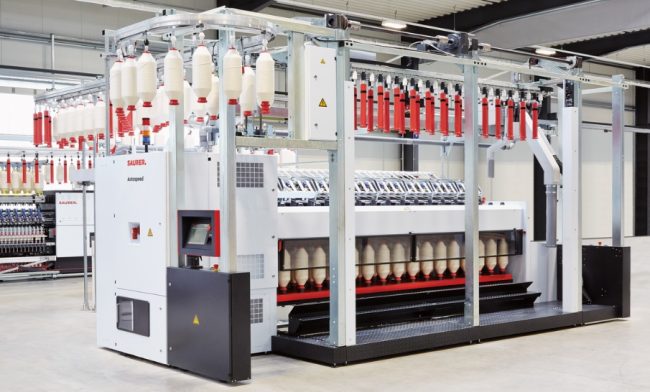 Auto-Airo Airjet spinning: Independent drive and piecing for each spindle. Spindles on both sides (70% space savings).
4) Lakshmi Machine Works (LMW):
RAP- Smart Ring frame Auto- Piecing: Manpower reduction up to 60 per cent.
LAW 60 Autowinder: It is a direct link feed system with easy plug and play modules. The winding speed is up to 2000 mpm.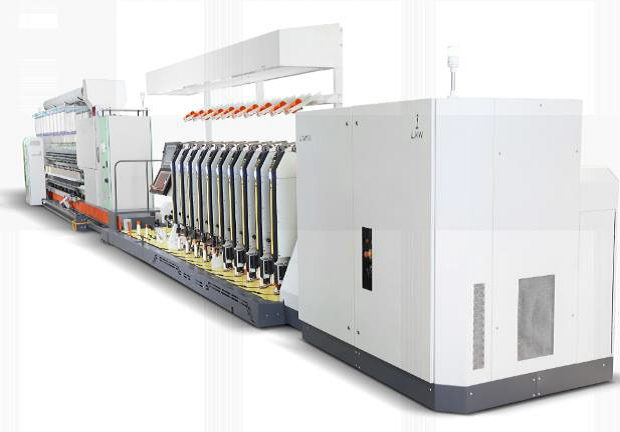 LJS 9 Jet Spinning: This double sided machine is up to 200 positions with Delivery speed up to 550 mpm. Individual piecing and individual drives.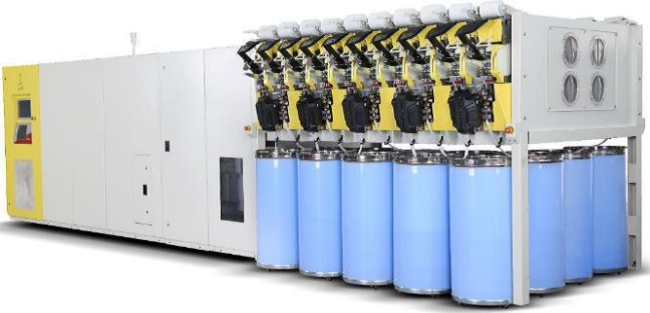 5) Murata
Process Coner II FPRO EX 10: This coner has a diverse package shape range. It offers stretch air splicer for core spandex yarn (CSY).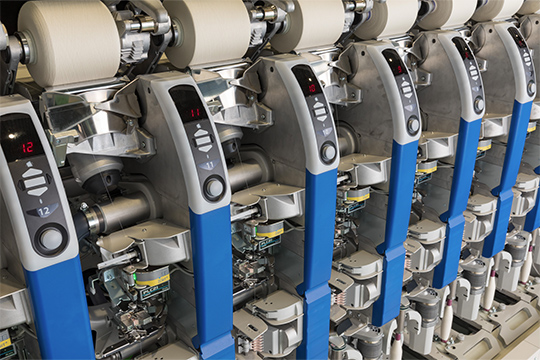 VORTEX 870 EX Airjet Spinning: It speeds up to 550 mpm. Possible to run 100 per cent polyester and poly-cotton blends.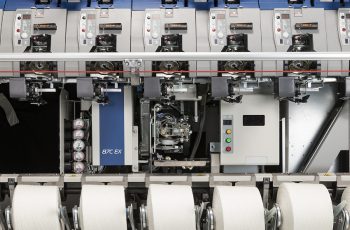 6) Savio
Proxima Smartconer: This smart changer technology has fastest bobbin change unit. Smart Booster- bobbin unwinding system-stabilized unwinding. The smart tensioner has low yarn breaks and better yarn quality. Smart Jointair- fastest splicing cycle and smart tail withdrawal.
WEAVING PREPARATION
Rabatex Industries
Complete Fabric Sampling Solution: This is the first made in India sampling solution having mini sample warper. It has a single end cone-to-cone sizing machine and sample rapier weaving machine.
Advanced Sample Warper: This warper has a speed up to 1000 mpm and has a rotary creel with 16 packages with synchronised yarn laying.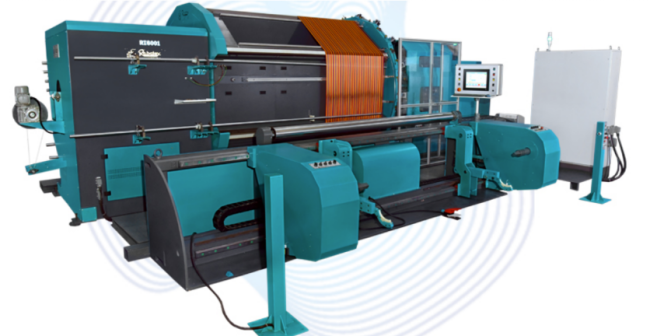 Advanced Sectional Warper: This warper provideslaser sensor for yarn built-up measurement & online length measurement . It also avoids cross-over ends.
Prashant
Robotic Sectional Warper: It has complete leasing function by robots. The company can save time by and witness 50 per cent increased productivity and space saving by 35 per cent.
Eco-friendly Indigo Sheet Dyeing machine with Nitro chamber: Keeping the environment in mind, Prashant has come up with this machine which saves the water consumption by around 50 per cent. It can do chemical saving of around 15-20 per cent and space saving of up to 10 per cent.
WEAVING & KNITTING
Tsudkoma
ZAX001 neo – Fastest Airjet Loom: This loom runs at2300 rpm with low vibration with low power and air consumption. It results in 40 per cent reduction in warp and weft stoppages.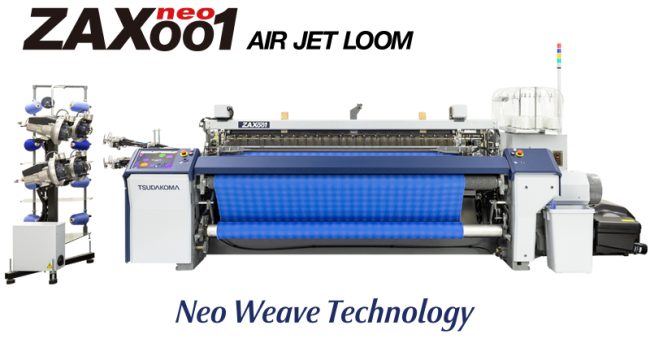 Wider width Rapier Loom: 340 cms width weaving machine capable of running at high speed of 1000 rpm
Shima Seiki
"WHOLEGARMENT'' making machine: Entire piece is 3 dimensionally produced on the knitting machine. It eliminates cost, saves time and reduces post-production labour.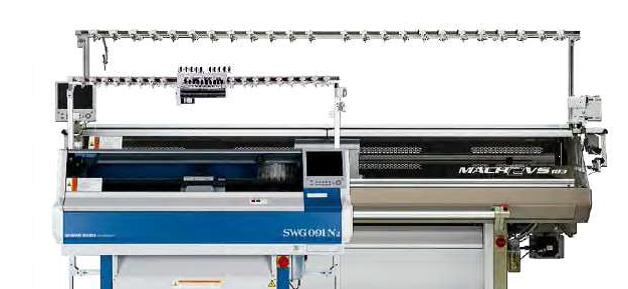 PROCESSING
YAMUNA : 3 new launches at the show
Multi-layer Stenter Yamuna-Alea (In collaboration with Alea ,Italy): This is a first Indian made Multi-layer Stenter. It has a 10 chambers machine in a 3 chamber space at 6 chambers operating cost with high productivity with energy efficiency and enhanced finishing quality.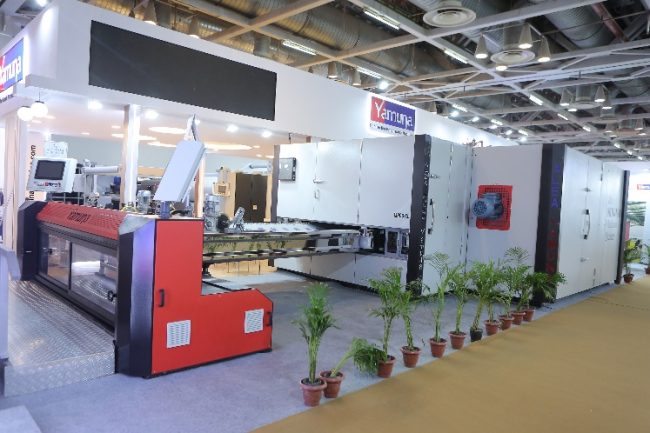 Open-width Knits Singeing machine: Through this machine, the manufacturers can do fabric singeing with minimal tension.
Open width Knits Compactor: This is the Indian made open width Compactor. It has a controlled shrinkage due to Rubber belt + Compactor combination and controlled tension & minimal stretch in knit fabric.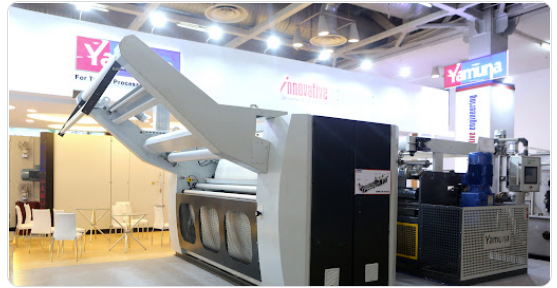 Kuesters Calico
High-intensity Ceramic Burner: This burner offers3 singeing positions with temperature controlled cooling system.
Super-Flush Efficient Washer: This washer has short distance guide rollers to ensures creaseless fabric transport. It has lesser liquor requirement.
Menzel India
Pulsation Drum Washer: This washer has a pulsation effect which has higher efficiency and water saving capacity.
Opti-Dip: This new applicator has multiple dips and is useful for heavy and dense fabrics.
EARTH SERIES DIGITAL PRINTER – Pigment printing solution: This water based pigment ink is used with a binder for fixation to fabric. In this printer, pre and post treatment is not required which results in water and energy saving. It offers polymerization at 160 degrees temperature after printing provides excellent colour fastness and print quality.
Metro NXT – Industrial production digital printer: This printer hasHigh production capacity of up to 9000 sq m/day. It has an eefficient ink supply system with 32 printing heads of Kyocera delivering sharp prints.
Acumen & Signature – Rotary printing machines: The machine has a high production output up to 90 m/min with high quality printing with automatic repeat setting and unique head lifting system and Multi repeat printing head. It offers options of closed bearing multi repeat (Acumen) and open bearing (Signature).
Smart Color- Colour kitchen- For the first time in India, this is replacing imports. It has a fully automatic paste and colour dispensing.
While there were new technology launches and new technologies exhibited by many companies at the show, only some of the noteworthy of them are covered in this article.
CONCLUSION:
The India ITME 2022 had been a very well organised event, the venue comparable with the best in the world. This exhibition had a "Make in India" theme in prominence. Lot of import substitute products and technologies were on display. Major themes that were noticed during the exhibition was Automation and Robotics, Recycling, Resource saving (raw material, energy, water, chemicals), Eco-friendly and sustainable technologies.
About the author: Gurudas Aras is a Strategic Advisor (India) at ITA Group, Germany and Independent Director at Rossari Biotech Group companies.