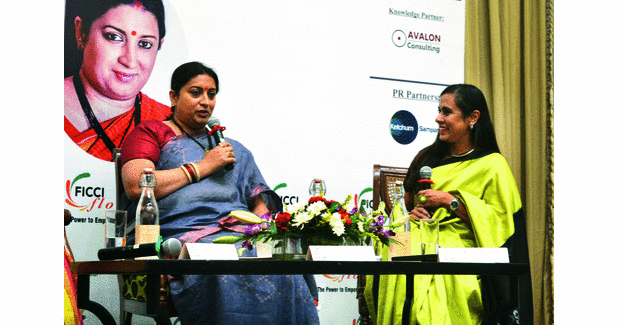 Smriti Irani discusses on women empowerment at FICCI FLO event
During the session, Irani shared her personal experience describing her journey from television to Parliament.
FICCI Ladies Organisation (FLO), the women wing of the Federation of Indian Chambers of Commerce & Industry (FICCI) conducted a session with Minister of Textiles, Smriti Irani. The session was moderated by Shefali Vasudeva, Editor, The Voice of Fashion, a digital magazine by IMG-Reliance. The Liva brand from Grasim was the title sponsor for the event.
During the session, Irani shared her personal experience describing her journey from television to Parliament. Textile Minister discussed the significance of women in the textile industry and how there are campuses and factories dedicated only to women employees. She emphasised on women-friendly policies such as Suraksha Bima Yojana where you can avail life insurance worth Rs 2 lakh by just investing Re 1 a month for 10 years, the Pension Scheme requires an investment of Rs 330 per year for a cover of Rs 2 lakh, while the Ayushman Bharat scheme provides protection from 1,300 diseases. Irani also called out the success of Mudra Yojna, where 70-80 per cent loans have gone to women and whenever the government lends to women, 99 per cent of women pay back. Speaking on harassment at workplace, she said, "Women don't go to work to be harassed. They go to work to live their dreams and to earn a respectable living. So, it must be difficult for them to come out and talk about whatever happened in their professional life." Irani further added, "It is an extremely important phase of our society where more and more women are getting support, so that they can speak out and I feel there are enough instruments in our judicial and police system to deliver justice. I am hopeful that all these ladies speaking out will get justice they deserve."
"Anybody who is speaking out shouldn't be victimized or mocked at. That is my only appeal to everybody who is witnessing this surge of outpouring of emotions, of anger on the internet and offline as well," added the textile minister.
Later, Smriti Irani discussed on the handloom industry and the potential it offers for women's employment. Chaturvedi, Chairperson of FICCI, said, "FLO is a facilitator for economic and social empowerment of women. Our Skilling programme focuses on employability of women while Swayam is a platform that helps women entrepreneurs to set up and scale up business. We have also initiated an education programme for young girls and their mothers on menstrual health and hygiene, this is a four-month programme certified by UNICEF." She added, "This year, our aim is to bring Government, industry, NGOs and FLO to work together to create a larger impact through our current and upcoming initiatives. We are asking for a cell to be set up for women entrepreneurs along with Ministry of Industry, Maharashtra, and with FICCI, whereby women are made aware of the schemes available for them. We are working with dynamic women from Self Help Groups under MAVIM and expanding the scope of their activities by seeking partnership from corporates. We are aware that only if government bodies, corporates, NGOs and industry bodies like ours work together we can create a larger and long lasting impact on the society and economy."
Lastly, the gathering also saw a detailed deliberation on the Union Government policies for women and if women were actually benefitting from them.