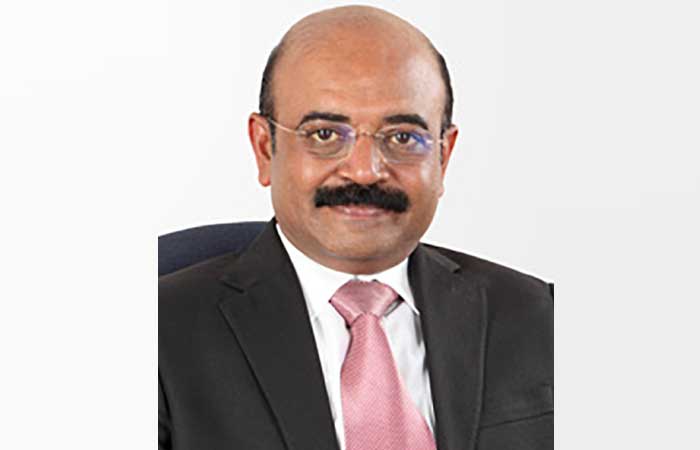 Smart textiles offer significant opportunity for Freudenberg"
The Weinheim (Germany) headquartered Freudenberg Performance Materials is one of the leading global suppliers of innovative technical textiles offering differentiated value propositions to a broad range of markets and applications such as apparel, automotive, building interiors, building materials, healthcare, energy, filter media, shoe and leather goods as well as specialties. In this interview, Sivasailam G, Managing Director, Freudenberg Performance Materials India, highlight on the potential of technical textiles market and the company's growth plans in India.
How is Freudenberg Performance Materials serving the Indian industries?
Freudenberg Performance Materials started its India operation in 1998 by producing the industrial filters which were manufactured in Mumbai. These filters were supplied to the manufacturers in India who were making filter cartridges and assembling them for various industries like cement, automobile, and power generation industries to name a few. In 2003-04, the business of interlining in apparel manufacturing had started; this was for both, Indian market and exports to the European Union and the US.
In 2005, Freudenberg's manufacturing plant was set up in Chennai and since 2006 Freudenberg manufactures the requirement for the apparel industries at this plant. It was at this juncture that Freudenberg Filtration Technology was carved off into a separate entity as this was a very big and growing business in the tropical countries like India, Bangladesh and the Middle East market. Freudenberg Filtration Technology spun off in 2008, and Freudenberg Performance Materials continued with its production for the apparel industry.
In 2009, Freudenberg started doing the pre-structured material which was used at infrastructures such as airports, indoor stadiums, and auditoriums for sound proofing or sound reduction. Our first big project was the Delhi International Terminal 3, with the success of the project the other terminals were revamped too using the Freudenberg material.
From 2002 onwards, we started supplying for the Delhi Metro Rail infrastructure and followed by the supply of material to the Mumbai, Bangalore, and Chennai Metro Rail infrastructure.
We also cater to the automotive industry; the headliner that is used in automotive manufacturing is imported from one of our group companies – either from Korea, Japan, or China. The imported material goes through a bit of value addition process in India and is then supplied to Tier 1 customers in the automotive industry.
When it comes to the pharmaceutical industry, we specialise in the manufacture of transdermal patches which are made for transmission of medicine subcutaneously. These transdermal patches are all exported to the European Union and American markets. There are a variety of products that Freudenberg is already catering to and many of them are not manufactured in India as the market size at this point does not justify establishment of a production line. Maybe, in the next few years when the market develops for these materials, Freudenberg will look into investing in production unit in India.
We cater to a part of the requirements of Bangladesh and Sri Lanka (the key apparel exporting countries) from Freudenberg India's manufacturing facility. We are also enhancing the production capabilities to cater to the market demands of a certain specific segment in apparel manufacturing, which is presently supplied by manufacturers from China and Korea.
What are the advantages of using Freudenberg performance materials?
We, at Freudenberg, are very technically sound chemical engineers who have good expertise in handling a lot of plastics, synthetics, and also engineering products. We use this expertise in collaborating with our customers to make their products even more efficient and advanced in terms of their application. The theme of our company is "Innovating Together" emphasising on the fact that customer centricity is the highest priority for us. Our entire R&D efforts are focused on uplifting of our customer products and performance. Through this, we focus to live up to our commitment across industries. It is important to say that about 35% of the revenue generated by Freudenberg in 2021 is through products that are younger than four years since the launch of the product.
We also look at sustainability as a very important topic for the future of our company; and it is not a new topic for us. Sustainability has been an important topic written by our founder Mr Carl Johann Freudenberg 170 years ago. Sustainability for Freudenberg is attained at various levels. It is the footprint set within our production and manufacturing activities, followed by the handprint of our customers who can pass on the benefits further to the end consumers and we collectively try and reduce our resource depletion as much as possible.
What is driving the demand for technical textiles? Are government policies like the PLI scheme aiding this growth?
The market for technical textiles is developing and maturing. It must be noted that there is quite a bit of enhancement that is happening in segments like the cable wrap industries, automotive interior improvement, or even medical textiles and this development is driving our requirements in India in particular. India is going to be one of the interesting markets for technical textiles in the decades to come and we see that it is one big opportunity for Freudenberg. It may not be immediately, but maybe over years, we may foray into all segments where we have our products.
For instance, the conversion from internal combustion engines to e-mobility needs a lot of energy storage technology and Freudenberg is doing quite a lot of developments in the energy storage technology along with battery manufacturers. India is one of the biggest markets which will evolve for EVs in the coming decades. This is also one reason why technical textiles are gaining prominence in the Indian market.
The government recently announced a PLI scheme for technical textiles. But, there is the threshold given by the government of Rs 300 crores and Rs 1,000 crores, which are much higher for MSMEs like Freudenberg Performance Material India. We are looking at a new slab that will help MSMEs like us to invest and will make it big.
What are the key challenges faced by the technical textile industry in India?
The key challenge faced by the technical textile industry is that we don't have a fully matured market for the launch of the key products. The market is developing and is still at an infant stage. At this point, the best model to cater to the market demands is by keeping stocks as and when the customer's requirements are developing.
Of course, this has to convert into a Made in India for the Indian market and also the export market. This will take a little longer as we need to establish the entire ecosystem around this particular sector. For instance, the availability of polyamide is not great in India and we don't have manufacturing of Aramid fibers yet in India. Besides, we do not have large scale manufacturing of the chemicals required for creating this industry.
Which materials used for making technical textiles are witnessing high demand?
We use materials that are existing and readily available and have a component that can be utilised for the respective applications. Simultaneously, there are several component manufacturers, for instance, a polyester manufacturer invests a lot of time in R&D to bring in raw material which has the potential to serve a specific requirement or industry. So, this is continuously evolving. Currently, the material used is a combination of polyester polyamide, polyurethane, glass fiber, polyvinyl chloride, and Aramid fibers. These are the ones that are developing much faster.
Could you please brief us about some of the Freudenberg performance materials, recent launches? Any new product in the offering
In 2020, we globally launched a patented product called Comfortemp, for the outdoor market. Comfortemp was developed to replace the existing process of down clothing where feathers are removed from live birds and used for giving warmth to people while outdoor. Similarly, there are a few more products that we have developed like the coated textiles which are being used in the infrastructure market. Presently, we are developing a product in fine fibre technology, which can be used in acoustic enclosures for auditoriums and conference room infrastructure. So, there are continuous developments are happening and these are a few to name.
What kinds of new opportunities are you looking to tap in India?
The smart textile market is offering us quite a significant opportunity. For instance, the fabric used in the manufacture of sports and recreation technology garments has to be made out using specific corresponding materials for the garments to be comfortable and have good elasticity. For Freudenberg, this is a very good opportunity and we are investing in this technology to enhance the production and offering to our customers in India. This will directly support our customers who manufacture knitted garments, sports garments, and recreation wear.
We see an opportunity in the increasing infrastructure development. The noise absorbent non-woven membrane for the perforated tiles is a big market, which will continue to grow over two decades. It's an important segment that we are also focusing on.
We are also focusing on medical textiles because India is becoming increasingly important in the supply of pharmaceutical and medical needs.
India is an interesting market for footwear manufacturing. We are developing a few products for the top-off and shoe components for the sports shoe manufacturing in India.
Apart from this, we are working with a few more segments like a modified replacement for leather based on non-woven material and a coated technology.
These are the segments that are very close to our interest and are looking at these opportunities in the coming years.
What are the emerging trends in the industry?
As we witnessed globally, e-mobility is an important and big cornerstone for the reduction and consumption of hydrocarbon-based fuel. We will see a lot of breakthrough technology development in this particular industry. Freudenberg is partnering with a lot of manufacturers across the globe.
There is a requirement to control noise, vibration, and heat from electric vehicle. For this Freudenberg is closely working with most Tier 1 and OEM manufacturers to find the future requirement for these vehicles. This will empower us to provide solutions in areas such as a lightweight material which will allow the energy to be stretched for as much as possible, yet a strong material in case of any impact.
What are your short- and long-term growth plans for Freudenberg performance materials?
Freudenberg Performance Materials sees India as one of its strategic markets. In the short term, we are looking at expanding the capabilities of our existing manufacturing facility in Chennai for both apparel as well as infrastructure projects on a horizon of the next 4-5 years. In a long term, we are looking at market segments for the automotive and filtration industry. We would like to become a dependable partner for all developments among the Indian manufacturers who cater to both Indian and global markets. We will come up with a clear development plan for the manufacturing industry by servicing with our future technologies