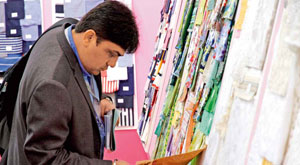 Shanghai proves its merit as a new location
Intertextile Shanghai Apparel Fabrics - Spring Edition 2014 concluded this month with a huge increase in the number of overseas and Chinese buyers attending. Over 40,000 visitors passed through the doors from 3-5 March 2014
Intertextile Shanghai Apparel Fabrics – Spring Edition 2014 concluded this month with a huge increase in the number of overseas and Chinese buyers attending. Over 40,000 visitors passed through the doors from 3-5 March 2014, a 60 per cent increase compared to the 2013 edition, which was held in Beijing and a new record for the spring fair. When broken down, it comprised a 105 per cent increase in terms of overseas visitors and a 52 per cent increase in domestic visitors from last year. Visitors came from 91 countries and regions and the top five overseas buyer countries and regions, excluding Mainland China, were Korea, Hong Kong, Japan, India and the US.
On the exhibitor side, 1,469 companies from 23 countries and regions took part. Exhibitors from Italy, Korea, Taiwan, Japan and Hong Kong made up the top five countries, excluding Mainland China. In total the fair covered 50,000 sq m and three halls of the Shanghai World Expo Exhibition and Convention Centre.
Next years Spring Edition will be held from 18-20 March 2015 at a new venue in Shanghai, while the Autumn Edition of this fair will be held from 20-23 October 2014 at the Shanghai New International Expo Centre. The Yarn Expo Autumn fair will also take place concurrently.
Intertextile Shanghai Apparel Fabrics – Spring Edition 2014 is co-organised by Messe Frankfurt (HK) Ltd; the Sub-Council of Textile Industry, CCPIT; and the China Textile Information Centre.
For more details on this fair,
please visit: www.intertextileapparel.com