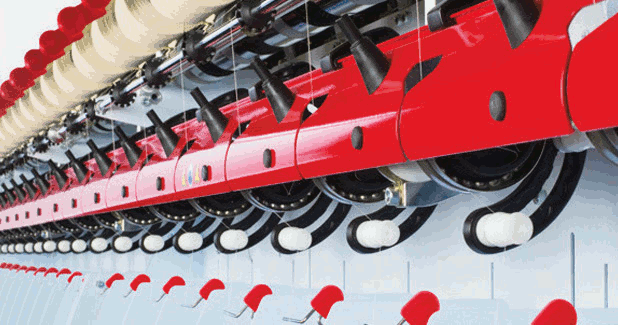 Saurer announces robust performance for 2018
The group posted sales revenue amounting to RMB 9 220 million, a year-on-year (YoY) increase of 5.8 percent (2017: RMB 8,713 million). Saurer's sales in its biggest market, China, rose by 11.2 percent.
The group posted sales revenue amounting to RMB 9 220 million, a year-on-year (YoY) increase of 5.8 percent (2017: RMB 8,713 million). Saurer's sales in its biggest market, China, rose by 11.2 percent.
Clement Woon, Chief Exe cutive Officer, says: "Saurer weathered the uncertainty of 2018 well, with sales revenue for the group increasing by almost 6 per cent. Both its segments Spinning Solutions and Technologies supported this growth.
The group posted sales revenue amounting to RMB 9 220 million, a year-on-year (YoY) increase of 5.8 per cent (2017: RMB 8,713 million). Saurer's sales in its biggest market, China, rose by 11.2 per cent. This was despite the uncertainty across the globe in the second half of 2018, which saw this economy growing at its slowest rate in 28 years. Saurer was well positioned to benefit from economic growth in several Southeast Asian countries such as Vietnam and Bangladesh. Despite political uncertainty affecting sales in Turkey, the group's segment Spinning Solutions grew in Saurer's third-largest market.
Over the past year, we have focused on repositioning the group as a solutions provider – our aim is to move beyond supplying our customers with textile machinery and to partner with our clients to help realise their business aspirations.
In line with this strategy, Saurer is positioning itself in closer proximity to customers across the world. This saw a significant reorganisation of our sales and service departments, which has resulted in a positive outcome in the Americas, Europe, Middle East and Africa (AEMEA) region, with Germany, Switzerland, Spain, Portugal and the USA all posting a revenue increase of around 30 per cent.
We are also embracing the technological advances brought about by Industry 4.0 as part of our strategy – our major focus areas here include automation and sensor technology as well as data analytics. In 2018, Saurer increased its R&D expenditure by approximately 50 per cent YoY. The Group's new Saurer Technology Centre located in Arbon, Switzerland, supports engineers across the group as they work to integrate smart technology into Saurer's products.
The group's commitment to Industry 4.0. principles is further highlighted by its plant in Urumqi in Xinjiang Province, China, which came into regular operation in the third quarter of 2018. This modern site is the first to produce both pre-spinning and spinning machines.
As we continue to meet our strategic objectives, strengthening our outside-in approach to meet customer needs, I am confident that we can strengthen our position as a provider of smart fit-for-purpose solutions to our diverse customers in the textile industry. The fact that sales of our pre-spinning technologies have grown by 34 per cent is an indication that we are meeting customer needs with our extended offering. In repositioning ourselves with the aim of deepening our relationships with our clients across the world, we will continue to support our customers' enterprises as they aim for new heights."
Revenues by segment
Both Saurer Spinning Solutions and Saurer Technologies performed well over the course of 2018. In China, the Technologies segment showed above-average growth, with sales increasing by +47 per cent. In the USA, the segment also expanded at a similar rate (+44 per cent). Spinning Solutions was the driver of revenue in Turkey.
Revenues by region
Despite a year characterised by uncertainty, Saurer grew sales in its biggest market, China, by +11.2 per cent. The high demand for twisting machines, spurred by the continued expansion of the glass fibre market is one of the contributing factors. Sales revenue sank in the group's second-largest market India (-4.8 per cent), which was still feeling the effects of its demonetisation policy and the introduction of the Goods and Services Tax. While overall growth declined in Turkey (-2.6 per cent), the group's Spinning Solutions segment experienced an uptick in sales in this country. In the region Asia (excluding China/India), Bangladesh was the standout market with sales expanding by +64.5 per cent. In Vietnam, the group also saw a boost in revenue (+20.4 per cent). In the Americas region, sales revenue in the USA rose by +33.5 per cent.
The Europe/Africa/others (excluding Turkey) region posted growth of 9.3 per cent ? Germany and Switzerland both saw sales increases of +34.7 per cent, while Spain and Portugal expanded by approximately 30 per cent each.
Saurer Group is a leading globally operating technology group focusing on machinery and components for yarn processing. As a company with a long tradition, Saurer has always been a leader in innovation. Today, Saurer comprises the two segments Saurer Spinning Solutions and Saurer Technologies. Saurer Spinning Solutions offers high quality, technologically advanced and customer-specific automation solutions for processing staple fibre from bale to yarn. Saurer Technologies specialises in twisting and embroidery as well as engineered and polymer solutions. With annual sales revenues of EUR 1 175 million, 4 700 employees, and locations in Switzerland, Germany, Turkey, Brazil, Mexico, the USA, China, India and Singapore, the strongly growing group is well positioned to serve the world's textile industry centres.