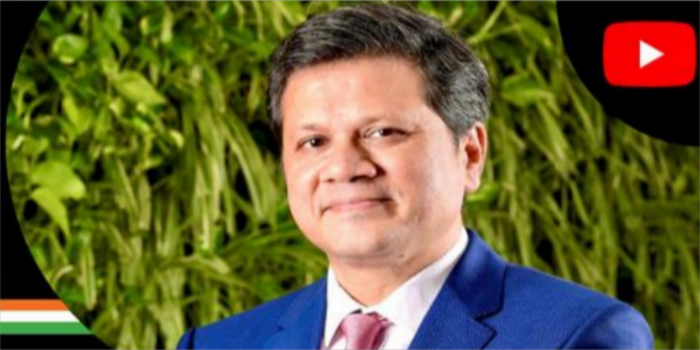 Sanjay Jain: PDS order book for Q1 2021-22 is strong
In this interview with Rakesh Rao, Sanjay Jain, CEO, PDS Multinational Fashions Ltd, highlights the trends in the global textile industry and the company's growth plans.
Though listed in India, PDS Multinational Fashions Limited is a global major with about 95% of its business coming from outside India. It is one of the world's largest integrated design-led platforms offering product development, sourcing, virtual manufacturing, and distribution for major brands and retailers worldwide. The company recorded more than 80% growth in earnings in the COVID hit year of 2020-21. By focusing on its core principle and actively engaging with the customers and vendors, the company was able to mitigate the challenges posed by the Covid 19 pandemic, says Sanjay Jain, CEO, PDS Multinational Fashions Ltd, in this exclusive interview with Rakesh Rao.
How is PDS Multinational Fashions Ltd catering to the needs of global customers?
PDS is a digital, tech-enabled, plug and play platform operating in the apparel sector and catering to the world's leading retailers/brands. In 2020-21, PDS generated Rs 62,130 million sales (approximately $ 840 million) and recorded about Rs 1,500 million (approximately $ 20 million) of profit. It was a tough COVID year, but the company did fairly well.
PDS is a multinational company. Though we are listed in India, more than 95% footprint of the company – both in terms of customers as well as the origination of sourcing – is outside India. We have about 50 offices across 22 locations in the world. In terms of markets, we sell largely to UK and rest of the Europe, which account for about 80% of our business. North America contributes about 8%. We cater to majority of large customers operating in these markets.
On the origination side (sourcing side), we procure 60% of our material requirements from Bangladesh, while remaining materials come from China, Turkey, Sri Lanka, Vietnam and India. We have close to 500 approved vendors who not just match technical competency requirement, but also meet our high environment, social and governance (ESG) compliance standards. So, the entire value chain is ESG compliant.
We have about 150 designers in the locations, which are closer to the customers. This helps designers to easily interact with the customers and understand trends, convert the trends into designs and samples. Then, through our tech-enabled global supply chain, we get them manufactured and delivered.
Only 10% of our products are produced in the company-owned manufacturing facilities, the rest 90% are made by our approved vendors. For our customers, we take the end-to-end responsibility of delivering the products by adhering to all the global standards.
How did you manage to successfully register 83% growth in PAT in FY21?
PDS Multinational Fashions is an entrepreneurial company. We work through special purpose vehicles (SPVs). Minority stake in any SPV is owned by an entrepreneur who forms the SPV (company), brings along with him/her the entrepreneurial energy and the understanding of the customer needs to create value. PDS, on its part, offers support in various functional skills like HR, IT, legal, finance, etc. So, an entrepreneur can just come, plug and play. It brings in tremendous amount of scalability and agility. Thus, PDS represents an asset-light, plug-and-play model, wherein we take the responsibility of end-to-end (i.e. from sourcing of raw material to the supply of finished products) delivery of the products for our customers.
We are a design-lead, sustainable and responsible sourcing company. Over the last 21 years, we have invested into capabilities, which enable us to bring the right product into the right market from the right factory.
Retail and apparel sector was the worst hit by the Covid pandemic. However, due to its agility, PDS was able to arrest the decline by actively engaging with the customers even during pandemic time. At the same time, by focusing on our cost structures, we were able to bring down cost by 15%, despite commodities heating up. We managed to keep our gross margins intact. To sum up performance in 2020-21: We had 80% plus growth in earnings in the COVID hit year and our return on capital employed actually increased from about 16% in 2019-20 to 22% in 2020-21.
COVID also lead to emergence of some trends. For examples, share of ecommerce increased in the distribution with customers preferring to buy online, demand for casuals increased as people preferred casuals over formals while working from home, functional clothing started coming in, etc. PDS was very agile to adopt to these trends, as a result, we had a decent top line and mitigated the impact of the overall decline. Lastly, our foundation is an asset light model with a constant focus on bringing working capital down. This led to reduction in interest costs.
What has been the impact of Covid 19 pandemic on the textile industry? Which companies are affected the least?
The global apparel market is estimated at $ 2 trillion with Europe (including UK) and North America accounting for 25% and 20%, respectively. So, if you are building a global company, these two regions are important for growth as they offer size and scale. On the other hand, India, though growing in double-digit percentage, is a small market. India is one the fastest growing markets because we have a large young population, growing GDP, increasing aspiration level, etc. Hence, no one can close their eyes to the Indian market. At the same, one cannot build large-scale company catering only to the domestic market. Having a global scale, help us improve our economies of scale and our ability to cater to the low-price points of India.
Markets that we cater to are gradually coming out of the impact of Covid pandemic with vaccination increasing in countries like the US, UK, etc. Therefore, for any company, if these are the main markets, they are in a much better shape. But companies that are mainly dependent on domestic market are severely impacted by COVID. At present less than 5% of PDS procurement comes from India. So, even if Indian supply chain have got impacted (because of COVID), our business has been largely remained insulated from it.
However, the impact of Covid will be for short-term. Hopefully, with all the measures being taken by the government and vaccination improving, it's a matter of time for Indian market to also start opening up. In addition, the government has announced many measures to increase local production and India's attractiveness as a location to start manufacturing is increasing.
Are there any plans to increase sourcing from India?
We have not made any firm plans. But the measures announced by the government are attractive and we are carefully evaluating them. With COVID still out there, preservation of capital is the need of the hour.
Are rising prices of fibers and yarns a concern for you?
Prices have been rising. After a peak in February, they have actually come down by about 10%.
With India getting impacted by the Covid pandemic, consumption took a hit. As a result, prices softened a bit. After the markets started opening up, there was a huge pent-up demand as well.
We have carefully engaged with our stakeholders, customers and vendors to see how we can mitigate the impact. We also have the advantage of economies of scales. As of now, we have managed to keep our gross margins intact. However, we are continuously keeping an eye on the raw material prices.
Sustainability is a buzzword today with leading global brands looking to adopt concepts like circular economy. How is PDS helping them in their green journey?
Sustainability, including compliance and ethics, is one of the key building blocks of PDS platform. We have been focusing on promoting sustainable materials and low impact manufacturing, and investing in a sharing circular economy. Recently, we acquired 50% stake in Yellow Octopus, a leading company in Europe that provides commercial sustainability solutions to the fashion industry. Yellow Octopus works very actively with local retailers and brands to get rid of unsold inventory in an environmentally compliant manner.
Earlier, we invested in a UK-based company that focuses on sustainable materials. It has a technology that uses 80% less water in cotton production. Close to about 8-10% of our capital employed is invested into technologies that are going to have a significant impact on the future of the retail sector and also the circularity part of it.
How do you analyse the performance of Indian textile industry? How is the global competitive landscape?
For Indian companies, besides the local markets, which is growing at about 12%, the other big apparel consumption markets to explore are North America and Europe. Indian exporters have also been eyeing on these markets, which are majorly catered by China, Bangladesh, Sri Lanka, Vietnam, etc. To tap these markets, companies need advantage of scale, technology and cost along with being ESG compliant. Other competing neighbouring countries enjoy some benefits and, hence, have larger share in the global apparel market than India.
But, with the recent policy measures (like mega textile parks, production linked incentive scheme, etc) announced by the government, Indian garment manufacturers as well as exporters will be able to bring down the cost structures in line with the overall expectations of the global customers. Indian companies can get access to world-class infrastructure to set up their facilities and allow them to build economies of scale and bring the cost down.
The most important aspect is the supply chain. While manufacturing is just one part of it. To compete globally, it is imperative for companies to efficiently and seamlessly get their output closer to the doorstep of customers. In India, predominant part of a supply chain is still dependent on road transport, which is relatively expensive mode of transport. With investments in infrastructure development, things are improving.
India has a sizable domestic market which is one of the fastest growing markets globally. So, it is important to improve our competency in the core textile & apparel manufacturing and build efficient supply chain. When these three things (big domestic consumption, manufacturing and supply chain) come together in the medium-to-long term, India's competitiveness as a global supplier will increase manifold.
PDS is also keeping a close watch on all these developments that can improve India's attractiveness as a major manufacturing location.
With many global companies opting for China Plus One policy, India's attractiveness will only go up. But to take advantage of this situation, it is important to take measures for improving India's competitiveness. Once the environment is being made conducive through a policy framework and other initiatives, one would see more investment coming in.
What are the emerging trends in the textile industry globally?
Brands and retailers are looking for higher standards of compliance with a huge shift towards sustainability by promoting sustainable materials, using recycled raw materials, low impact manufacturing, reducing the carbon footprint, etc. At the same time, the suppliers need to comply and sign up with the specific ESG goals of the retailer/brand (the customer). Therefore, you got to be a strong partner to your customer.
There is a growing market for smart textiles or performance wear and functional clothing for medical, surgical, special needs, etc. IT tools such as 3D sampling, virtual showrooms, 3D fit, AI driven demand forecasting software, etc are also gaining traction.
What are your short- and long-term growth plans?
We will continue to stay focused on our main markets, i.e. Europe, the UK and North America. We want to broaden our relationship with our customers in these markets by doing more business with them. For this, we are planning to add home textile and other categories.
Our order book for the first quarter of 2021-22 is strong. We believe 8-12% growth rate is a maintainable in the short-to-near term.