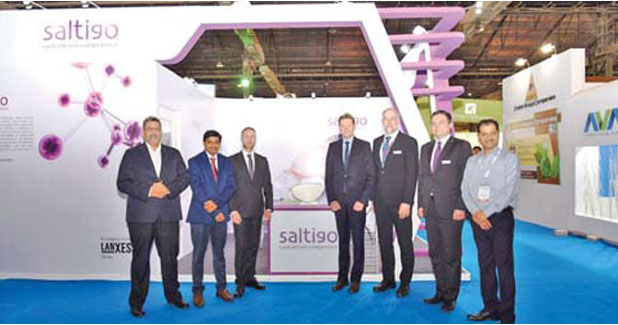 Saltigo focuses more on opportunities in India
Saltigo GmbH, a subsidiary of speciality chemicals company LANXESS, presented its comprehensive expertise and longstanding experience as a reliable custom manufacturing service provider and producer of multi-customer products at Chemspec India 2018, which was held in Mumbai recently
Saltigo GmbH, a subsidiary of speciality chemicals company LANXESS, presented its comprehensive expertise and longstanding experience as a reliable custom manufacturing service provider and producer of multi-customer products at Chemspec India 2018, which was held in Mumbai recently. "Saltigo has been participating in Chemspec India since 2010 and our presence here this year, too, only showcases our absolute confidence in the market potential that the Indian market has. We are aligned with our business targets and are working towards expanding our activities in the pharmaceutical and agrochemical segments. We look forward to strengthening our business with selected multi-customer products. We have also been successful in attracting customers from the speciality chemicals segment, where outsourcing is not yet a common practice, to our portfolio," says TorstenDerr, Managing Director of Saltigo, summarising the company's plans.
Combining an exhibition and conferences, this tradeshow is an important event in India offering buyers and sellers of high-quality chemicals, based on complex synthesis requirements, the opportunity to further develop business partnerships and to initiate new business. "Our participation underlined the value we place on this important market and presented our company as a reliable supplier of chemical intermediates and partner for custom synthesis manufacturing with an efficient project management. Saltigo is a problem solver capable of shortening time to market, which is nowadays an important differentiation factor in the chemical industry." says Christoph Schaffrath, Head of Key Account Management at Saltigo.
While in the past, India has been seen as a target for procurement and sourcing, the country is nowadays also a rapidly expanding market in the field of fine chemicals and active ingredients for pharmaceutical and crop protection applications. "We can support growth in custom manufacturing in particular, as this is our core competence," says Dirk Sandri, Head of Sales at Saltigo. Key areas of expertise here include phosgenation and halogenation – such as reactions involving hydrogen fluoride or phosphorus chlorides and the Halex reaction.