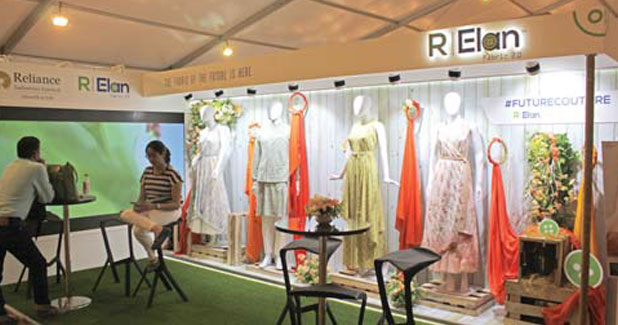 RIL, Arvind partner to manufacture R|Elan
Reliance Industries Ltd (RIL) has forged a partnership with Ahmedabad-based Arvind Ltd to manufacture co-branded R|Elan high performance fabrics.
Reliance Industries Ltd (RIL) has forged a partnership with Ahmedabad-based Arvind Ltd to manufacture co-branded R|Elan high performance fabrics. The partnership is a part of RIL's Hub Excellence Partners (HEP) programme. RIL has organised an HEP meet to launch R|Elan fabric 2.0, fabrics made from speciality engineered fibres for denim and other woven fabrics. The event was attended by senior officials of textile industry, and their response to R|Elan fabrics was very encouraging. As part of this partnership, Arvind will provide a high standard quality fabric and RIL will ensure timely delivery of R|Elan high-quality performance technologies to Arvind. "We are pleased to collaborate with Reliance on R|Elan range of denim fabrics. The partnership will open up opportunities for Arvind to create quality products in line with the latest trends. This co-branding effort re-affirms our vision to offer products that are aesthetically pleasing, technologically advanced and, most importantly, sustainable," said Aamir Akhtar, CEO – Denims, Arvind Ltd.
As an industry leader and a pioneer, RIL is always looking at ways to help create value-added, easy-care and more comfortable fabrics for the benefit of common man.
Using its ongoing R&D and extensive expertise in fibre reengineering, RIL has created a portfolio of speciality fabrics branded R|Elan that enhance the performance attributes in all apparel segments such as active wear, denim, formal wear, casual and ethnic wear. These fabrics are created with active participation of HEP programme partners spread across the various textile centres of India. Gujarat is a key State for RIL as it has initiated HEP programme in Ahmedabad and Surat. The textile and apparel manufactures will be key beneficiaries as RIL will share its experience, knowledge and technology to manufacture high performance R|Elan fabrics in these cities. The R|Elan co-branding exercise will bolster RIL's foothold in Rs 2,25,000 to Rs 2,50,000 crore Indian apparel industry having almost equal share of menswear and womenswear.
R|Elan is an umbrella brand from the house of RIL, which encompasses range of new age fabrics. R|Elan is a blend of art and smart, with fabrics that provide enhanced aesthetics, performance and comfort. Through this RIL aims to fulfil the needs of all consumers, across all apparel segments like active wear, denim, formal wear and womenswear. R|Elan is fabric 2.0 – a next generation fabric for today's demanding consumer.
Along with strengthening R|Elan as a brand, RIL is also creating robust fibre-to-fabric value chain to ensure that these innovations match the commercial expectations of fashion brands. After intensive primary and secondary research, Reliance has decided to focus on six key growth engines through its specialty R|Elan fabrics made out following technologies namely R|Elan Kooltex – used in making active wear apparels.