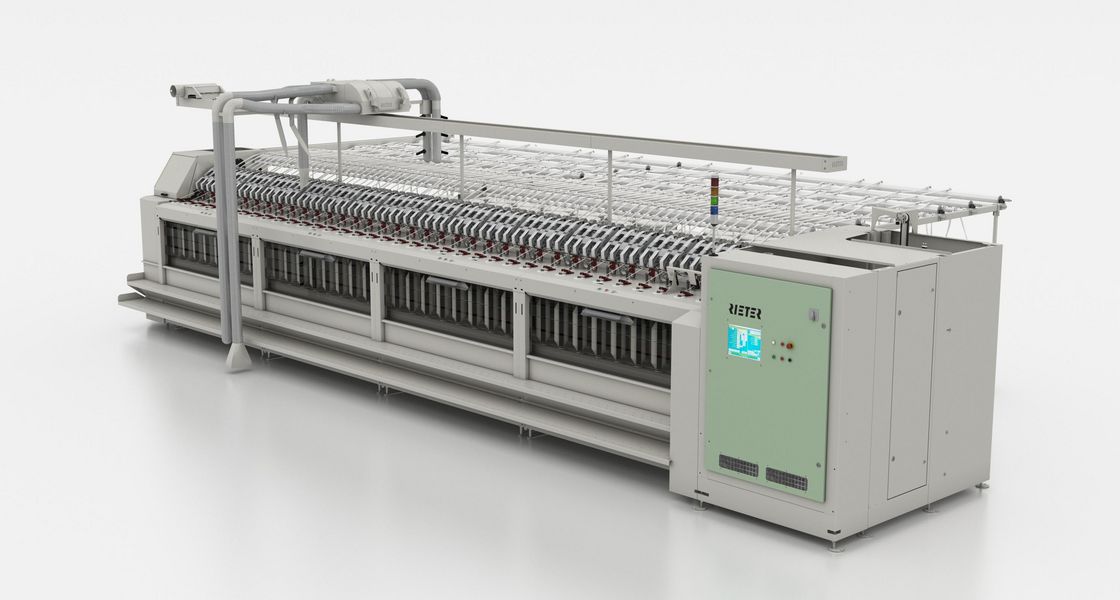 Rieters' introduces fully automatic and semi-automated roving frame
The new generation of roving frames produces first-class rovings for minimal investment costs. The doffer of the roving frame F 40 provides a high level of machine efficiency thanks to a doffing time of only 1.5 minutes. With 252 spinning positions, it is ideally suited to long ring spinning machines. The preassembled sections enable rapid commissioning of the machine. The unique gear mechanism ensures precise bobbin build-up. A special designed spindle crown guarantees that roving tubes click into place, which in turn ensures the good running performance of the bobbins.
Economy
The F 40 is equipped with the fastest doffer on the market – ensuring a high level of productivity. This unique doffing system allows for shorter downtimes, meaning a high level of efficiency is achieved.
With up to 252 spinning positions, the roving frame is ideally suited for long ring spinning machines. The high number of spinning positions per machine reduces investment and operational costs. The sections are precisely premounted in the factory. This enables the machine to be commissioned rapidly when it reaches the customer's premises.
The doffing aid installed on the F 20 enables full bobbins to be removed rapidly. This feature makes the semi-automated roving frame extremely efficient.
Quality
Every second section has a centred gear mechanism. This ensures that the bobbin rail moves upward and downward evenly, ensuring precise bobbin arrangement. A special designed spindle crown guarantees that roving tubes click into place, which in turn ensures the smooth running of the bobbins. The optional available individual roving monitoring checks the running performance of the rovings. Positions that are not running correctly can be detected quickly via an evaluation unit.
Flexibility
The electronic drafting system drive, which is available as an option, allows quick and easy adjustment of the roving count via the touchscreen.
For long machines, the transfer station of the F 40 can be equipped with up to three work units. This ensures a short transfer time for the bobbins in the transport system.