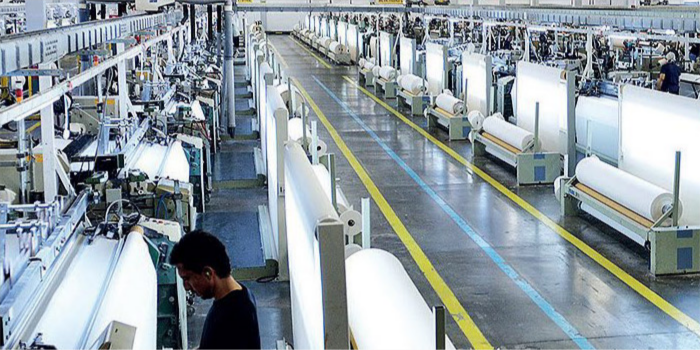 Reweaving textile story
As industry restart plants, they have to overcome challenges pertaining to manufacturing, supply chain and reverse migration. Are they safe?
As industry restart plants, they have to overcome challenges pertaining to manufacturing, supply chain and reverse migration. Are they safe?
Textile industry, after agriculture, generates large number of employment (12.9 million) for skilled as well as unskilled people. The Indian apparel sector, the world's fourth largest producer of textile and garments, contributes approximately 7 per cent to industrial output in value terms, 2 per cent to the GDP and 15 per cent to the country's export earnings.
Indian industry dominates in the cotton value-added product line up (being one of world's leading producers and exporters of cotton), while it is struggling to compete in the man-made fibre or synthetic fibre segment due to unavailability of cheap raw material and tax anomalies. Similarly, on technology front, while it is independent in spinning segment, imports account for a major share of weaving machinery in the country. Government policies, more often tilted in favour of natural fibres, have not helped the cause of the Indian textile industry.
The Indian textiles industry currently estimated around $180 to 200 billion. India's textile and apparel exports stood at nearly $40 billion in FY19 and is expected to increase to $82 billion by 2021. India's share in the global textile expert is just five per cent, which is miniscule as compared to China share of 38 per cent. Even the share of apparel exports in the country's total textile exports have fallen sharply from 51 per cent to 45 per cent in 2090.
Covid-19 has exposed the world's weakness of over dependence on one country (Read: China) for the supply of raw material as well as finished goods. Story is not different for textiles. As the world looks at paradigm shift in global sourcing, India has good chance to make a major impression on the global textile market provided the industry, along with favourable government policies, focus on improving efficiency across the value chain and start diversifying into value-added textiles.
On how the textile industry will cope with the challenge of Covid-19? Kapil Pathare, Director, VIP Clothing, said: It will definitely have some impact on the retail segment. This is because it will increase the pace of retail consolidation as all the retail giants would like to consolidate themselves." He added, "Retail segment would be looking forward to 100 per cent FDI investment in India. E-commerce will see a boom for at least next couple of years."
"There could be challenges of financial or a liquidity cash crunch in the industry because the industry will have to still manage the payouts on account of salaries and fixed overheads. For the first time, we have seen that the demand and supply have been impacted together," said Pathare.
Gurudas Aras, Director, Textile Engineering Group, A.T.E. Enterprises, believes that the overall consciousness and seriousness about hygiene in India and abroad will go up considerably. "Nonwoven sector will have a huge scope," said Aras.
"In India, around Rs 4,500 crore worth of machines are supplied domestically, while Rs 8,000 to 9,000 crore worth of machines are still imported. For the textile industry to grow, the textile machinery industry has to grow. European machinery manufacturers are keen to enter India, but because of red tape, they are not showing much interest. If the European players come to India and set up their base here, then the machines would be cheaper," said Aras. He feels that the government should develop a fund for the textile machinery industry to develop all of the machines indigenously.
"To achieve our vision, cotton and MMF have to walk hand in hand. In fact, all the entire value chain has to be together. So they cannot be any differential between the entire value chain this year," said Ronak Rughani, Chairman, The Synthetic & Rayon Textiles Export Promotion Council (SRTEPC).
He added, "The first challenge is imports in MMF segment, nonwovens and technical textiles. The challenge is to ramp up knitting, processing and our R&D in the technical textiles segment. Even with fibre neutrality, MMF segment has always had a history of high taxation."
Lockdown effect
Harsh Shah, Managing Director, Embee Group, sees lockdown as an opportunity than a crisis. He said, "Earlier we used to do our work in a monotonous manner. We never had this kind of time to think. It is a great time to reanalyse and to reorganise our strategies. The lockdown has definitely affected our business. The time is right to see how we can do the best using the limited resources in hand."
Added Shah of Embee, "We are trying to focus on offering solutions that can help the textile factories so that they do not have to depend on labour. India has an opportunity to attract global investments from different countries who are seriously thinking of shifting their base from China."
"Small entrepreneurs like me expect some sort of relief from the government. Relief in the form of working capital. They should give 25 to 30 per cent extra working capital. Banks should lower interest rates. This is what is expected from the government. The news that is coming out is not very encouraging though," said G Muralikrishna, Director, Fiberplus Tex Products.
KS Balamurugan, Managing Director of K. U. Sodalamuthu & Co., said, "Covid-19 has had a tremendous impact because all our production schedule has gone for a toss. We are not able to despatch our machines resulting in unsold inventory. Covid-19 will certainly have a huge impact on our financials. Once the work is resumed, we will have to clear our backlog of orders and at the same time we are unable to predict the preparedness of our customers in taking delivery of the machines ordered with us due to the present crisis. At the moment, we are not aware what type of newer challenges we may have to face. Once the industry is reopened, it may take months to come out of the crisis."
Added Balamurugan, "We have decided to ramp up our production activities and increase our efficiency. There will be a lot of challenges but we have to plan meticulously and overcome this crisis. We will deploy a lot of cost-cutting measures since there will be an additional compliance cost for implementing safety measures across the factories. However, we are gearing up to the situation with an optimistic outlook. Unlike other companies, we won't have the issue of shortage of labour as most of our employees are in permanent rolls. We will not face direct labour shortage, but this issue will be felt by our vendors as many of them were employing migrant labourers. We have already informed our vendors to plan accordingly so that there is no big disruption after work resumes."
On the expectations from the government, Balamurugan adds, "A major economic stimulus package is expected because the entire industry is bearing the brunt of this crisis. In our country, the economy already started to decline and to add fuel to the fire, this global pandemic has come like a bolt from the blues. The government should be very proactive and should announce a liberal package to save the industry from further decline. The SME sector expects restructuring of EMI payments on the loans borrowed from financial institutions. There must be some concessions on levy of interest also on such deferred repayments. I read reports that cumulative interest will be charged on such deferred repayments. This would be a substantial burden for the industry. Apart from these, China, which has come out of the Covid crisis, may dump goods in markets like India since they have geared up their production. Also a lot of cheap capital goods are coming into India, which is killing the domestic industry. The government should come up with some protectionist measures that will save domestic industries for at least the next couple of years. The government should announce the stimulus package as early as possible, and banks and financial institutions should follow the guidelines of RBI to save the industry."
JM Balaji, Head – Marketing, Lakshmi Ring Travellers (Coimbatore), said, "We have faced problems with respect to the movement of goods for exports. Since our agents had sufficient stocks , it was not a big issue. As far as international markets are concerned, our main market (China) is working. Around 45 per cent of our export sales goes to China. The sales in China has not been affected. Mills were partially operating in some countries lie Vietnam and Indonesia during this lockdown period, which helped us to reduce the impact. Our exports contribute a significant percentage of our sales; so the impact has been reduced to an extent."
"We have certain export orders in hand, which would see us through this difficult time after we start our operations. Our main focus is to how to come back to the normal. Once the lockdown is open, the main challenge will be logistics. From the government, we can expect quick recovery of opening up of exports good finance facilities for keeping the cash flow running. Cash flow issues will come up because most of the units would not be intending to do any capital expenditure unless it's a new unit and is dependent on starting the project," said Mangesh Chaudhari, Vice President – Sales & Marketing of Peass Industrial Engineers.
Gautam Dalmia, Chief Development Officer, Strata Geosystems (India), a manufacturer of geo textiles, said, "The government has allowed construction activities to begin, which is like a silver lining for us. The Ministry of Home Affairs has classified construction specifically road construction as an essential activity. We have been asked by all our clients and the government departments to restart our supplies and construction work. Sitting at home does give you a lot of time to think. We are forecasting for the next few years considering different scenarios. We see major risk factors as far as health is concerned. The number one risk factor is health and safety of employees. We have to ensure that our team members are all protected and we are trying to go the mile to make sure that happens."
Said A Senthil Raja, Joint Managing Director, MecGrowths Texmach, "Our expectation from the government is some relaxation for SMEs. Our request from the government is to give a relief for a minimum of six months on interest in all types of loans. This will help us to recover in a short period at least."
Reverse migration
With reverse migration becoming a problem in textile industry, Ravi B Arora, CEO – UKS & Onella Consulting, said, "With semi automation and automation of process, there will be decrease in dependency on skilled worker. It might be a good option for industry to relocate where local workforce is available. But I think the industry is still not ready to think on this direction, maybe some stimulus package or maybe some incentive from different state governments. Workforce is easily available."
T Rajkumar. Chairman, CITI, and Chairman of Sri Mahasakthi Mills, said, "If you take the distinction between South and North, you have predominantly workers from Bihar, Uttar Pradesh, Jharkhand, Odisha, etc. In Tamil Nadu, migrant workers are being housed in hostels and other accommodations. Very few workers want to go back."
"Workers going back will definitely have a big impact on the utilisation of all the textile wand other units, particularly spinning." He added , "I personally feel that they are going to stay back or at least 70 per cent of migrant workers will come back."
Added Rajkumar, "I am still hopeful and expect that the entire textile value chain will have a solution from the government."
Prashant Mohota, Managing Director, Ahmedabad-based Gimatex, said, "We will have to have extra precautions to work out additional insurance schemes on how to take care of these workers who have gone back."
Ajeet Yadav, President, Dadra & Nagar Haveli Industries Association, said, "If we see the scenario, 25 per cent of the migrant workers have migrated and 25 per cent are in the process. They will leave the place in short time. We have appealed to our workers to stay back and have taken the help of the government officials."
Added Yadav, "Some companies have already started with maintenance work, and some companies have already given advances so that they can take care of their family and cater to their own needs."
RC Kesar, Director Okhla Garment Textile Cluster, thinks that it will take a couple of months for the things to stabilise. "As soon as the harvesting season is over people will start returning back and I don't see this becoming a major issue of production losses. We have also started employing female workers based on the availability."
– KARTHIK MUTHUVEERAN