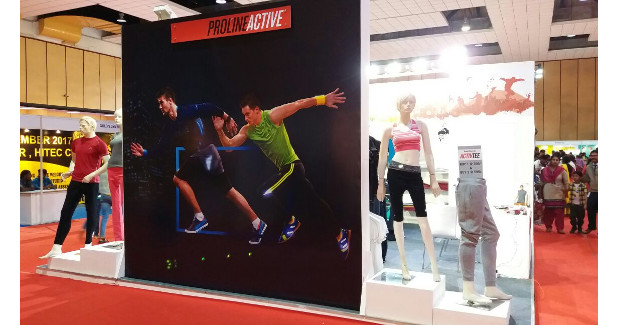 Reliance, PROLINE partner to co-brand sports apparels
Reliance Industries Ltd (RIL) has entered in a partnership with PROLINE, India's leading sports apparel brand, to co-brand a range of sports apparels with R|Elan™.
Reliance Industries Ltd (RIL) has entered in a partnership with PROLINE, India's leading sports apparel brand, to co-brand a range of sports apparels with R|Elan™. As per the deal R|Elan™ co-branded PROLINE products will use RIL's R|Elan™ Kooltex or R|Elan™ FeelFresh fabrics to manufacture world class products to offer quality and an unique experience to its customers. The partnership will help PROLINE to make garments with special properties of odour free and quick dry. The R|Elan™ technologies would help consumers have a pleasant and comfortable user experience.
RIL's R|Elan™ Kooltex is a performance fabric, capable of moisture management in apparel. It has found acceptance with the makers of PROLINE. The elegant R|Elan™ PROLINE apparels will provide a unique experience to its customers to beat the tropical Indian climate, as the garments dry quickly thus lowering the body temperature. Whilst another range of apparels which would help cut body odour, in the tropical climate of the country. The R|Elan™ co-branding exercise will give RIL a strong foothold in the Rs 2,500 crore Indian sports apparel industry.
In the total Rs 2.5 trillion Indian apparel industry, active/sportswear segment has a 10-15 per cent, or Rs 25 billion market share. Ethnic wear and sarees, the largest apparel sub-segment, commands a Rs 60,000 crore share.
While commenting on the partnership Gunjan Sharma, CMO – Polyester Business, RIL said "we are proud to provide R|Elan™ technologies to PROLINE so that the Indian sports loving youth are assured of comfortable, durable, quality products. We at Reliance put thrust on developing technologies and products that brings smiles on the face of end customers. This partnership will help us establish strong foothold in the fast growing sportswear market".
Sandeep Mukim, Managing Director, PROLINE said "We will offer a range of apparels, made from R|Elan™ Kooltex fabric to our customers in Indian markets. This partnership will help us offer our young customers, both men and women, to wear "cool and dry" high performance apparels during hectic activities. This partnership envisages creating niche and providing comfortable and unique experience to customers."
As per the partnership deal, R|Elanâ"¢ will get visibility in the form of hangtags on garments, as well as in store display at points of sale. On its part, RIL will ensure that superior-quality, high-performance R|Elanâ"¢ fabrics are supplied exclusively to PROLINE for sports apparel applications.
The R|Elan PROLINE everfresh range of apparels is now available in both in the store and on online fashion portals. PROLINE's strong retails network of about 450 LFS, 5 EBO and about 1000 small MBO are offering R|Elan™ PROLINE products.
In the online space PROLINE retails through Myntra, Jabong, Ajio, Amazon and Flipkart. To reach out to the customers, co-branding promotion initiatives will be carried out at major sporting events and instore call outs and display of demonstration kits at point of sale. PROLINE has devised an aggressive strategy to compete with international brans by offering best quality R|Elan PROLINE products at substantially competitive prices compared to international brands.
R|Elan™ is an umbrella brand from the house of RIL, encompassing a range of new-age fabrics. It is a perfect blend of art and smart, with fabrics providing enhanced aesthetics, performance and comfort. Through R|Elan™, RIL aims to cater to all consumers across all apparel segments – active wear, sportswear, denim, formal wear and womenswear.
Apart from tie up with PROLINE, RIL is also creating robust fibre-to-fabric value chain to ensure that these innovations match the commercial expectations of fashion, sports brands.
RIL's R|Elan™ fabrics score over regular fabrics in a number of different ways, such as enhanced breathability, dry feel, and anti-odour. They come in vibrant colours, have excellent drape and hand feel, are among the most eco-friendly, and are easy care. All these properties are inherent and permanent, giving assured comfort and confidence to end consumers.
RIL has partnered with more than 25 textile players that are equipped to produce new-age fabrics using R|Elanâ"¢ technologies. RIL is providing the latest know-how, specifications and expert consultation support to these players to enhance and sustain the quality of textile. The pan-India network will reassure apparel brand owners and retailers about streamlined production, timelines and standard quality.
With increasing consumer demand for specific higher performance apparels, the opportunities for strong polyester adoption is on the rise. RIL is committed to provide one of the best solutions to the apparel manufacturers, keeping in mind the aspirations of end consumers.
In order to satisfy the increasing consumer demand for higher functionality, RIL has undertaken a project to create awareness among apparel brands and retailers. It is also creating a fully integrated supply chain to support the project. All this is aimed at ensuring brand delight, as well as enhancing value at every level of the textile value chain. R|Elanâ"¢ products will provide consumers next generation fabrics which are in line with the latest fashion trends and fulfill lifestyle needs as well. If there is R|Elanâ"¢ on the outside, consumers can be sure that there is something very special inside.