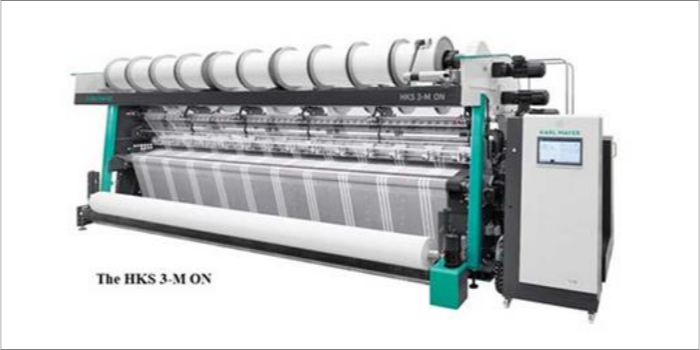 Quantum leaps in patterning
KARL MAYER's pattern drive solutions have been setting standards since day dot
Warp
knitting technology enables fabrics with a wide variety of designs that are
suitable for the most diverse applications to be manufactured highly
productively. KARL MAYER's warp knitting machines have been showing what's
possible for decades now.
Particularly
when it comes to controlling guide bars – one of the most important patterning
components – the world market leader has traditionally been a developmental
pioneer. KARL MAYER brought computer technology into the world of lace raschel
machines with its electromechanical SU drive, and later, with the string bar
system, it opened up the advantages of single-motor drives for lace patterning.
Thanks to the latest innovations – the ON gear combined with digital solutions
from KM.ON – both tricot and raschel machines can be digitalised.
Patterning
in a digital age
The HKS 3-M
ON is one of the first warp knitting machines connected to the digital world of
KARL MAYER. This innovative newcomer is networked with KM.ON's secure cloud via
KM.ON's k.ey and works with the newly developed ON gear. The HKS 3-M ON thus
combines the respective advantages of N and EL gears: simple, fast design
changes with high working speeds. Patterning is highly flexible since the
information for the guide bar movement is loaded directly onto the machine from
the KM.ON cloud. The product design options allow customers to quickly and
easily adapt their current market requirements using a new multi-model concept.
With the
SwapKnit 36 and SwapKnit 36 Flat models, patterns with repeats of up to 36
stitch courses per main shaft revolution are possible. The required lapping
information for new or tried-and-tested articles are obtained from KARL MAYER's
SPARE PARTS WEBSHOP in just a few clicks, in the sense of the electronic
pattern disc, and loaded onto the machine. The acquired lapping patterns remain
available to customers in the cloud and can be used successively on several
machines. For designs with over 36 stitch courses per main shaft revolution, a
model has been developed that uses KM.ON's k.innovation – CORE. The web-based
software makes uncomplicated pattern creation possible. Simply log in to
k.innovation – CORE from any internet-ready device, select a machine, enter the
lapping patterns for the individual ground guide bars and subsequently create
the pattern file and send it to the KM.ON cloud in just a few clicks. All that
remains before production can get underway is to select the lapping pattern
file on the machine's operator interface
CATEGORIES Industry Update