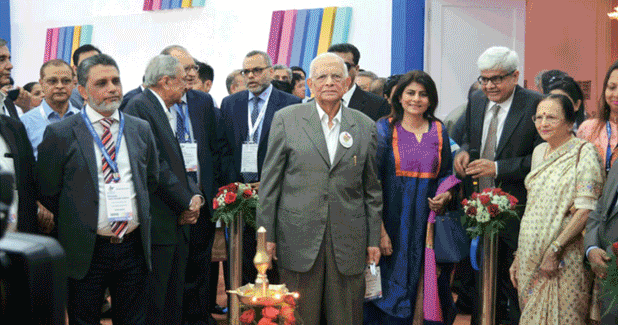 Quality visitors perk up ITME 2016 exhibitors
Despite the noticeable gaps in attendance of visitors at the 6-day event of India-ITME held at the BEC in Mumbai, it was the quality of visitors that cheered up the 1,000-odd exhibitors. Most of the exhibitors The ITJ met were concerned with the occasional thin crowds in some of the halls, but were overwhelmed by the fact that they received serious and genuine enquiries.
Despite the noticeable gaps in attendance of visitors at the 6-day event of India-ITME held at the BEC in Mumbai, it was the quality of visitors that cheered up the 1,000-odd exhibitors. Most of the exhibitors The ITJ met were concerned with the occasional thin crowds in some of the halls, but were overwhelmed by the fact that they received serious and genuine enquiries.
Welspun's Vapi unit alone sent about 150 technical mostly and managerial staff to attend India-ITME 2016. And Raymond must have sent a total of over 300 personnel from its various units to scout for new machines and explore new technologies that have come to the market. One could see a lot of qualified executives from big textile companies, young and energetic, listening intently to technology providers from Europe and India and also other countries. There were not only giants from the textile industry. Lesser known groups were also in droves looking for new technologies and machines to enter into new fields. Upkar from Ichalkaranji in Maharashtra is an upcoming group with interests in real estate, textiles and metal. Now with the fortunes of textiles getting a better deal in Ichalkaranji, Pramod Salecha said that he was at India-ITME exploring new avenues for growth in textiles.
There were plenty of entrepreneurs from Ichalkaranji strolling around, examining machinery and holding talks, since the textile industry has given renewed hopes for the future of this textile city. Yogesh and Anand were from the Pune-based Shree AAiji Knits, who claim to manufacture affordable t-shirts, but were at India-ITME to go deeper into manufacture of other products in knits.
Said Andre Wissenberg, Vice President, Head of Marketing, Corporate Communications, Oerlikon Textile GmbH: "We are quite satisfied. The man-made fibre industry in India is not comparable to situation in China. Most of the visitors who came to ITME are focusing on the cotton side. So, the quantity is not there for us, but the quality is very much there in the enquiry and attendance. We have about 100 customers in India and Bangladesh together and nearly all of them visited our stall to know about the latest with Oerlikon. From that point of view, we are extremely happy. We see a lot of investment in man-made fibres in India. There will be further growth especially in the eastern part, the Calcutta area. Customers in these areas can do business with Bangladesh for the downstream. The scope is good, as I see it in this ITME."
According to Martin Kuppers, Senior Vice President (Sales), Schlafhorst, Saurer Germany GmbH: "Saurer is in India since 1962 when Autoconer began its mission.
Now the latest generation is in production. There has been new versions with a lot of improvements. Schlafhorst and Autoconer will continue developing in consultation with the customers in India, and this ITME has opened the door for closer ties with our customers. At this ITME, we felicitated the customers who have helped us achieve reach 2.5 million spindles."
According to Arnau Farre from the Sales Department of ELECTRO-JET SA, a Spanish company, "India is a huge market that nobody can ignore. We have been in this market since 1960. We have been marketing travelling cleaners for the spinning industry and now we are expanding with a factory in Madurai in Tamil Nadu."
At the A.T.E. stall in Hall 5, all their principals including Fong's, Xorella, Zimmer, and many other European giants were in their cubicles attending to existing and new clients. Said Klaus Kriesche, Product Manager of Xorella: "We are now a fully integrated member of the Fong's group. All the research and developments are handled by the Fong's Europe in Germany. We are using most of the important components like valves & motors from the European company so that the quality is maintained. The software comes from Switzerland. About 60 to 70 machines are made every year. The final production is done in China."
Talking about the Indian market, Kriesche said: Like any other market, India has its own up and downs.
Now the market is a bit quiet. The market is turning tougher with many local manufacturers in this market. Still we receive a lot of repeat orders. Price is also an issue since local companies sell at a very low price. However, we are not unsatisfied with the outcome of the market conditions in India."
ITME 2016 was conspicuous with the sideshows like photo exhibition by Hari Santharam, live demonstration of weavers from Maharashtra, ethnic fabric & textile sculpture displays and fashion shows. In one of the seminars on "Indian Textile Industry Looks Ahead. Plans Mission $300 billion," Textile Commissioner, Dr Kavita Gupta assured a more conducive business environment by government through policies and other infrastructural support. Stressing further she said, "R&D is a key to this growth. The government has added R&D investments in textile machinery manufacturing to be getting all benefits as any other sector. There is no reason why India cannot overtake China in near future. We are already more competitive than China in labour, power and manufacturing costs in textile industry."
RD Udeshi, President Polyester Value Chain, Reliance, later shared the possible roadmap towards India achieving a target of achieving the mission of achieving $300 billion in textile exports. The textile sector is one of the largest contributions to India's exports with approximately 11 per cent of total exports. India's overall textile exports during Financial Year 2015-2016 stood at $40 billion.
Going by the interest shown by world technology leaders at the ongoing India ITME 2016, the textiles landscape in India is about to change, and the industry's mood can be assailed easily. Participation from 38 countries, huge number of foreign visitors and an overwhelming participation by Indian manufacturers of textile machinery were a testimony of the intent to grab opportunity by Indian domestic textile industry.
The textile consumption within India is growing rapidly. Also, with China's share in world textiles trade about seven times of that of India, the Indian manufacturers are sensing better exports in future. The six-day Exhibition witnessed dozens of product launches and proved to be an effective platform for joint ventures and collaborations between the stakeholders of textile industry in India and overseas. There were 25 new launches scheduled reflecting latest innovations and technology in the sector.
Foreign & domestic business leaders, academicians, research scholars, government officials from countries such as Philippians, Myanmar, Bangladesh, Srilanka, Iran, Turkey, Brazil, Indonesia, Poland, Malaysia, Kenya, Ethiopia, Egypt, etc visited India ITME 2016. India is not only a strong market but also is explored as a hub for training and skill development by many countries for textiles and textile engineering.
Gujarat and Karnataka participated in this event as State partners. This event was also supported by Department of Heavy Industry, Govt. of India, Textile Ministry, Government of India and Government of Maharashtra making it the most important platform between governments and the industry members to interact and work together. The idea of "Make in India" in textile engineering was effectively promoted to the visiting foreign business visitors and the government schemes and incentives for the textile industry in India were conveyed to one and all who visited or participated at the ITME 2016 mega show.
Speaking on India ITME, Jignesh Shrimakar, an owner of Mumbai-based Swarnam Textiles, said that he has been visiting ITME for the last 20 years or so. He added that this year he visited the exhibition to buy some spare parts for his already installed weaving machine. His purpose of visit was a very successful one. He got for what he came for.
Another visitor, who came all the way from Ahmedabad and wished to stay anonymous, was unhappy with not many technical textiles companies exhibiting this year. He said there are some companies who are in this field, but most of them are Taiwanese or from other foreign countries. "I am a strong follower of Prime Minister's 'Make in India' initiative," he said.