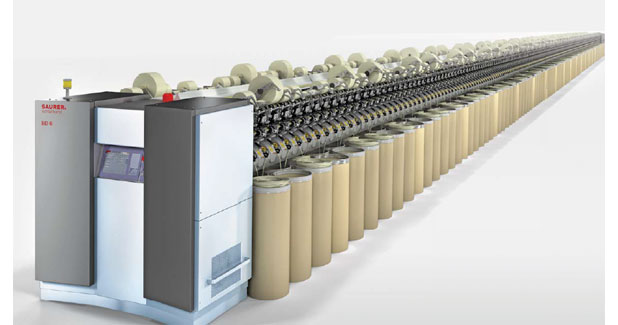 Poised for Exponential Growth
The local as well as global requirements for bulk material handling solutions are projected to be strong. The Indian bulk material handling industry is well saddled to make the best of this opportunity.
The local as well as global requirements for bulk material handling solutions are projected to be strong. The Indian bulk material handling industry is well saddled to make the best of this opportunity. INDIAN CEMENT REVIEW tracks the market and technology trends.
The Indian cement industry has shown excellent results, even from the global context, having achieved remarkable benchmarks, such as a highly efficient, 60kwhr/tonne energy consumption – the lowest in the world and the highest volume production per annum, next only to China. Despite these achievements, the industry is going through a rough patch, saddled with over capacity mainly due to demand slack, prohibitive costs and an infrastructure policy mismatch. Delayed project clearances related to mining, environmental issues put most of the upcoming projects on hold; in addition tight cash flows in the market totally slowed down the industry growth. However for the last one year of new government initiatives there is optimism across the industry and the industry is expecting moderate 10-15 per cent CAGR in the bulk material industry in coming future.
The bulk material handling equipment industry has had its cycles of growth, in line with the fortunes of the core sectors, of which the cement industry has a sizeable contribution. At present the capacity expansion is minimal, however, there is a substantial emphasis on efficiency, and for bulk material handling companies who can help the cement industry convey more efficiently (lower cost/tonne), and help reduce pollution levels, there is perhaps, more work, than ever before.
Says Rohit Arora, Director – Sales & Marketing, Continental Belting (CBPL), ´Cement manufacturing efficiencies depend greatly on cost effective conveying, mostly by means of conveyor belts, beginning from the transportation of limestone at the mine to the end of the circuit, where the cement bags are loaded by telescopic conveyor belts onto trucks. The Indian belting industry has a fair reliance on cement companies for utilisation of at-least 12-15 per cent of their produce. Cement is a serious business for us and from the long term perspective; our fraternity is bullish on this sector.´
According to Nishant Jain, Head – Business Development, Rollwell Group of Companies, the outlook for BMHE is very bullish given the fact that India is poised to develop major infrastructure in construction, roads, ports and power. Jain says, ´Apart from cement, the power industry is just waiting to get into top gear once the coal allocations get stream lined and some of the land acquisition issues are resolved. Most environmental related clearances have been already obtained and thus the cement and power industry will truly drive the BMHE.´
Market trends
Today clinker production unit sizes are becoming higher (from 2000 – 3000 TPD to 5,000 – 10,000 TPD) to harness economies of scale. This has had a positive impact on BMH solution providers. According to Y Srinivas Reddy, Managing Director, Bevcon Wayors the bulk material handling industry has really geared up to catering high capacity conveying applications beyond certain limits of production; there is no other option except use of material handling equipment to meet the present production needs. Also lot of technological evaluation has been taken place in bulk material industry in terms of conveying the material to longest distances of nearly 100 km and highest capacities about 20000 tonne or more. Hence enhancing the kiln capacities will definitely will add value to BMH industry.
According to Rohit this shift towards higher production units makes things more challenging and also exciting as it calls for out of the box thinking. For the bulk material handling especially, those who continue to do things, as always, it is a rough ride. So I would broadly think that many of them would be seeking contracts in other industries. However, for the seasoned, it is the best time to put their innovation to commercial application and to deliver value to the cement industry. Any player who contributes to improve efficiency and effectiveness would be most sought after! Says Jain, ´Bigger is always better. Larger capacities translate to higher material handling and conveying capacity which means high capacity conveyors, high speed conveyors. It also mandates good quality products which are extremely reliable, proven and low maintenance in order to ensure that inefficient material handling does not hamper production targets. At Rollwell Group we had anticipated this few years ago and thus laid specific emphasis on developing new high speed, high capacity conveyors and components.´ Jain adds, ´Apart from material handling, material storage also becomes important as capacities are scaled up and thus we entered into a joint venture with CST Industries of USA to bring ´Dome Storage´ solutions to India for the first time. These aluminum domes can store large quantities of clinker, limestone, coal etc all under a roof, thus protecting the environment from pollution and the stored products from the elements of the environment.´
Another major change in the cement industry is many manufacturers are setting up grinding units closer to to thermal power plants. Logistics has played very crucial role in defining final cost of production, especially in the cement industry; hence most of the grinding units are located close to thermal power plants. Growing demands for fly ash based PPC production has forced many of the industry players to set up grinding units close to thermal power plant for fly ash consumption. However, the vendors seem to have geared up for the challenge. This close proximity of grinding units to the power plants brings to the table numerous advantages. Reddy explains some of these benefits:
-Logistics cost / Opex costs can be brought in to greater control by designing suitable bulk material handling equipment like pipe conveyor, cross country conveyor or pneumatic conveying systems by directly conveying fly ash from the thermal plant to grinding unit location.
-Environmental norms and protection can be better managed by use of bulk material handling equipment, fly ash being very light in density handling needs very care full attention which can be controlled when material is handle by mechanised conveying manner only.
-Effective space utilisation can be done by synchronising grinding mill needs with respect to power plant fly ash generation.
-Use of bulk material handling for ash conveying will give option of transporting very high capacities can be handled where in conventional road logistics of truck handling has serious limitations.
-Reddy adds, ´Recently we have commissioned a similar application where in 50 tph fly ash has been conveyed from a power plant by dense phase pneumatic system cement grinding plant located around 600 m away also under commissioning one more plant where in ash has been conveyed from captive thermal plant to cement grinding plant located about 1.2 km away by dense phase pneumatic plant.´ Says Rohit, ´We are where our customers are. There has been a trend for the cement industry to set up CGU´s around power plants. Fly ash which once was a big burden to dispose has become a very valuable commodity. We have set-up service cells in the proximity of such plants, to be able to provide a rapid response, ensuring minimal down-time. We understand that it is not just the product, and quality, but, the ability to deliver on a call, which is a very important part of the package.´ According to Jain, this is a good development for the BMHE. There is a good potential to transport fly ash through different equipment directly to the grinding units due to the close proximity thereby reducing challenges faced in fly ash storage, transportation and disposal.
Energy & Environment
Energy accounts for about 38-40 per cent of the production cost of cement, hence, besides conventional fuels, such as oil, gas, coal, etc, using alternate fuels, such as rice husk, shredded tyres, coconut kernel, wood chips, etc. helps reduce energy costs, besides reducing pollution. This has its ramification on the BMH equipment providers, who have developed new conveying and supporting systems. Company such as CBPL has developed specialist sidewall conveying systems for feeding alternate fuels, efficiently, which have been constantly upgraded over time. CBPL has also come out with the ´Energy Saver´ range of conveyor belts developed after extensive research of the viscoelastic characteristics of conveyor belt polymers, which prevent un-wanted bending of the belt, leading to loss of energy. ´The pay-back period of this product is highly favourable,´ informs Rohit.
Rohit adds, ´Pipe conveyor belts, with built-in chevrons, help completely seal the material being conveyed, from the atmosphere. These belts can convey even up to distances of 10km or more, and can easily manage horizontal and vertical curves. Practically zero spillage and pollutions can be assured, once again, pledging our concern for the environment, and also making economic sense.´
According to Reddy energy efficiency is one of the critical design and performance parameter in the bulk material handling. To achieve energy efficiency focus starts from better lay outing of the project design and selection of equipment with optimum service factors. He says, ´We are in the process of putting up totally automated idler and pulley manufacturing plant with UK technology to produce low resistance Idlers which will bring down the overall power consumptions of the conveyors. On average 10-12 per cent enhanced energy efficiency can be achieved. In specific cases it can be to the extent of 30 per cent.´
Bevcon also has conveying system technology called ´pipe conveyor´ which conveys materials of high capacity for long distance in enclosed form (belt rolls into pipe form) ensuring absolute control of material emission to atmosphere and loss of material and spillage in conveying path that way it´s very ideal technology for environmental friendly applications. Similarly sandwich conveyor also highly environment friendly equipment where in conveying of material takes place between two sandwiched belts resulting zero spillage of material to atmosphere. Hence it´s very ideal equipment for open pit mining applications where the ore need to be conveyed from the pit of the mine to surface.
Says Jain, ´We have brought the Dome technology to India for covered storage of bulk material stockpiles like coal, limestone, iron ore etc. The particulate pollution from coal and other fine materials has been the reason for many respiratory disorders like tuberculosis etc in India and it is about time that all bulk stockpiles would be under cover and not left open. Not only does this help the environment by reducing air and ground water pollution but also protects the stockpiles from rains, moisture, spontaneous combusting/wind etc.´
Challenges
For Reddy execution of turnkey projects in India is really a challenging game. An organisation should have abilities to handle business techno commercially and should be self sufficient with infrastructure, human talent and project management capabilities to make it as successful as overall timely completion of a project is big task. He adds, ´Risk assessment is major challenge considering the tight cash flows and time consuming financial clearances from institutions. Long pending project clearance from the government also putting extraordinary strain on the project developers in turn its impacting overall business of the industry and economy. Says Mehul Mohanka, Director Global Business, Tega Industries, ´Slowdown in economic growth has led to reduction in sales. This has propelled customers to reduce maintenance and operating costs to maintain profitability. Another challenge is that frequently changing raw material characteristics and operating parameters and pressure to maintain production levels on plant managers is affecting the efficiency of the equipment. BMH Equipment manufacturers need to address these challenges.´ According to the BMHE as it caters to the core industries it is highly dependent on policy matters and health of the economy at large. The BMHE industry cannot scale up or down rapidly and at the same time maintain the quality, price and service levels which are expected from it. Thus a streamlined policy environment and clear road map for the economy is mandatory for the industry to thrive and survive.
Moving ahead
So how does the future look like? In spite of current complex situations prevailing Indian bulk material handling has very bright future as per 12th Plan. Reddy says, ´Investments in infrastructure going to be nearly 10 per cent of the GDP and if this planned investment is realised it will propel the Indian economy growth to higher growth trajectory which leads to creating abundant business opportunities more in for bulk material handling sector being key contributor to infrastructure growth. Rohit says, ´Chasing efficiency, the size of plants in the steel, cement, power and other sectors are getting larger, and the requirement for conveyor belting is ever increasing. The local as well as global requirements are projected to be strong. The Indian material handling industry is well saddled to make the best of this opportunity. Jain sums it up on a high note. For him there is only one direction, that´s up. Jain say, ´The potential for infrastructure development in India is tremendous, we are a power hungry nation and there is no way this development will be stalled, it will only grow leaps and bounds and so will the need for BMHE to cater to the same.
Achieving Energy Efficiency
Use of energy efficiency drives and components in equipment engineering.
Best use of gravitational energy for material flow.
Use of imported energy efficiency components while engineering stage if need be.
Adopting proper preventive maintenance practices.
Effective utilisation of machine avoiding idle times and un-even loading and over loading etc.
Use of right fit electrical connectivity accessories to avoid power loss automation of equipment example: when not in use automatic switch off.
Best use of green energy concepts.
Developing friction free component to minimize energy absorption.
Development of re-generation conveyors for energy generation etc.
Industry Highlights
BMHE industry to grow 10-15 per cent
Use of pipe conveyors on the rise
New technologies for material stockpile
Demand for high capacity conveying system
More focus on energy efficient systems
Quote
´Energy Saver´ range of conveyor belts developed after extensive research of the viscoelastic characteristics of conveyor elt polymers.