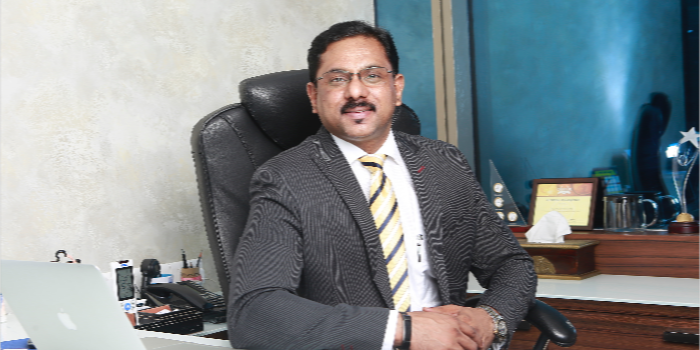 Planning for revival in textile industry
The working world after the pandemic will be different, organisations that equip their employees with the metaskill of learning how to learn, adapt, and change quickly will be better able to thrive and succeed – and very few are good at it today, feels Manoj John of Sutlej Textiles.
Businesses are limping back to normalcy, mending broken supply chains, reorganising workforce and wishing that consumer demand would revive sooner than later. The expected impact on revenues (domestic + exports) for the textile industry in FY 21 is a decrease of about 45 per cent. Very few companies were prepared to deal with a 'black swan' event like Covid-19 pandemic, but having faced its brute impact need a revival plan.
Before we discuss about tactical and more strategic planning, it is important to get an organisational orientation best suited to cope and succeed in such situations. Three organisational characteristics, all of which are proven sources of resilience, are worth noting briefly here, because even though the future remains unknowable, it's a sure bet that resilience will still matter:
?Adopt an ecosystem mindset: All companies rely on the support of an extensive network of external people, vendors, and partners – all working together to create value. The most successful companies take this to an entirely different level, at which partnerships are more like extensions of themselves. They take bigger risks together, think about value-creation opportunities together, and establish much deeper bonds of trust
?Embrace data-rich technology platforms: The crisis is reminding companies of the importance of using facts and insights to drive decision making. Many organisations face the unenviable task of connecting complex processes and mining data trapped in antiquated data systems. A step-change improvement is needed. The ability to gather, organise, interpret, and act on data and analytics will be the defining competitive differentiator of our lifetimes
?Learn how to learn: The working world after the pandemic will be different, organisations that equip their employees with the metaskill of learning how to learn, adapt, and change quickly will be better able to thrive and succeed – and very few are good at it today
So, what should be the course of action for companies/business units in short-term, and planning for medium to long-term? My assessment is focused particularly for the textile industry, but the broad contours remain the same for any industry sector.
Short-term planning doesn't mean firing employees and scaling down the operations. It is about being tactical to seize new (and different) opportunities and working deeply with suppliers and customers almost on a daily or weekly basis to conscientiously rebuild the business. In the long-term, Indian textile players have to reorganise product portfolio, focus on emerging trade blocks and invest in product development to create sustainable competitive advantage.
Short-term measures
Conserve cash: Optimise costs and manage working capital
?Put a hold on all non-essential/non-committed expenses (e.g. travel, hiring, bonus, etc.)
?Adopt dynamic workforce management to suit plant utilisation; review permanent vs contract labour split
?Astutely manage inventory – aggressively implement JIT supply-chain, hold minimum inventory in greige/unprocessed form
?Aging stock needs to be liquidated immediately after opening of markets to improve liquidity
Define SOPs for operations
?Implement safe working procedures to restart manufacturing operations, adhering to social distancing guidelines
?Adjust Operating model to allow for flexible, decentralise operations – critical for quickly adapting to regional lockdowns
?Rework the guidelines on credit policy; emphasise on cash-sales to manage working capital
?Migrate to completely digital invoicing, eliminate the need for physical transfer of documents
Tighter demand planning
?Engage in frequent supply planning meetings with top customers.
?Monitor offtakes for key customers to sense demand fluctuations and market risks
?Ensure demand forecasts are effectively communicated to PPC through inter-department sales planning meetings
Tap opportunistic sales/low hanging fruits
?Look for entry in opportunistic categories; e.g. masks, PPE, fabric for medical application
?Rework on product mix, capitalise on opportunities like lower-cost blends for apparel fabric
Long-term measures
Reset cost
Structural reset of all costs; target minimum 10 to 15 per cent reduction
?Implement Industry 4.0 – technology driven operational efficiency
?Launch "War on waste" – zero based budgeting for each cost
?Drive procurement excellence – enhance supplier basket to improve savings
?Optimise the team size across functions, eliminate replication due to silo-structures, outsource non-core operations
Enhance share of MMF in portfolio
?Diversify into products made of man-made fibres and synthetics; the growth opportunities are more than natural fibres
?Enhance products by adding functional properties and thereby increasing the value addition – anti-fungal / anti-microbial/water and stain-resistant/fire-retardant, etc
?Incorporate blended products and other low–cost offering for brands
Build agility in supply chain
?Develop capability to support season-less buys, frequent development cycles and shorter runs of designs
?Co-create value added products with strategic customers
?Redesign planning and replenishment processes to support niche customers – shorter runs and faster response time
Realign exports base
?Increase presence in emerging garmenting hubs likely to see higher share of global product flows post-Covid-19 CAFTA region (Guatemala, El Salvador, Honduras, Costa Rica, Nicaragua, and the Dominican Republic) is likely to gain importance for supplying into the US market as a consequence of distancing from China. South Asia would have increased supply share to Japan
?Assess exposure to at-risk/antagonistic countries (equation of Turkey with India) and diversify customers portfolio
Evaluate inorganic growth avenues
?Undertake strategic acquisitions to augment overall capability across value chain; customers like to have higher preference for integrated suppliers to reduce inefficiencies in supply-chain
?Forward integrate into profitable processed fabric and/or garments
?Rapidly expand capacity by picking up distressed assets
Increased focus on sustainability
?Invest in a farm-to-shelf product traceability and support brands' sustainability claims
?Implement processes that genuinely reduces environment impact; adopt steps to meet the sustainable development goals (SDGs) by 2030
– The article is authored by Manoj John, Vice President – Strategic Initiatives at Sutlej Textiles and Industries. Manoj leads the Strategic Initiatives department at Sutlej Textiles, with a mandate to identify growth opportunities for investment, prepare feasibility studies and business plans, lead project implementation task force, and establishing business partnerships.