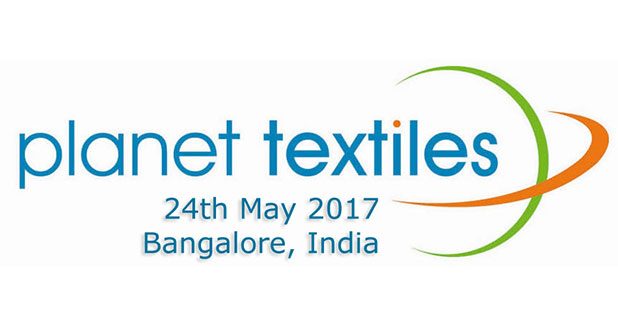 Planet Textiles 2017 in Bangalore
Planet Textiles 2017, which is jointly organised by MCL News & Media, Sustainable Apparel Coalition And Messe Frankfurt, will be held on May 24, 2017 in Bangalore
Planet Textiles 2017, which is jointly organised by MCL News & Media, Sustainable Apparel Coalition And Messe Frankfurt, will be held on May 24, 2017 in Bangalore, India.
The Planet Textiles annual event on sustainability was first launched in Hong Kong in 2009. Previous delegates include: Wal-Mart, Nike, Triumph International, H&M, Levi Strauss, TAL Apparel, Crystal Group, adidas, Esprit, Natural Resources Defence Council, VF Corp, PVH, Esquel, Puma, Fountain Set, Sears Holdings, Warnaco, Li & Fung, Marks & Spencer, North Face, Itochu Corp., Greenpeace, IKEA, Pacific Textiles, Hanesbrands, Li Ning, Target, Tesco, JC Penney … and many more.

The issues of water availability, water conservation in wet processing, wastewater discharge, the circular economy and the rise of environmental awareness in India will dominate this year's Planet Textiles Summit in Bangalore India.
Key speakers will include Indian Government's Textile Commissioner, Dr Kavita Gupta, who is known for her interest in environmental issues and will look at how India's vast textile sector intend to tackle the environmental challenges demanded by retailers and brands. Meanwhile, Colleen Vien, Director of Sustainability at Timberland and Ian Rosenberger, CEO and founder of Thread International will reveal details of their collaboration in poverty stricken Haiti which has shipped nearly 200,000 lbs of recycled plastic out of the country to eventually be processed into textiles, garments and footwear.