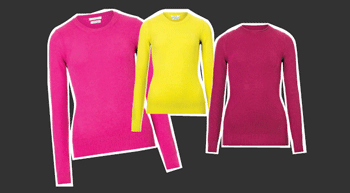 Pin Up is back! The knitwear of the future
Benetton has invented a revolutionary line of sweaters that enhances a woman´s shape by accentuating her curves in all the right places.
Benetton has invented a revolutionary line of sweaters that enhances a woman´s shape by accentuating her curves in all the right places.
Accentuated curves and a super slim fit even wearing a classic cashmere sweater? Yes, thanks to United Colors of Benetton´s revolutionary patented technology plus more than forty years´ know-how in weaving yarns and designing new generation knitwear and its penchant for innovation.
Considering the human body in 3D led to the idea for this knitwear line, which by carefully placing invisible seams in strategic places would have optimal wearability and fit that flattered the shape of men´s and women´s bodies to perfection.
In recent years, pin up has already made women´s dreams of feeling both elegant and feminine come true, and F/W 2014 also sees the launch of the muscle fit line for men. Pin up and muscle fit knits hug the body, nip in the waist and, especially for men, accent the shoulders and muscles. Science fiction? Not in the least.
For F/W 2014, the pin up line is revamped in precious, light cashmere, this year in three different weights and finesnesses, from the single yarn demure version to a nine-yarn, cabled, more sporty, country-style. The three-dimensional weave replaces the function of seams, does away with that extra wool that adds bulk to the figure and enhances the bust and waist instead. Thanks to these features, sweaters in the pin up knitwear line are a woman´s body´s friend and fit perfectly and smoothly, making them ideal to wear under a jacket or down puffer. They also look great paired with high-waisted jeans or a pencil skirt, two of this season´s ´musts´ that need a well-defined silhouette. All the sweaters in the pin up line are available in a variety of nuances, from acid tones of fuchsia and lime yellow to dustier, softer shades and on to tobacco, grey and black.
This winter´s latest idea concerns men: Benetton has also thought about their comfort and good looks with the innovative Muscle Fit line, which also uses 3D weaving technology. Strategically placed invisible seams on the shoulders and armholes trim the upper body without accentuating the ´softer´ areas of the male body. No constricting elastane, but an intelligent play of hidden seams that give a perfect fit. No more bulky sweaters that restrict movement under jackets and coats, but knits that adapt to the male body, enhance the figure and are comfortable and warm.
Dressing all women and making them feel as beautiful as pin ups, and from today, giving all men a trim silhouette and an elegant carriage. This a challenge that Benetton always wins with its expertise in knitwear and use of the most modern technologies. A perfect marriage of beauty and comfort. All styles will be on sale from 13 October.
For further information:
www.benetton.com