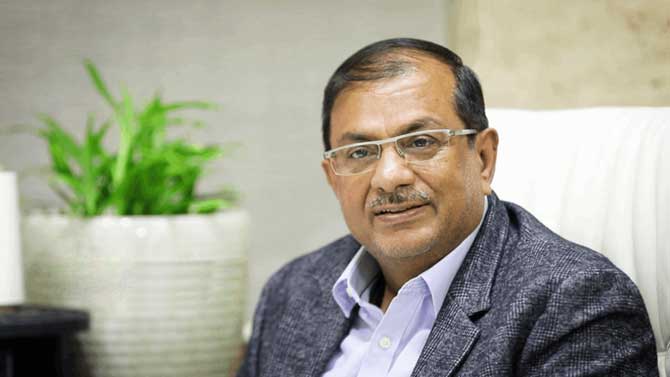 Khosla Filter has been successful in recycling used filter cloth
A premium industrial fabric manufacturer, Khosla Profil excels in technical textiles fabric manufacture. Being India's leading manufacturer of industrial filter fabrics, it is Asia's only producer that specializes in technical textiles fabric manufacturing, having fully integrated operations right from fibre/ chips to finished made-ups. Khosla Filter fabric meets the requirements of industries like Drugs & Pharmaceuticals, Dyes & Pigment, Metal & Mining, Food & Beverage, Edible Oil, Paper, Ceramic, Clay, Starch, Breweries, etc by delivering top-notch textile fabric curated as per the need of the industry. From industrial fabric to filtration fabric, Khosla Profil offers customized fabric solutions to each of its clients. Pramod Khosla, Chairman & Managing Director, Khosla Profil, discusses with Divya Shetty about the sustainable measure the company is adopting and what they are doing in digital front.
What is the significance of sustainability in the textile industry? And what initiatives is Khosla Profil taking to support it?
The world is witnessing so much environmental harm and change all around us, hence sustainability is a topic that is not just up for discussion but is actually the need of the hour. We, the technical textile industry, specifically in the Filtration, can do a lot to tackle this issue. So, I'd want to share what all initiatives Khosla Profil is taking up.
Three years ago, we started recycling all of the waste and scrap that our plant used. We have recycled all the waste we produce. From extrusion, twisting, weaving, finishing, and cutting leather, we have recycled our waste and become a zero waste plant. The complete waste from every stage of production is now being analysed in our recycling facility, and this is turning into a respectable source of income for our company.
Secondly, we looked at the potential applications for this recycled material. We started producing chips and selling them outside.
We then began to consider how we may finish the cycle. Recycling is not the only aspect of sustainability. As a result, we began replacing company-wide products that were being used and discarded, particularly packaging materials like paper tubes for all deliveries and paper cones for testing and mopping facility.
The tubes that we now make from the granules, are all made from our own recycled material. This process puts the recycled material back into use and eliminates the need for paper. I'd call it a modest contribution, yet a sensible contribution in terms of completing the cycle by recycling and then bringing it back for further usage at our end itself.
The third and the most important step is, since we are a leader in filtration fabrics, a huge amount of fabric annually by goes into variety of industries, metal and mining, drugs and pharmaceuticals, dyes and pigments, starch and other industries. Now, after usage, the filter cloth was of no use except for dumping it.
So after doing two years of extensive trial, we finally achieved a breakthrough. What we have done instance is, in ten tonne of discarded filter cloth 3.5 to 4 tonnes of fabric is used. After two years of arduous work, we were finally able to separate it and make it recyclable. This month, we will be manufacturing close to 15 to 20 tonne of material which can not only be sold, but can also be recycled yet again.
Credit goes to some of our customers who are multinational companies and motivated us to find some way of using segregating fibre from the material. With the segregated material, we produce new items like toothbrush handles, fan covers, etc. We have done those trials and already have been very successful in being able to recycle a used filter cloth. Our customers who are working with us are extremely happy with this move and are expecting that we possibly duplicate this model around the world.
I believe we have accomplished something that may go well beyond simple sustainability. We have actually made great strides in not just looking at recycling the waste, but also bringing the waste back and replacing some of those materials, like paper, and now moving into the third stage of bringing back used filter cloth and recycling it once again to create new products.
How is the company adopting digital measures?
We have adopted ERP system, which means that all of our activities are now run using ERP-based software and an information-based LM system, much like the majority of businesses. ERP reduces printing and. The government needs to take a close look at this because, in my opinion, 75 per cent of our printing is for exports. The amount of paperwork that exists even now is unbelievable. In order to reduce the quantity of paperwork there, I believe the government should do something for this.
The customs office still requires hard copies from us. Hence, that is one factor preventing us from fully digitising our business processes. There has undoubtedly been significant digitalisation internally. For example, the majority of our RFID stock is now completely having RFID kits. So, we use them before taking them off, dispatching them, and then using them again. A lot of work which was formerly done manually, has been digitalised.
Also, we use a lot of barcoding. Barcoding and RFID kits are a crucial next step in the digitalisation of the textile sector. We have installed computers on the shop floor and nearly everywhere, starting with the supervisor, for the majority of the job we do, whether it be in our engineering stores or in our production. In place of using paper, we have entirely digitalised our operations. At each specific department, data monitors have been installed, and regardless of how the data is processed—spinning, twisting, leaving—it is immediately entered into the computer and replaced with digital information.
Even our marketing team places orders online rather than through paper, no matter where they are stationed throughout India. Similarly, here at the company, more and more individuals who are new or are having trouble are trained, and more reports are produced, which were or are done manually even on the computer by the ERP system to ensure that the data gets passed from the production floor to the seniors. The reliance on creating paperwork and information is as minimal as possible.
What future expansion plans does the business have?
Our expansion plans are very much in place. We always work with a five year plan vision and those are always rolling in terms of at the end of every year we add another fifth year. We intend to increase our production of non-woven and produce fibreglass in greater quantities for our products. These two are our focus area.