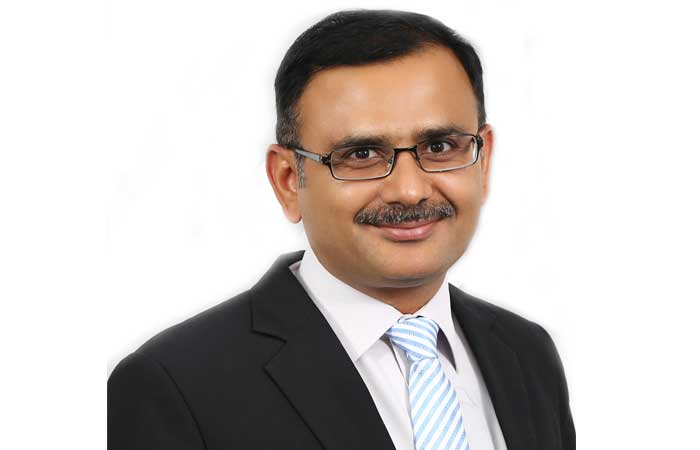 Our technologies play a key role in the transition towards a circular economy
ABB is a leading global technology company that energizes the transformation of society and industry to achieve a more productive, sustainable future. By connecting software to its electrification, robotics, automation and motion portfolio, ABB pushes the boundaries of technology to drive performance to new levels.  In this interiew, AR Madhusudan, President, Drive Products, Motion Business, ABB India, highlights company's offering in the textile industry.
How is ABB serving the textile industry in India?
ABB's customised products and solutions help the textile industry in reducing wastage and improving energy efficiency. We have a significant presence in India's textile market, where our variable speed drives (VSDs) and high-efficiency motors help end-users and OEMs in automating their processes, enhancing productivity and energy efficiency while making plant equipment more efficient and reliable. Our solutions are an integral part of the textile manufacturing process, including spinning, weaving, and wet operations.
What are the applications of AC drives in the textile industry? What are the advantages of using AC drives?
We can broadly classify the textile manufacturing process into two categories: dry process – in which raw materials such as natural and synthetic fibers are spun into filament, yarn, thread, or rope, and wet process, which includes weaving, knitting, dyeing, bleaching, sewing, matting, etc. Due to their standard embedded features and dedicated functionalities, ABB's AC Drive solutions are considered the best choice for textile applications. They are designed to cater to every application from fibre to finished product, with a focus on lowering energy costs, utilising better technology, optimising resources, and increasing productivity.
What are the USPs of ABB AC drives (especially with respect to their application in the textile industry)?
Our drives portfolio offers a wide range of options which include high-performance equipment drives, premium general-purpose drives, industrial drives, soft starters, and automation solutions. They come with enclosures (IP21 / IP55 hardware) to handle harsh environmental conditions and prevent dust ingress. In difficult settings, we provide coated PCBs to avoid corrosion caused by humidity and aggressive chemicals. Textile operators can reduce harmonic issues in their processes with the inbuilt DC swinging choke and the C2 filter. Our drives also come with kinetic energy backups to mitigate power fluctuations.
How important is the role of AC drives in improving the performance of the textile manufacturing plant?
Our industrial drive maintains constant torque in the wound fabric as it passes through the dyeing or bleaching process. The VSD's in-built PID (proportional-integral-derivative) loop allows the system to automatically match torque to the requirements of the running fabric based on the thickness and number of wraps. This means the manufacturer can do more while utilising less energy, as the drives control the speed of the system which otherwise continuously runs on full power.
Is the rising need for automation (& automated machinery) in the textile industry leading to more demand for AC drives? If yes, could you please elaborate?
Yes, the textile industry in India is adopting more automated technologies to compete in the global market, which has led to the automation of several highly dynamic textile processes that require precise motion control performance. ABB's ACS880 AC drives with Direct Torque Control Technology offers servo-like positiooning and synchronisation accuracy, particularly while running multiple motors at high speeds. This can have multiple benefits like faster production, higher product quality, reduced manufacturing costs, and fewer working hours for the same output. Automation enables most of these activities, while also ensuring the safety of workers in the plant.
What are key challenges faced by the textile industry today? How is your company helping them overcome some of these challenges?
Shortage of raw materials, rise in production costs, inefficient processes, etc. are some of the major challenges faced by textile manufacturers. To solve these problems, they should adopt a holistic approach and look at the benefits offered by energy-efficient technologies. They must be ready to upgrade and invest in the right solutions. For example, combining high-efficiency motors with VSDs can typically reduce energy consumption in industrial applications by 30 percent or more.
What are emerging trends in AC drives (especially with respect to application in the textile industry)?
Initially, AC Drives were primarily used to alter the speed and optimise the energy of manufacturing processes to boost production output. However, the emerging market trends are focused on improving the overall operational intelligence through advancements in the IoT space such as remote connectivity, data analytics, condition monitoring for uninterrupted production, and reducing carbon emissions.
What are your plans to further tap the textile industry in India?
We have been working closely with our customers to understand their ever-evolving needs and provide tailored solutions to fulfill their expectations. Apart from delivering high performance and reliability, our technologies can play a key role in the transition towards a circular economy in India. Resource efficiency and sustainability will continue to be at the heart of our product offering.