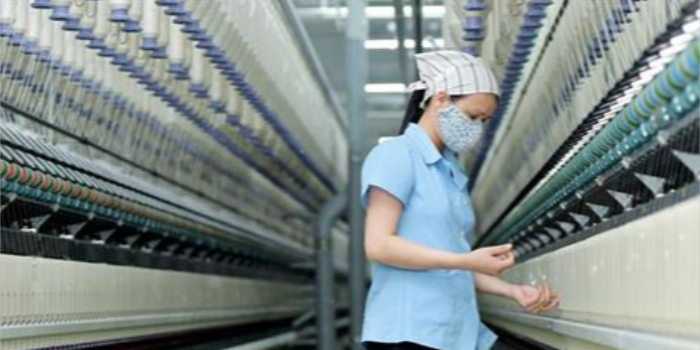 Optimising energy efficiency
Compressed air is used in almost all the process machines from blow rooms, carding, spinning, winding, weaving and other machinery for both controlling and operations.
Compressed air is used in almost all the process machines from blow rooms, carding, spinning, winding, weaving and other machinery for both controlling and operations.
To an outsider, reliable compressed air may not seem like a major requirement in the textile industry. However, it's a necessity at almost all levels of the supply chain. Compressed air is one of the essential requirements of textile industry, with the increase in modernisation and automation. It is used in almost all the process machines from blow rooms, carding, spinning, winding, weaving and other machinery for both controlling and operations.
Because compressed air touches clothing fabric throughout the production process, it's recommended that manufacturers use oil-free compressors. Any risk of oil coming in contact with the fabric can cause fabric-darkening grease stains and damaged end products. Every textile is affected by the relative humidity of the environment in which it is produced, particularly natural fibres. Low air humidity can dry a fibre causing its internal moisture content to fall below the optimum processing level. When this happens, a fibre's tensile strength is impaired, it becomes less flexible and more brittle.
On the major users of compressed air treatment products, KS Natarajan, Managing Director, Trident Pneumatics, said, "All industries today use compressed air. Companies stand as a source of operating a machine for automation, as much as electricity today. If there is a machine and you need to plug it in somewhere, everything requires electricity. But when you step into a factory, almost all the machines requires combustion. So all of our customers would be the industries that have manufacturing. We have hospitals that are not manufacturing, but uses ventilators and patient feeds."
He added, "We have a range of products in compressed air. Suppose you are sitting in your house in a humid room, and there's a lot of moisture in the air. Air compressor comes in a pipeline that goes into machines and the moisture in that needs to be removed."
"The competition is global. What we bring to the table in the the Indian industry is fighting for competitiveness. When you look at textile, it is about how efficiently they convert the input into output. They are very sensitive towards energy and downtime. This is our key differentiator. Given our segmental approach as a company, we have multiple segments like standard products, which goes to general industry, and products for automobile, textiles, and so on," said Natarajan.
Dr Jairam Varadaraj, Managing Director, ELGi Equipments, said, "As an air compressor company, we probably have the widest range of compressors to offer to the textile industry. Starting from a half HP piston compressor (that could be used in some of the smaller textile processing and fabrics units) all the way up to a 2000 HP centrifugal compressor that can be used in large processing and texturising units. In between, we also have our lubricated screw compressors and oil-free screw compressors. So, we have a pretty wide range of compressors. In addition, we have a complete range of air treatment facilities. Depending on the customers air quality requirements, we provide a complete range of solution for the quality of the air."
On the key challenges before textile industry today, Dr Varadaraj added, "In pre-COVID period, the constant dynamics between cotton and yarn prices and the cascading effect of that was a big challenge for a lot of textile mills not only in India, but also globally. The margins were under pressure. Many of the textile mills have highly stressed balance sheets and P&L. So, the financial liquidity is a problem for a lot of textile companies. Cost of compressed air is a very small part of the cost of operation for a textile mill. Nevertheless, energy is costly and compressor is a significant carrier of the cost of energy. Besides making the most efficient compressors in the world, we provide air audit services to many mills to understand the pattern of air requirement and consumption of the customer. Air audits help us fine-tune the entire compressed air system leading to significant savings for the customers."
Speaking on the role of role of compressed air systems in textile industry, Conrad Latham, General Manager, Atlas Copco Compressor Technique – India, said, "The compressed air systems have grown with the growth of textile companies. The use of compressed air in the textile can be generally split into two – air for weaving and air for spinning. In the last few years, we see that the demand for weaving is slowing versus the demand for spinning. Also, the types of compressors used for spinning are normally oil-injected screw type whereas weaving normally requires high quality oil-free air. Also, we see that the type of oil-free air compressors changes as the number of looms grows."
Added Latham, "For smaller cotton weaving customers, the best solution is oil-free screw compressors but as the number of looms grows beyond a threshold limit then the most efficient solution is turbo centrifugal compressors. Of course, a combination of turbo and screw compressors is often seen as the most energy-efficient solution. Whether the application is spinning or weaving the demand of all textiles customers is to reduce their energy costs. It is not uncommon for a textile plant to spend up to 50 per cent of their energy costs on compressed air. Working closely with our customers, Atlas Copco is the only compressor company that can offer every form of compressor technology and drying solutions to maximise the compressed air system for the lowest running costs of all textile companies."
Says Latham, "It is clear that in the textile industry, quality is an absolute must have. The most important area for compressed air quality is the quality of the air. For example, in cotton weaving, having oil-free air at the correct dew point is paramount for the success of a company. No contamination can come into contact with the cotton if the compressed air is 100 per cent oil-free. The only way to guarantee 100 per cent oil-free air is to use an ISO 8573 class zero certified compressor. Atlas Copco was the pioneer in class zero compressors and now all its Z and AQ models of compressors are certified. Having a certified class zero compressor also increases the uptime of the weaving looms by avoiding any possible oil contamination that my clog the loom, thereby preventing it from running smoothly. Many end users are now insisting that their products be made only using class zero certified compressors."
In a project funded by the Ministry of Textiles, the Northern India Textile Research Association (NITRA) has developed a compressed air monitoring system to optimise energy consumption in textile industry. The project is to identify the losses occurring due to compressed air leakages, to assess the real-time performance of the compressors, and to develop a software to proactively assess the compressed air losses. NITRA compressed air monitoring system is advanced, yet easy-to-use system for controlling and monitoring compressed air in textile industry, in multiple air compressor system. It is a computerised system that centrally monitors the performance of air compressors and overall compressed air system 24 hours a day. This system can monitor, record and analyse compressed air system health while significantly reducing energy costs, maintenance costs and downtime.
NITRA compressed air monitoring system works on industrial grade Wi-Fi protocol and connects to a central unit. Each measurement unit comprises flow sensor, temperature sensor and pressure sensor and send the measured data to the central unit through Wi-Fi. Measured data can be seen in both graphical and numerical values and recorded for further data analysis and logging purposes.
Condair has developed successful humidity control strategies for textile manufacturers around the world. Condair Group is the world's leading specialist in humidification and evaporative cooling, with energy efficient, hygienic and innovative technologies for commercial, industrial and heritage applications. Condair is represented in India by Regent Machine & Servicing, which offers system design, manufacture, supply, installation, commissioning, maintenance and spares.
Auro Weaving Mills (a unit of Vardhman Group) in Baddi, installed a JetSpray humidification system from Condair to humidify its warping section. The humidifier is creating the ideal air humidity to reduce fibre shedding from the yarn and airborne fly, as well as maintain yarn moisture content and minimise yarn breakage during processing.
Mukesh Saxena, Chief General Manager of Fabric Operations at Vardhman, explains, "The JetSpray is maintaining the ideal humidity of 60 per cent RH in Auro Weaving's warping section. This significantly reduces the generation of fly and yarn breakages, helping us to deliver the highest efficiency and quality in the department.
"Since we installed the JetSpray humidification system, the ambience of the area is very comfortable and clean. The reduction in yarn breakages not only results in a more trouble-free operation at subsequent stages but also boosts the morale of the employees, as less rethreading is required. We would highly recommend the JetSpray for humidification in warping and yarn storage, where reliable and accurate humidity control is essential," Saxena concludes.
The JetSpray system installed at Auro Weaving Mills incorporates 66 nozzles, each capable of introducing 4.5 litres of moisture per hour into the atmosphere. A wall-mounted JetSpray control panel regulates a supply of compressed air and water, which is provided to the nozzle lines. Each nozzle perfectly combines the air and water to release extremely fine aerosols, with droplet sizes of just 7.5 microns, which rapidly evaporate into the air. The compressed air prevents any possibility of drips from the nozzles and makes the spray highly directional, thus preventing wetting on machinery, walls or the floor.
Coimbatore-based Pranav Systems, which has been manufacturing micro dust extractors and power saving devices, believes in the concept of Make in India. The company's Marketing Manager, S Shivaram, a B.Text in textiles from DKTE & MASTERS from the UK and the son of the Managing Director, brings in a loads of experience, which is required in this field. He says, "We are happy that our product is completely made in India and we want to promote India in the global market."
He proudly states, "Obviously there is huge market potential for our products in India because our product is related to the atmosphere. It helps reduce power and it can help them save on cost too."
What role compressed air will play in the textile industry of the future will depend on the availability and effectiveness of sophisticated machinery that helps manufacturers overcome some of their most persistent challenges. These include:
Reducing costs associated with operating and maintaining compressed air tools and systems
Maximising uptime and productivity to meet the demands of customers
Preventing contamination due to air mixture
Reducing waste and running a more sustainable operation overall
Retrofitting aging production centers with modern equipment
Alongside these issues, a low relative humidity can reduce yield by around 4 per cent directly from product weight loss. A 4 per cent drop in moisture content will require 4 per cent more product to be manufactured to meet a required production weight.
– KARTHIK MUTHUVEERAN