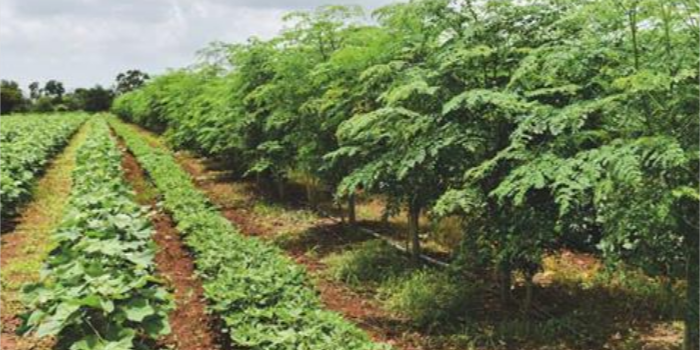 OCA goes beyond the cotton crop
A new research project led by the Organic Cotton Accelerator (OCA) has identified the best crop diversification practices to optimise the agronomic, environmental and economic benefits for Indian organic cotton farmers.
A new research project led by the Organic Cotton Accelerator (OCA) has identified the best crop diversification practices to optimise the agronomic, environmental and economic benefits for Indian organic cotton farmers. The project report, 'Boosting Biodiversity and Improving Farmer Livelihoods Through Crop Diversification' also reveals key levers to promote the use of crop diversification practices on farm and maximise their potential for income generation. A focus on long-term market linkages and locally tailored approaches are cited as being integral to success.
Supported by the Deutsche Gesellschaft für Internationale Zusammenarbeit (GIZ) GmbH, the research project was a collaboration between OCA and the Research Institute of Agriculture (FiBL). Focusing on five cotton-growing states: Madhya Pradesh, Maharashtra, Odisha, Gujarat and Rajasthan, FiBL used participatory methods with farm groups and local experts to ensure that regional farming nuances and diverse agro-climatic conditions were considered throughout the study.
In the Indian organic cotton sector, many farmers and farm groups already invest in crop diversification. However, a commonly repeated cropping sequence remains the cultivation of wheat after cotton – whilst the benefits of crop diversification are best harvested when a systemic and holistic farming approach is taken. A shift clearly needs to happen – farmers need to move from a crop centric approach towards a cropping system approach, and from an input-based production logic towards knowledge-based farming.
Bridging the knowledge gap on crop diversification will show organic farmers how they can best maximise synergies between the crops grown together (e.g., through intercropping), or after each other (e.g., through crop rotation) on the same field in order to secure their farm's productivity, regenerate soil health, and help them maintain a stable biodiversity at the farm for the long term. Access to diversified and more resilient income sources from crop diversification practices will give farmers the opportunity to sustain their businesses and invest in their family's future.
OCA places organic cotton farmers at the heart of its mission and strategy so we understand that a clear business case is needed for farmers to switch to and stick with growing organic cotton. Organic farmers in OCA's programmes grow more than cotton alone, so a key element of the project was looking beyond the cotton crop to explore how we can help maximise the profitability and the sustainability of the entire farming system for the benefit of people and planet.
Commenting on the research project, Bart Vollaard, Executive Director, OCA, said, "The outcomes and insights from this research project will certainly supercharge OCA's ability to support Indian farmers in earning a more diversified and resilient income and hopefully also inspire other crop diversification efforts from the sustainable agriculture sector. We are also pleased that these outcomes will directly inform our Organic Cotton Training Curriculum, a key tool for capacity building for organic cotton farming in India, that is currently being developed with the same partners, FiBL and GIZ. It will significantly contribute to increasing farmer and trainer knowledge on-the-ground."
Silke Peters, Team Leader within the GIZ Sector Project – Programme Sustainable Agricultural Supply Chains and Standards, added, "Within the framework of the Sustainable Agricultural Supply Chains Initiative (INA) we pay attention to the fact that smallholders rarely ever live from one crop exclusively. This study from OCA and FiBL gives solid proof that better market access to crop rotation or crop diversification principles can make a real difference in household income thus contributing to the livelihood of farmers and their families."
On March 23, 2021, OCA will share the findings of this research project including the six key steps to scale up crop diversification during a 90-minute webinar. This event is open to the public, in the hope this study inspires others to take action and collaborate across crop and sustainability initiatives.
The Organic Cotton Accelerator (OCA) is a multi-stakeholder organisation dedicated to organic cotton. As a global platform, it is committed to bringing integrity, supply security and measurable social and environmental impact to organic cotton. Since it was established in 2016 by founding partners Laudes Foundation, H&M, Kering, Eileen Fisher, Textile Exchange, Tchibo, Inditex and C&A, OCA has been committed to convening the sector around a common agenda and using its platform's collective investments to act as a catalyst for change.
The Research Institute of Organic Agriculture (FiBL) is one of the world's leading institutes in the field of organic agriculture. Its locations are situated in Switzerland, Germany, Austria, France and a representation in Brussels (Belgium) through FiBL Europe. FiBL's strengths lie in its interdisciplinary research, innovations developed jointly with farmers and the food industry, solution-oriented development projects and rapid knowledge transfer from research into practice.
As a service provider in the field of international cooperation for sustainable development and international education work, GIZ is dedicated to shaping a future worth living around the world. GIZ has over 50 years of experience in a wide variety of areas, including economic development and employment promotion, energy and the environment, and peace and security.