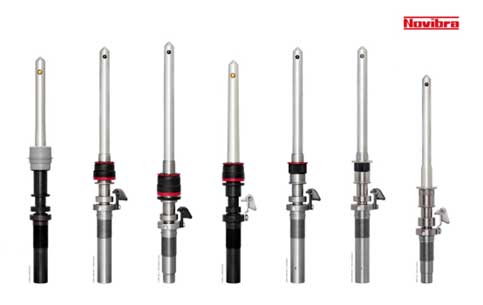 Novibra's right spindle to make the difference
As the leader in spindle technology, Novibra offers a great selection of innovative and high-performance spindles
Spindles are at the core of spinning machines and play a crucial role in their performance. With an impact on productivity, quality, energy saving or work environment, selecting the right spindle for an application is key. Thanks to Novibra's wide range of spindles, finding the perfect spindle is child's play.
As the leader in spindle technology, Novibra offers a great selection of innovative and high-performance spindles (Figure 1).
First-ever spindle to run at 30 000 rpm – NASA HPS 68
Famous for extending service periods, reducing noise level and ensuring maximum  durability.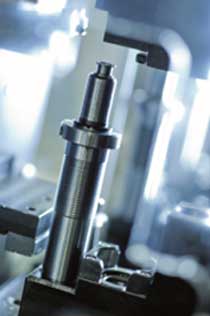 Installations in the optimum range for NASA HPS 68 – at medium to fine yarn counts and 20 000 to 30 000 rpm speed – represent a completely different type of load on the spindle than coarse yarn count applications. Smaller repeated loads at high frequency occur causing micro vibrations. Therefore, a chamber filled with lifetime grease was introduced as a second damping system. Noise is thus significantly reduced, making the spinning mill a better place to work.
Reliable solution for medium and fine yarn counts – HPS 68
Novibra's second best-selling spindle, HPS 68, has been a technical revolution in the switch from conical types to spindles with a flat tip. Its unrivalled spindle insert constitutes a base for all Novibra spindles of younger generations. HPS 68 is the right spindle to spin standard short-staple fibers to medium and fine yarn counts.
Although higher speeds are possible, the spindle outperforms at speeds up to
20 000 rpm with favorable noise levels and long lifetime. It also makes operators'
lives easier with substantially longer oil exchange periods.
The right choice for coarse yarn counts – L HPS 68
When spinning coarse yarn counts, L HPS 68 is the right spindle. Its unique wharve diameter of 18.5 mm ensures optimised energy consumption and load on the machine driving elements. In most applications, a full cop and high tension of the yarn put a heavy load on the spindle neck bearing – which is increased by further imbalances occurring in the spinning process of coarse yarns. The special design elements of the L HPS 68 spindle absorb heavy loads and ensure the desired harder damping.
The spindle mostly runs with tube lengths from 220 to 250 mm, but it can also be operated with tube lengths of 280 mm, e.g. by wool spinners. While speed increases up to 20 000 rpm are an option, the speed is limited by the desired yarn count and twist.
High speed and energy savings – LENA
The latest addition to the Novibra spindle family was especially designed to achieve high speeds with lowest energy consumption and reduced noise.
LENA is the right spindle to spin yarn counts of Ne 30 and finer, with tube lengths up to 210 mm at speeds up to 30 000 rpm. Thanks to the uniquely small wharve diameter of 17.5 mm, 4 to 6% energy savings can be achieved. As creating a more sustainable future for the textile industry is getting more and more urgent, LENA is an attractive choice.
The right crown for every spindle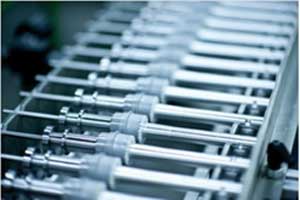 To leverage on its spindle range, Novibra also provides an extensive range of clamping crowns for underwinding-free doffing. The development of each crown has been thoroughly studied, with only one goal in mind: boosting customer's competitiveness. Based on the machine type, doffing system and raw material or yarn count, Novibra offers countless designs from replaceable EASYdoff to sturdy steel crowns and from SERVOgrip (Figure 3) to self-cleaning CROCOdoff.
On request, Novibra also provides customised spindles without catching crowns for machines without automatic doffers.
There is an ongoing debate about the introduction of a universal spindle type. However, only optimally selected spindles give the best results. Yarn count, speed, lifetime, maintenance, or energy consumption requirements must be considered in the selection process. Novibra sales teams assist customers in choosing the right spindle to achieve the optimum performance.
About Rieter
Rieter is the world's leading supplier of systems for short-staple fibre spinning. Based in Winterthur (Switzerland), the company develops and manufactures machinery, systems and components used to convert natural and manmade fibers and their blends into yarns. Rieter is the only supplier worldwide to cover spinning preparation processes and all four end-spinning processes currently established on the market. Rieter is also a market leader in precision winding machines. With 17 manufacturing locations in ten countries, the company employs a global workforce of some 4 900 employees, about 18% of whom are based in Switzerland.
About Novibra
Novibra, the world's leading supplier of high-speed spindles, is a subsidiary of the Rieter Group. The company, based in Boskovice (Czech Republic), creates customer value through system expertise, innovative solutions, after sales excellence and global presence. The leading position of Novibra spindles is based on patented design of spindle insert and the highest quality of the production. Almost all renowned manufacturers of ring spinning machines specify Novibra spindles for high performance.